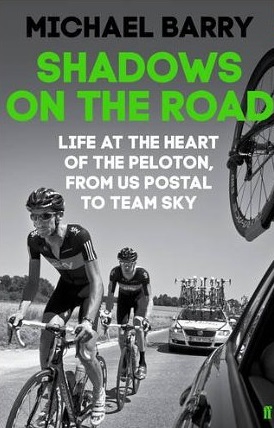 May 01, 2014 – Former Canadian pro cyclist Michael Barry, who admitted to doping during his career and retired in 2012, has authored several books about his life in the pro peloton and is coming out with another title this week,
Shadows on the Road
. The new book is already stirring up controversy with apparent claims of bribery involving Tom Boonen and further alleging that Team Sky members took painkillers.
Eurosport is one of several outlets reporting that in Shadows on the Road Barry accuses Belgium's Boonen (Quick Step-Davitamon) of having bought his victory at the 2006 Tour of Flanders. Apparently Barry presents no real proof, only the observation that there was an exchange between Leif Hoste (then with Discovery Channel) and Boonen. Barry further suggests that "victories" are often bought in pro cycling.
He also alleges that Team Sky frequently administered tramadol – a potentially addictive pain killer – while he rode for the team from 2010-2012. While tramadol (marketed as Ralivia by Biovail in Canada) is not on WADA's list of banned substances, many believe that it should be. "Team Sky do not give it to riders whilst racing or training, either as a pre-emptive measure or to manage existing pain. We believe that its side effects, such as dizziness and drowsiness, could cause issues for the safety of all riders," said Team Sky in a statement this week responding to the claim.
Shadows on the Road; Life at the Heart of the Peloton from U.S. Postal to Team Sky is listed on Amazon as having a release date of May 1 and being priced at £17.99 in the U.K. (the Canadian price is not clear). The publisher is Faber & Faber and the Amazon review reads:
"In 2012, veteran cyclist Michael Barry announced his retirement from the sport. Weeks later he testified against his former team mate Lance Armstrong, as part of the USADA investigation. In a stunning piece of writing, Barry explores the dreams and passion of a young, idealistic cycling fan from Toronto, what it was like to go on to ride as a teammate alongside such giants of the sport as Lance Armstrong, Mark Cavendish, Bradley Wiggins and Chris Froome, and how those dreams were compromised early on in his career by a sport in crisis."
"But it is also the story of his eleven years riding clean, before and after his time in the notorious US Postal Team. What was it like to head for Europe at such a young age, and what was it like to escape the environment of doping, to try and start again, all the time aware that past actions may one day catch up with him? Offering an elegiac insight into the life and mind of a professional sportsman – the pressures, sacrifices, fears, crashes, injuries and neuroses – Shadows on the Road is a must-read for cycling and sports fans alike."
In 2013 Barry published Le Métier: The Seasons of a Professional Cyclist by Rouleur Series, London.
Did Boonen buy 2006 Tour of Flanders? – here (in French).
Team Sky denies they ride on tramadol – here.
Purchase Shadows on the Road – here.