August 18, 2011 (Salt Lake City, UT) – After its first debut at the Outdoor Retailer Show, Merrell's new women's "Heels on Wheels" collection of high-heeled cycling shoes wins the highly respected "Best In Show" award from GearJunkie. Merrell's known versatility, style and comfort continue to drive innovative designs that allow women to put power to their pedals with a new cycling program of chic and bike friendly high heels with a unique design and outsole that grips the pedals. Products will be available in February 2012.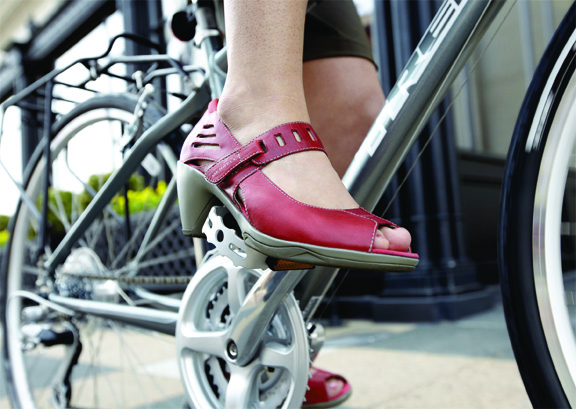 Cycle commuting is on the rise and more people are seizing the moment, enjoying the journey and creating their own destinations and many are doing this by bike. The "Bicycling and Walking in the United States 2010 Benchmarking Report" by the Alliance for Bicycling & Walking reports the following statistics demonstrating the increase in cycle commuting.
– The way communities are designed is inextricably linked to the amount of physical activity its residents average. Where environments are built with bicyclists and pedestrians in mind, more people bicycle and walk. These environments increase opportunities for physical activity and promote healthy lifestyles. Nearly 40% of all trips are two miles or less (NHTS), which is considered an easily bikeable distance. Now that people are looking for answers to reversing the obesity epidemic, increasing bicycling and walking is an obvious solution.
– Bicycling and walking mode share is significantly higher in cities. On average 5.6% of work trips in the largest U.S. cities are by bicycle or foot. Boston (14.3%) leads Washington, DC (12.8%), San Francisco(12.2%), and New York (11.0%) as the city with the highest rate of bicycling and walking to work.
– Nearly 10% of all trips are by bicycle or foot in the U.S.
– The number of people who bicycle to work has increased steadily, rising 29.8% between 1990 and 2007 from 466,856 to 664,859 people who bicycle to work nationwide. The share of commuters who bicycle to work has risen slightly from 0.4% nationwide in 1990 and 2000 to 0.5% today.