October 06, 2017 (Montreal, QC) – A memorial ride is planned today in Montreal to honour Clément Ouimet, a young cyclist killed on Oct. 4 following a collision with a car reportedly making an illegal U-turn on Mount Royal. The ride, starting at 3 pm at Park Avenue, will go up Camillien Houde Way with a police escort, ending at the parking lot of the Beaver Lake (Lac aux Castors) Pavilion near the summit.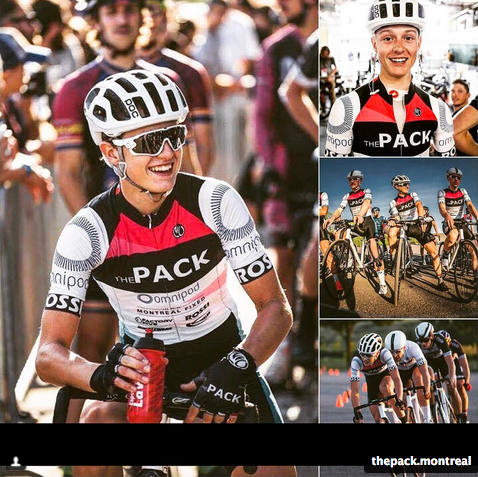 Preliminary indications are that the driver was making an illegal U-turn on a steep downhill section and that Ouimet, who was descending, could not avoid the vehicle. Car drivers frequently make such illegal and dangerous manoeuvres on the steep downhill reports CBC.
Ouimet, 18, is described as a "rising star" among Quebec cyclists and his tragic death made the headlines yesterday in Montreal's daily newspapers. He rode for the PACK and Espoirs Élite Primeau cycling club in Laval Although still very young, Ouimet had already distinguished himself with a 58th place in Red Hook Criterium Brooklyn No.10 and a 5th place in the IBike Crit according to the Fixed Gear Crit (FGC) website.
The memorial ride is being organized by Cyclovia Camillien-Houde, a group that's been advocating to make this road car-free on Sundays during the summer. Ottawa has been closing some major roads to car traffic on Sunday mornings for years, much to the delight of cyclists there.
While a makeshift memorial has already appeared at the spot where Ouimet struck the car, it remains unclear if a white "ghost bike" will be placed there reports CBC. Gabrielle Anctil, a spokesperson for Ghost Bikes Montreal, indicates that the group will respect the wishes of Ouimet's family on this.
Montreal is also facing a municipal election on November 5 and all three candidates for mayor have made statements about the need for greater bicycle safety. The parties will have a chance to debate this topic on Tuesday, October 11 when the Montreal Bike Coalition is organizing its "Débat Vélo".
"The Montreal Bike Coalition is pleased to announce the Bike Debate in the 2017 municipal elections in Montreal. The debate will take place on Tuesday, October 10 at 7:30 pm at the Center St-Pierre, 1212 Panet Montreal, Quebec, and will be moderated by Patrick Dion, journalist and columnist," reads text on the Coalition vélo de Montréal website.
"The event will bring together representatives from Team Coderre (Marc-André Gadoury), Project Montréal (Marianne Giguère) and Coalition Montréal (Jean Fortier) to discuss issues related to urban cycling in Montréal." Pedal understands that questions will be accepted in English at this debate.
Pedal's previous report: here
CBC report here
FGC report here
Montreal Bike Coalition here