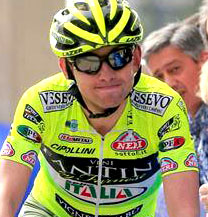 June 03, 2013 – The UCI advised Italian rider Mauro Santambrogio that he is provisionally suspended. The decision to provisionally suspend this rider was made in response to a report from the WADA accredited laboratory in Rome indicating an Adverse Analytical Finding of EPO in his urine sample collected at the Giro d' Italia on 4th May 2013.
The provisional suspension of Mr. Santambrogio remains in force until a hearing panel convened by the Italian Cycling Federation determines whether he has committed an anti-doping rule violation under Article 21 of the UCI Anti-Doping Rules.
Mr. Santambrogio has the right to request and attend the analysis of his B sample. Under the World Anti-Doping Code and the UCI Anti-Doping Rules, the UCI is unable to provide any additional information at this time.