August 24, 2011 (Belgium) – Martin Gilbert of the cycling team SpiderTech powered by C10 finished 12th at the Druivenkoers-Overijse 2011 in Belgium, only two seconds away from of the victory. Svein Tuft also is part of the peloton which finished in a bunch sprint, and finished 42nd overall.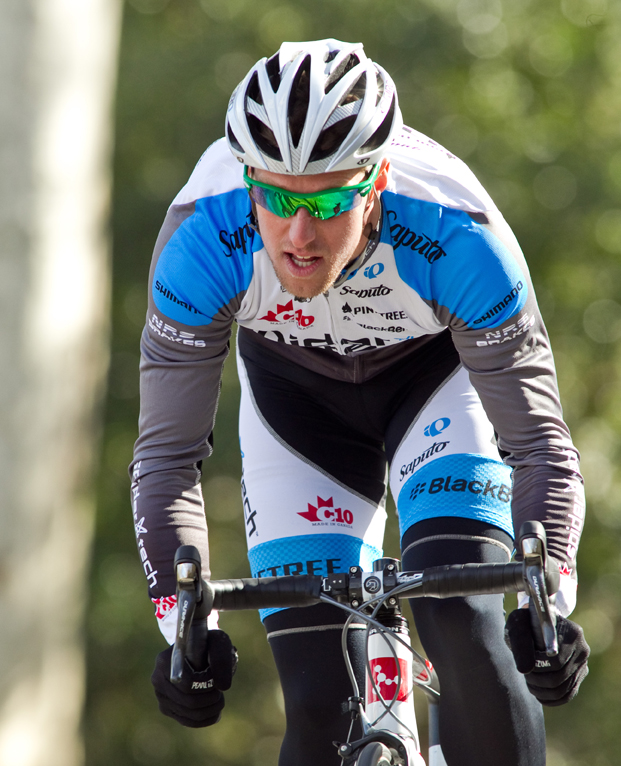 Belgian Bjorn Leukemans, who has just won the Tour du Limousin in France last week, won this race which ended in a sprint. Leukemans beat to the finish line his countrymen Davy Commeyne of Team Landbouwkredit and Jurgen Van Goolen of Team Willems Veranda's & Vlaanderen.
This first European season for SpiderTech powered by C10 ended with this race. During this first season as a UCI pro continental team, cyclists from SpiderTech have performed well all sums, including a victory in the GP Stad Zottegem by Svein Tuft, a second place by Will Routley at the Classic Tro bron Leon.
In addition to these podiums, SpiderTech riders won victories in the King of the Mountain (KOM) by David Boily (Giro di Sardegna, Italy, UCI 2.1) and Lucas Euser (Tro Bro Leon Classic, France, UCI 1.1), as well as two Sprint classifications victories by Will Routley (GP Denain, France, UCI 1.1) and Lucas Euser (Tro Bro Leon Classic, France, UCI 1.1).
The season continues on North American soil for SpiderTech with the races of the Grand Prix Cycliste de Quebec and Montreal, the USA Pro Cycling Challenge currently underway, and the Univest Grand Prix in Pennsylvania.
WORD FROM DIRECTEUR SPORTIF, KEVIN FIELD:
Martin Gilbert capped off a fantastic European campaign for the team with a hard fought 12th place finish in the Druivenkoers – Overijse in Belgium. This was a hard race. Really aggressive with 4 tough climbs that the guys had to get over during the 11 laps of this 200km race.
Our guys were pretty aggressive again today. We had Hugo and Ryan in some good looking moves. And Svein went in a move with 40km to go that looked really good. I think Vacansoleil-DCM was really motivated to have Leukemans in win today. Svein's move looked great and we thought Vaconsoleil-DCM would be happy with Johnny Hoogerland up there. But they had other plans with Leukemans.
Once Svein's move came back he did everything he could to position Martin for the finish.
We've had 12 really tough days of racing here. I don't think we could have asked for any better preparation for the World Tour races in Quebec. The timing is great, our guys will fly home immediately and get some rest. Their adaptation to the European racing tempo will be perfect. And we couldn't have asked for better results – we snagged our first pro win in Europe. The guys are all pretty excited.
Results
1. Björn Leukemans (Bel) Vacansoleil-DCM Pro Cycling Team  4:44:05
2. Davy Commeyne (Bel) Landbouwkrediet
3. Jürgen Van Goolen (Bel) Veranda's Willems-Accent
4. Stefan Van Dijk (Ned) Veranda's Willems-Accent  0:02
5. Marco Marcato (Ita) Vacansoleil-DCM Pro Cycling Team
6. Haes Kenny De (Bel) Omega Pharma-Lotto
7. Alexandre Blain (Fra) Endura Racing
8. Roy Hegreberg (Nor) Sparebanken Vest-Ridley
9. Kasper Jebjerg (Den) Glud & Marstrand-LRO
10. Mats Boeve (Ned) WV de Jonge Renner
11. Vreese Laurens De (Bel) Topsport Vlaanderen-Mercator
12. Martin Gilbert (Can) Team Spidertech Powered By C10
13. Alexander Candelario (USA) Kelly Benefit Strategies-Optum Health
14. Pieter Vanspeybrouck (Bel) Topsport Vlaanderen-Mercator
15. Wietse Bosmans (Bel) BKCP-Powerplus
16. Gil Suray (Bel) Lotto-Bodysol Pole Continental Wallon
17. Dieter Vanthourenhout (Bel) BKCP-Powerplus
18. Jonge Maarten De (Ned) Endura Racing
19. Stefan Ganser (Ger) Team Eddy Merckx-Indeland
20. Luc Hagenaars (Ned) Team Eddy Merckx-Indeland
21. Pieter Ghyllebert (Bel) An Post-Sean Kelly
22. Sibrecht Pieters (Bel) Jong Vlaanderen-Bauknecht
23. Sjoerd Kouwenhoven (Ned) Cyclingteam De Rijke
24. Mark Cassidy (Irl) An Post-Sean Kelly
25. Gediminas Bagdonas (Ltu) An Post-Sean Kelly
26. Jens Debusschere (Bel) Omega Pharma-Lotto
27. Johnny Hoogerland (Ned) Vacansoleil-DCM Pro Cycling Team
28. Jens Adams (Bel) BKCP-Powerplus
29. Rune Van Der Meijden (Ned) Cyclingteam De Rijke
30. Christer Rake (Nor) Joker Merida
31. Haavard Blikra (Nor) Sparebanken Vest-Ridley
32. Reinier Honig (Ned) Landbouwkrediet
33. Mark Mcnally (Gbr) An Post-Sean Kelly
34. Maarten Neyens (Bel) Omega Pharma-Lotto
35. Remco Broers (Ned) Team Differdange-Magic-Sportfood.de
36. Vegard Robinson Bugge (Nor) Joker Merida
37. Evan Oliphant (Gbr) Endura Racing
38. Alexander Schmitt (Ger) Team Eddy Merckx-Indeland
39. Robert Retschke (Ger) Team Netapp
40. Geert Verheyen (Bel) Landbouwkrediet
41. Stefan Schäfer (Ger) Team Netapp
42. Jan Kuyckx (Bel) Marco Polo Cycling Team
43. Svein Tuft (Can) Team Spidertech Powered By C10
44. Tom Vermeer (Ned) Colba-Mercury
45. Dominique Cornu (Bel) Topsport Vlaanderen-Mercator
46. Jonas Ljungblad (Swe) Team Differdange-Magic-Sportfood.de
47. Pieter Jacobs (Bel) Topsport Vlaanderen-Mercator
48. Sébastien Delfosse (Bel) Landbouwkrediet
49. Huub Duyn (Ned) Donckers Koffie-Jelly Belly
50. Florent Serry (Bel) Lotto-Bodysol Pole Continental Wallon
51. Rudy Lesschaeve (Fra) Team Differdange-Magic-Sportfood.de
52. Frederik Galta (Nor) Sparebanken Vest-Ridley
53. Frederik Wilmann (Nor) Joker Merida
54. Bert Scheirlinckx (Bel) Landbouwkrediet
55. Michel Kreder (Ned) Team Garmin-Cervelo
56. Timothy Vangheel (Bel) Colba-Mercury
57. Stijn Joseph (Bel) Topsport Vlaanderen-Mercator
58. Grégory Habeaux (Bel) Veranda's Willems-Accent
59. Sven Erik Bystrom (Nor) Sparebanken Vest-Ridley
60. Dirk Bellemakers (Ned) Landbouwkrediet
61. Bob Schoonbroodt (Ned) Cyclingteam De Rijke
62. Stian Remme (Nor) Joker Merida
63. Sander Helven (Bel) Donckers Koffie-Jelly Belly
64. Joaquim Durant (Bel) Jong Vlaanderen-Bauknecht
65. Christer Jensen (Nor) Joker Merida
66. David Clarke (Gbr) Endura Racing
67. Niels Albert (Bel) BKCP-Powerplus
68. Neef Steven De (Bel) Jong Vlaanderen-Bauknecht
69. Bertjan Lindeman (Ned) Vacansoleil-DCM Pro Cycling Team
70. Philipp Walsleben (Ger) BKCP-Powerplus
71. Maxime Anciaux (Bel) Lotto-Bodysol Pole Continental Wallon
72. Brian Megens (Ned) Cyclingteam Jo Piels
73. Michael Rasmussen (Den) Christina Watches-Onfone
74. Troels Ronning Vinther (Den) Glud & Marstrand-LRO
75. Frederik Veuchelen (Bel) Vacansoleil-DCM Pro Cycling Team
76. Thijs Van Amerongen (Ned) Netherlands
77. Thomas Dekker (Ned) Netherlands
78. Bartosz Huzarski (Pol) Team Netapp
79. Vegard Breen (Nor) Joker Merida
80. Kai Reus (Ned) Cyclingteam De Rijke
81. Waele Bert De (Bel) Landbouwkrediet
82. Vegard Stake Laengen (Nor) Plussbank Cervelo
83. Thomas Degand (Bel) Veranda's Willems-Accent
84. Sander Armee (Bel) Topsport Vlaanderen-Mercator
85. Evert Verbist (Bel) Veranda's Willems-Accent
86. Lieuwe Westra (Ned) Vacansoleil-DCM Pro Cycling Team
87. Klaas Lodewyck (Bel) Omega Pharma-Lotto
88. Wouter Wippert (Ned) Netherlands
89. Thijs Al (Ned) Netherlands
90. Ian Wilkinson (Gbr) Endura Racing
91. David Boucher (Fra) Omega Pharma-Lotto  0:10
92. Christopher Stevenson (Swe) Sparebanken Vest-Ridley  0:58
93. Preben Van Hecke (Bel) Topsport Vlaanderen-Mercator  1:43
94. Emmanuel Van Ruitenbeek (Ned) Team Eddy Merckx-Indeland  2:38