July 26, 2011 (Lachine, QC) – Miguel Agreda Rojas (Garneau) won Tuesday evening's seventh stage of Mardis Cyclistes Saputo pro-elite men's races in Lachine, stopping the clock at 1:0:44 on the 50km course for an average speed of 49.3 km/h. Jordan Brochu (Rocky Mountain-Desjardins) finished second while his teammate, Jean-Michel Lachance, completed the podium.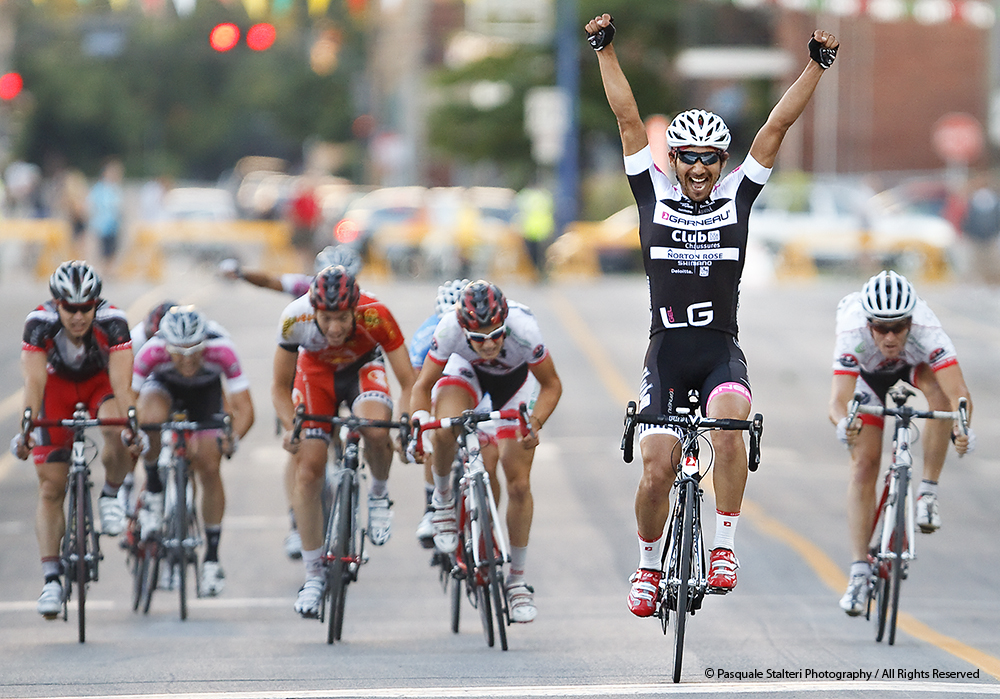 "I attacked in the second-to-last straight stretch. After seeing that I had created a hole, I closed my eyes and gave it everything I had. I am surprised to have won, but I am also very happy," explained Rojas, a 34-year-old Peruvian living in Quebec since 2001. He launched himself from a breakaway group that included two other Garneau riders and four Rocky Mountain riders.
Despite two Rocky Mountain riders on the podium, there was disappointment that the victory was not theirs. "There was a misunderstanding," explained Brochu. "I was the only one to jump onto Rojas' wheel when he attacked and I had just finished a relay. With four guys in the break, we should have done better." But Brochu's second place finish was nonetheless impressive considering that he injured his scaphoid (wrist) on May 22 and has barely raced since then.
Another Rocky Mountain rider, Pierrick Naud, announced that he is leaving in the next few days for Belgium to join the Canadian U23 team there to race in Belgium, France, and in Holland. "I am hoping to make the selection for the World Championships," he said. The 2011 UCI World Road Championships take place from September 19-25 in Copenhagen, Denmark.
Naud is presently ranked seventh in cumulative points but will no longer be a contender to win the 10-stage series. Other key riders who will be in Europe for the rest of the Mardis season include third-ranked Martin Gilbert (Spidertech p/b C10) and fourth ranked David Veilleux (Europcar).
Jean-François Laroche (Fantino Mondello) still leads the series with 547 points, but is now facing a new challenger in Mathieu Roy (Gaspésien) who finished fifth in this evening's race and catapulted himself to second place in the cumulative standings with 437 points.
There was much buzz this evening because the 2011 winner of the prestigious Tour de France, Australian Cadel Evans (BMC) previously raced at the Mardis Cyclistes in about 2001. He is rumoured to have finished fifth in one stage race at that time.
Lachine Mayor Claude Dauphin fired the starter's pistol for the 67 cyclists competing in the men's race here. The crowds were thin this evening. Even the illustrious founder of the Mardis Cyclistes, Tino Rossi, was absent. The weather was cool and the pavement was dry despite a downpour in the late afternoon.
Women's and Junior Races
Véronique Drapeau-Zgoralski (Juvederm-Specialized) won the women's Mozzarellissima race this evening. Elisabeth Albert (Rocky Mountain) finished second, followed by Audrey Labrie (Piste.ca) in third. Drapeau-Zgoralski also leads the GC with 347 points, but is followed closely by Albert with 331.
Among the junior men, Olivier Brisebois (Cycles Bernard Hynault) easily won over Shawn Turcotte (Prud'Homme IGA). Turcotte nonetheless continues to lead in cumulative points for the Lait's Go Cup.
Keltie Campbell (Cuisses d'or) won this evening's stage race while Melyssa Fortin (VC Longueuil) finished second but keeps her yellow leader's jersey. It was the same scenario among the minime boys where Antoine Côté (Vélo club Longueuil) won this evening over Édouard Laparé-Morin (Espoirs Laval) although Laparé-Morin continues to lead the series
Results (brief)
1. Miguel Agreda Rojas (Garneau)
2. Jordan Brochu (In
3. Jean-Michel Lachance (Rocky Mountain)