November 06, 2013 (Winnipeg, MB) – Manitoba's top cyclists headed to the Forks on November 3 to compete for the title of 2013 Manitoba Cyclocross Champion. The races, presented by Wallace + Wallace Fences, saw titles awarded in a variety of age categories ranging from under 15 to over 50. In addition, a non-championship race was held for anyone who wanted to give cyclocross a try.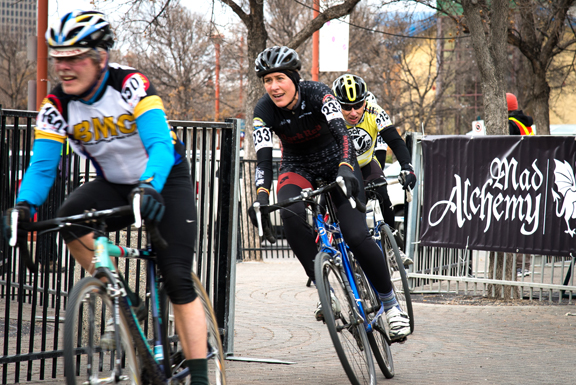 Leah Kirchman (Optum Pro Cycling presented by Kelly Benefit Strategies) took the Senior Women's title, while Jason Gillespie (Team Manitoba) scored the Senior Men's win.
The race course highlighted many of the Forks' key attractions. Starting on the historic rail bridge, the 3 km circuit traveled to the Festival Park area before passing through the heart of the Forks Market Plaza and snaking its way down to the River Walk and back up to the Oodena Celebration Circle via the terraced levels.
Racers experienced a fast, challenging course with variety of different terrain, including grass, gravel, sand, pavement, and cobblestones. Spectators enjoyed numerous vantage points from which to watch the action and cheer for their favourite racers, including numerous indoor options.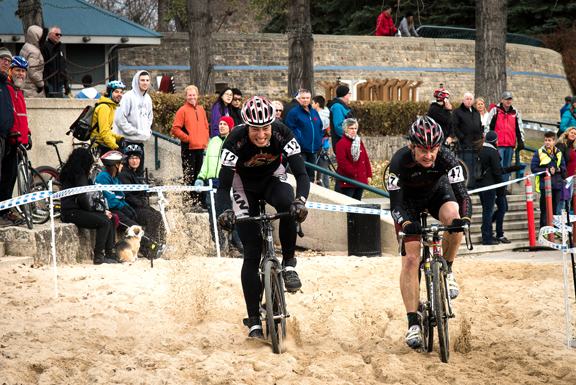 Race organizers, Chris Huebner and Ian Hall, are heading up a team that has submitted a bid to host the Canadian Cyclocross Championships in 2014 and 2015. If their bid is successful, cyclocross racing will return to the Forks next fall when some of Canada's top cycling talent converges on Winnipeg's favourite meeting place.
Results
Senior Female
1. Leah Kirchman (Optum Pro Cycling p/b Kelly Benefit Strategies) 40:06
2. Anna Schappert (Dark Red Racing) 41:26
Senior Male
1. Jason Gillespie (Team Manitoba) 68:47
2. Dylan Harris 68:57
3. Olli Hyytaininen (Dark Red Racing) 69:30
4. Graham Madden 70:51
5. Timothy Runtz (CMU Cycling) 71:29
6. Mark Reimer (Dark Red Racing) 72:43
7. Luc Antaya (Dark Red Racing) 73:36
8. Phil Tripp 73:45
9. Brendan Cade (Woodcock Cycle Works) 66:21
10. David Newsom (Olympia Cycling Club) 66:32
11. Peter Dueck (CMU Cycling) 67:00
12. Jaron Friesen (CMU Cycling) 68:04
13. Luke Enns (Dark Red Racing) 68:15
14. Lyle Wiens (Dark Red Racing) 68:27
15. Kris Eisbrenner 68:52
16. Stephen McKenzie 69:56
17. Jason Zacharias (Country Cycle) 70:33
DNF David Coughlin (Dark Red Racing)
Junior Female
1. Alex Bairos-Novak (Team Manitoba) 39:48
2. Natalie Young (Devo Manitoba) 40:19
Junior Male
1. Aaron Carter (Team Manitoba) 69:49
2. Graham Lock (Devo Manitoba) 65:45
3. Mark Miller (Devo MB/Olympia Cycling Club) 66:23
4. Mitchell Ketler (Devo Manitoba) 74:37
Master 30+ Female
1. Charlene Guenter (Dark Red Racing) 45:03
2. Jane Yardley 37:47
3. Cheryl Koop (ABES) 40:32
4. Lisa Gagne (ABES) 41:15
5. Joanne Wiebe (ABES) 42:43
6. Vanessa Peters (Dark Red Racing) 45:16
Master 30+ Male
1. Daniel Enns (Dark Red Racing) 66:17
2. John Peters (Dark Red Racing) 67:28
3. Jared Spier 67:45
4. Ian Hall (Olympia Cycling Club) 71:06
5. Peter Loewen (Country Cycle) 71:42
6. Chris Yorke 69:24
7. Jackson Locken (Woodcock Cycle Works) 69:53
8. Nils Vik 71:52
9. Brad Gauthier (Alter Ego Cycling Club) 73:30
10. Ryan Dumont 74:26
11. Greg Mickelson 66:19
12. Christopher Neufeld (CMU Cycling) 67:20
13. Nik Pham 71:53
Master 40+ Female
1. Andrea Tetrault (Dark Red Racing) 45:03
2. LeAnn Friesen (Dark Red Racing) 37:47
3. Karin McSherry (Alter Ego Cycling Club) 40:59
4. Jane Payment (Woodcock Cycle Works) 41:35
5. Jennifer Holmes (Woodcock Cycle Works) 42:15
6. Anita Ens (Dark Red Racing) 44:18
Mastrer 40+ Male
1. Terry Macyk (Dark Red Racing) 37:47
2. Chris Huebner (Dark Red Racing) 38:21
3. Jason Howden 38:29
4. Marc Fournier 38:45
5. Jon Guenter (Dark Red Racing) 38:51
6. Dan Lockery (Olympia Cycling Club) 39:27
7. Gavin Faurschou (ABES) 39:51
8. Paul Krahn (ABES) 39:52
9. Darren Cote (Alter Ego Cycling Club) 40:25
10. Trevor Ketler (Alter Ego Cycling Club) 40:41
11. David Epp (Dark Red Racing) 40:42
12. Robert Friesen 40:49
13. Fernie Conrad 41:17
14. Jonathan Sawatsky (ABES) 41:33
15. Lincoln Wiebe (Tinker Creek Cycle) 41:37
16. Chris Ashley (F.O.G (Fast Old Guys)) 41:50
17. Steven Wiebe (ABES) 42:16
18. Scott Stephanson (Olympia Cycling Club) 42:31
19. Jonathan Thompson (KOM: Body Driven Sports) 43:56
20. Justin Rempel 45:40
21. Darryl Dyck (Dark Red Racing) 38:23
22. Philip Evans 38:34
23. Ken Landgraff (Olympia Cycling Club) 41:26
24. James O'Brien (Olympia Cycling Club) 49:30
DNF Mark Seel
Master 50+ Female
1. Anne-Marie Palfreeman (Woodcock Cycle Works) 39:48
2. Janice Kenworthy 44:16
Master 50+ Male
1. Don Sawatzky (Woodcock Cycle Works) 38:09
2. Paul Lapointe (Olympia Cycling Club) 39:46
3. Timothy Turenne (Woodcock Cycle Works) 41:47
4. Brad Enns (Dark Red Racing) 42:37
5. Cameron McLaren 42:48
6. Ben Van Den Bosch 43:00
7. Howard Ryant (F.O.G (Fast Old Guys)) 43:43
8. Bill Algeo (Birch Mountain Bike Club) 45:21
9. Michael Payment (Woodcock Cycle Works) 45:29
10. Ken Stojak 45:44
11. Marc DelBigio 46:42
12. Rod Colwell 47:07
13. Don Rose (Alter Ego Cycling Club) 38:22
14. Bill Gendron (Woodcock Cycle Works) 38:41
15. Albert Falk (ABES) 39:03
16. Brent Brentnall (Olympia Cycle and Ski (St Marys)) 39:09
17. Vic Pankratz (Dark Red Racing) 39:33
18. Dave Bell (Alter Ego Cycling Club) 43:00
U15 Female
1. Jaydi Wiebe (Tinker Creek Cycle) 44:42
2. Miriam Huebner (KOM: Wolseley Wheels) 49:26
U 15 Male
1. Carson Thompson (Devo MB/KOM: Body Driven Sports) 44:55
2. Scott English (Devo MB/KOM: Bikes & Beyond / Splitz) 45:21
3. Teagan Algeo (Birch Mountain Bike Club) 46:57
U17 Female
1. Mary Prendergast (Devo Manitoba) 38:27
2. Autumn Rodriguez (Devo Manitoba) 44:58
U17 Male
1. David Hamm 38:11
2. Quinn Desrochers (Devo Manitoba) 38:19
3. Hayden Rose (Devo Manitoba) 38:58
4. Ilya Osachuk (Devo Manitoba) 39:01
5. Kurt Penno (Devo Manitoba) 40:49
6. Kailen Shackleton (Devo Manitoba) 41:01
7. Matthew Blenkinsopp (Body Driven) 41:15
8. Marshall Nardella (Devo Manitoba) 41:55
9. Robert Young (Devo Manitoba) 47:20
U23
1. Chris Prendergast (Team Manitoba) 65:09
2. Danick Vandale (Devo Manitoba) 66:17
3. Jason Wiebe (Country Cycle) 67:34
4. Ari Robinson (Team Manitoba) 70:18
5. Milo DelBigio (Woodcock Cycle Works) 70:35
U13 Male and Female – 20 Minutes of Fun
Evan Amaral
Owen Borland
Leo Dyck
Matthaeus Dyck
Miles Ehlers
Doninic Eidse
Neko Eidse
Rocky Enns
Airo Enns
Henry Faurschou
Nelson Faurschou
Luch Gagne
Coen Gagne
Aiden Gauthier
Aimee Gauthier
Eryn Guenter
Rohan Hall
Jonah Huebner
Marcus Huebner
Aukland Lebrun
Dagan Lebrun
Oliver Levere
Rainer Peters
Katherine Peters
Katie Sawatsky
Mia Sawatsky
Elon Stoesz
Tristan Weibe
Levi Wiebe
Paulos Wiebe
Meski Wiebe
Thomas Wiebe
Hugo Wiebe
Open Female – 30 Minute Event
1. Kristie Latta 28:44:00
2. Dana Wiebe 29:19:00
3. Cheryl Conklin 30:34:00
4. Terri Wolfe 32:11:00
5. Shelagh Graham 35:49:00
6. Robeta Ronald 28:45:00 -1
7. Jana Samolesky 33:54:00
Open Male
1. Chris Graham 24:06:00
2. Niall Harney 25:12:00
3. Jared Giesbrecht 25:46:00
4. Evan Giesbrecht 26:18:00
5. Timothy Dueck 26:37:00
6. Greg Carrigan 26:47:00
7. Nicholas Pegoretti 27:15:00
8. Gilles Crevier 27:20:00
9. Kevin Miller 27:34:00
10. Patrick Whiddon 27:49:00
11. Kurt Bredeson 28:02:00
12. Tom Slymkevich 28:13:00
13. Justin Walterns 28:19:00
14. Ash Izaichura 28:20:00
15. Christopher Harrington 28:28:00
16. Dave Pancoe 29:02:00
17. Tyler Giesbrecht 29:17:00
18. Derek Eidse 29:43:00
19. Alex Singbeil 30:00:00
20. Dan Chafe 30:02:00
21. Murray Braun 30:32:00
22. Aaron Levere 30:37:00
23. Dave Bartel 30:42:00
24. Dan Moroz 31:38:00
25. Patrick Falk 31:50:00
26. Reynold Bergen 34:25:00
27. John Boehm 25:38:00 -1
Citizen Female
1. Erin Smith 29:39:00
2. Stephanie Fehr 30:32:00
3. April Gobert 37:41:00
Citizen Male
1. Gregory Wiebe 25:56:00
2. Stephen Page 26:27:00
3. John Heim 28:19:00
4. Jeff Brooks 28:40:00
5. Jonathan Borland 28:59:00
6. Roland Amsler 29:05:00
7. Giles Smalley 30:19:00
8. Jeff Pratte 30:43:00
9. Josh Donkersloot 31:07:00
10. Scott Lytwyn 32:14:00
11. Fred Pauls 34:22:00