November 24, 2014 (Quebec City, QC) – Louis Garneau, a former Olympic cyclist and founder of international sportswear company Louis Garneau Sports, was among four people receiving a medal of honour (Médaille d'honneur) this past week. The ceremony took place on November 18 at Quebec's National Assembly (provincial parliament) in the presence of Quebec premier, Philippe Couillard, and other dignitaries.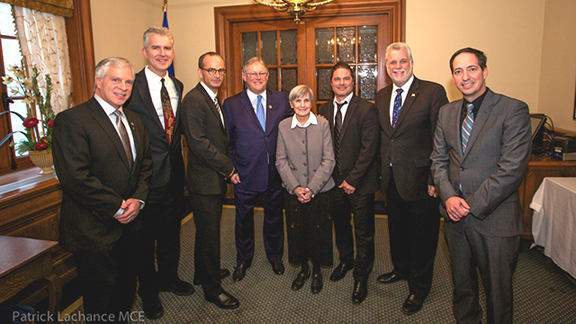 The three other recipients of a medal of honour included: journalist Richard Garneau (posthumous), Louise Brissette, a physiotherapist and osteopath, who has adopted 37 handicapped children, and businessman François-Guy Thivierge (who is also a mountain climber and adventurer).
Garneau, 56, rode professionally from 1972 to 1984 and won some 150 races during his career. As a junior, he won the ITT Canadian title in 1975 and 1976 and was the Quebec road race champion in 1976. Two of his most prominent wins as a senior include the Canadian individual pursuit track title in 1978 and the Tour du Havre in Normandy, France, where he bested top French rider, Thierry Marie.
Garneau also competed at the Commonwealth Games in 1978 and 1982, and at three Road World championships from 1981 to 1984. He made Canada's Olympic team for Moscow in 1980 (boycotted) and Los Angeles in 1984. In 2013 he competed against the pros in the 50km Mardis Cyclistes crit series and finished the event.
In the fall of 1983, he and his wife Monique Arsenault started manufacturing their first cycling clothes in his father's garage. Soon after, they became sponsors of the Canadian national team which they continue to be to this day. Garneau founded Louis Garneau Sports in 1984; today the Quebec City-based company employs close to 500 workers worldwide.
Garneau's other team and event sponsorships include the French-based Team Europcar (which competed at the 2014 Tour de France) and LGS is also a title sponsor for the Garneau-Quebecor UCI continental road team based in Quebec City.
Louis Garneau is apparently unrelated to the deceased journalist, Richard Garneau.