March 15, 2014 – Louis Garneau presents a new series of 12 paintings entitled Hope. All the proceeds from the sale of these paintings will be donated to Rwanda's National Cycling Team. The paintings of the Hope series are sold for $20,000 each, all in profit of the development of cycling in Rwanda.
"For the rest of my life, I have decided to give the profits generated by the sale of my paintings to causes that I believe in. Team Rwanda is one of those," declared businessman and artist Louis Garneau. "About 4 years ago, Jonathan ("Jock") Boyer, the first American to participate in the Tour de France, contacted me asking me to provide assistance to Rwanda's National Cycling Team, newly created and composed entirely of young survivors of the 1994 genocide.
"How could I say no to a cause like that? It is why I decided to paint the Hope series, to highlight the extraordinary accomplishments of Mr. Boyer and his riders. I am filled with admiration for these young men who lived the atrocities of the genocide and who, refusing to be taken down, chose to keep living, opting to compete in one of the most demanding sports there is," he explained.
Jonathan Boyer, who will also be present at the exhibition's opening, is very grateful for the help brought by Louis Garneau. "I am very excited to come to Quebec City to be with Louis Garneau at this event. Louis has been with us since the beginning and his support has enabled us to come as far as we have."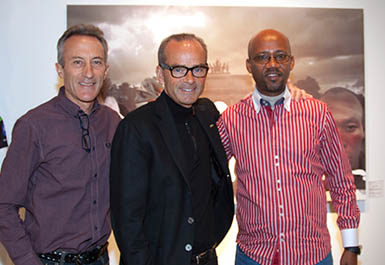 Incidentally, has an impressive track record: he has claimed 87 victories as an amateur and 49 professional wins, in addition to having participated in the Tour de France 5 times. He was inducted into the US Cycling Hall of Fame in 1998
Louis Garneau Sports has been a sponsor of Rwanda's team for over 4 years. Team Rwanda allows its athletes to benefit from professional-grade training and organization. Its cyclists can thus ride for themselves, for their country, as well as to raise awareness about the situation in Rwanda. The support given for the riders, in addition to their own enthusiasm, will help them gain access to competitions around the world and, ultimately, one day realize "Jock" Boyer's dream of taking his team to the Tour de France.
The exhibition will be accessible to the general public without reservation until May 1, 2014, following shop opening hours. Simply visit de Louis Garneau boutique located at 40, des Grands-Lacs street, in St-Augustin-de-Desmaures.
For images of Rwanda's cycling team, see the link to the preview of the movie "Rising From Ashes" here.
More on the exhibit here.