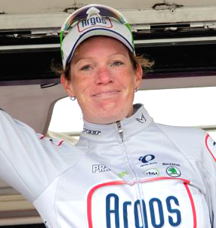 August 25, 2013 (Nijlen, Belgium) – Kirsten Wild has sprinted to victory on stage 3, Nijlen to Nijlen, 115.km, of the Lotto Belisol Belgium Tour just minutes after John Degenkolb won the Vattenfall Cyclassics in Germany.
This is Kirsten's second win in two day's, having already win yesterday's first road stage. It is the Team Argos-Shimano women's 13th win of the season, and Kirsten's 12th.
The race was touch and go as to whether it would all come back together by the finish with one rider from the original breakaway going solo in the final three kilometres but the race came back together, under the impetus of Team Argos-Shimano, and Kirsten showed the rest of the bunch a clean set of heels.
"What the girls did today was really amazing," said coach Cees-Jan van der Zweep (NED). "We had two strong riders in front holding their gap with just three finishing laps to go. All the teams were watching us and we knew that it was up to us today if we wanted the stage.
"The girls did an amazing job in hunting down the breakaway and closed the gap in the last few hundred metres. The whole team executed the plan perfectly."
"That is what you call team work," said a very content Kirsten Wild. "It was up to our team to chase the break and that is just what we did.
"At the finish it was up to me to make it happen and they put me in a perfect position. Amy Pieters (NED) brought me right to the wheel of Orica AIS with 500m to go and I went at 250m.
"I'm really happy with this win and very proud of the team today."
Results
1. Kirsten Wild (Ned) Team Argos-Shimano    2:45:23
2. Lisa Brennauer (Ger) Specialized-lululemon
3. Annette Edmondson (Aus) Orica-AIS
4. Kelly Druyts (Bel) Topsport Vlaanderen-Bioracer
5. Shelley Olds (USA) Team TIBCO To The Top
6. Jolien D'Hoore (Bel) Lotto Belisol Ladies
7. Liesbet de Vocht (Bel) Belgian National Team
8. Kim de Baat (Ned) Mix 3 Napoleon Games-Boels Dolmans
9. Chloe Hosking (Aus) Hitec Products UCK
10. Kaat van der Meulen (Bel) Belgian National Team
45. Sarah Coney (Can) Canadian National Team
56. Jasmin Glaesser (Can) Team TIBCO To The Top
62. Veronique Fortin (Can) Canadian National Team
89. Annie Foreman-Mackey (Can) Canadian National Team
92. Shoshauna Laxson (Can) Canadian National Team
94. Anika Todd (Can) Canadian National Team
GC after Stage 3
1. Lisa Brennauer (Ger) Specialized-lululemon    6:06:44
2. Ellen van Dijk (Ned) Specialized-lululemon    0:06
3. Carmen Small (USA) Specialized-lululemon    0:26
4. Emma Johansson (Swe) Orica-AIS    0:35
5. Loes Gunnewijk (Ned) Orica-AIS    0:41
6. Gracie Elvin (Aus) Orica-AIS    0:54
7. Kirsten Wild (Ned) Team Argos-Shimano    1:17
8. Shelley Olds (USA) Team TIBCO To The Top    1:28
9. Lauren Stephens (USA) Team TIBCO To The Top
10. Jasmin Glaesser (Can) Team TIBCO To The Top
50. Veronique Fortin (Can) Canadian National Team    4:32
67. Anika Todd (Can) Canadian National Team    10:44
78. Annie Foreman-Mackey (Can) Canadian National Team    13:52
111. Shoshauna Laxson (Can) Canadian National Team    20:47
114. Sarah Coney (Can) Canadian National Team    20:54
Young Rider GC
1. Jasmin Glaesser (Can) Team TIBCO To The Top    6:08:12
2. Rossella Ratto (Ita) Hitec Products UCK    6:08:21
3. Amy Pieters (Ned) Team Argos-Shimano    6:08:26
24. Annie Foreman-Mackey (Can) Canadian National Team    6:20:36
Sprint GC
1. Jasmin Glaesser (Can) Team TIBCO To The Top    17 pts
2. Marijn de Vries (Ned) Lotto Belisol Ladies    15
3. Thalita de Jong (Ned) Mix 2 Autoglas Wetteren-Rabobank    11
Climber GC
1. Sofie de Vuyst (Bel) Mix1 Sengers Ladies-Bizkaia    15 pts
2. Amy Pieters (Ned) Team Argos-Shimano    8
3. Elisa Longo Borghini (Ita) Hitec Products UCK    3
8. Jasmin Glaesser (Can) Team TIBCO To The Top    1
9. Veronique Fortin (Can) Canadian National Team    1