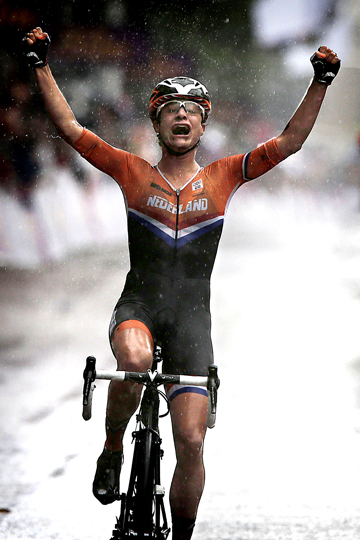 July 29, 2012 (London, UK) – The women's road race at the London 2012 Olympic Games is underway under overcast skies as a total of sixty-six riders rode out from under Buckingham Palace's watch just after a rain shower made the course rather slick. It was hard to know how to dress and gusts of wind and threatening skies could provide just about any weather. The women's course is 140km in length, including two laps of Box Hill. Great Britain's Nicole Cooke is the defending Olympic champ and fans are hoping to see the Union Jack on the podium today and salvage some honour in the road races.
Race day has turned into a typical cold rainy day in London with temperatures hovering at 13 degress Celsius. Stalwart fans are out cheering with their "brellies" up and their "Wellies" on. Like the men, the women ride southwest, on the Putney Bridge which takes them over the River Thames, through Richmond Park, beside Hampton Court Palace and then head towards Surrey where Box Hill is located.
The climbs and descents – especially if the threatening clouds do deliver more rain – is where the race could be determined. Many of the roads are narrow and the corners can be technical. Once they depart Box Hill, the peloton heads north through Leatherhead, Esher, Kingston-upon-Thames and revisits Richmond Park and the Putney Bridge before finishing on The Mall.
Before the first hour of the race was completed teaming rain arrived. Canada's Clara Hughes, a veteran racer, knows how to cope with slick conditions, but crashed twice this season, once in the pack, once in her warm-up. She will no doubt try to stay clear of any possible dangerous situations. Joining Hughes are Joelle Numanville and Denise Ramsden, though young, are also experienced. Fifty-five minutes into the race there have been no crashes.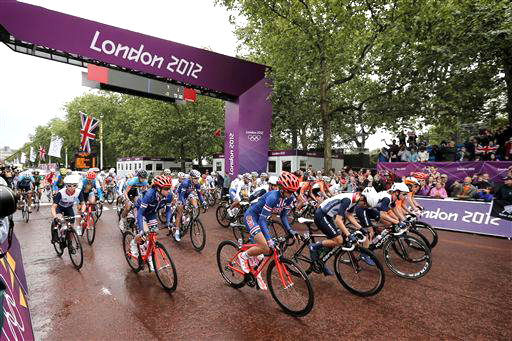 12:50 BST -Following a calm start an early attack by Brazil's Janilde Fernandes Silva was reeled in and the group road carefully and together for the first 40-50km on the wet pavement
12:58 BST – Canada's Hughes is up front as the Nethervand's Ellen van Dijk attacks but she's reeled in quickly – less than 100km to go – the pouring rain is back.
13:05 BST – Back of the pack three riders have needed wheel changes including Italy's Noemi Cantele.
13:10 BST – Cantele's problems are not done as she's hailed the team car again – 25-30km to the Box Hill climb where the real action will unfold.
13:15 BST – Reigning world road champ Giorgia Bronzini from Italy is also having some trouble and is now trying to catch back on…
13:19 BST – The rain is coming down hard as the USA's Kristin Armstrong and Evelyn Stevens ramp it up at the front and keep the pace high…
13:20 BST – Cantele sees Bronzini behind her and has been waiting to help her back to the group – mission accomplished. Bronzini won back-to-back world titles and would dearly love to add Olympic gold to her resume.
13:25 BST – There's a sudden crash at the back of the pack involving early leader Fernandes Silva… Judith Arndt (Ger) reigning TT World champ was near the crash but was able to avoid it.
13:30 BST – Armstrong is at the front – then the Netherlands attacks – Ramsden is up there… back together.
13:31 BST – Amber Neben (USA) takes to the front before the first serious climb as Box Hill approaches… riders are stringing out behind.
13:33 BST – Up the climb it's all together with Marianne Vos (Ned) one of the strongest bets for a medal up there. The peloton has been split with a group behind trying to catch back on to the main group.
13:36 BST – Up the climb it's Canada's Hughes leading the pack… the only athlete with multiple medals at both Summer and Winter Olympic Games – they'll soon be heading up the first time up Box Hill.
13:38 BST – The Dutch attacks – it looks like Vos – Hughes responds…
13:40 BST – The USA's Shelley Olds is up there is as well – now a Netherlands rider attacks on the left.
13:41 BST – Back together but strung out behind – the roads are drying out… a group if 15 riders is at the front.
13:42 BST – Van Dijk attacks again and is out alone out front.
13:45 BST – Van Dijk is with another rider with 5 seconds on the pack all together keeping an eye on them – it's Audrey Cordon from France.
13:47 BST – Back together as the Box Hill circuit approaches…
13:50 BST – The rain is back as the pavement is wet once again…the big names are moving to the front for the Box Hill section.
13:53 BST – Great Britain's Emma Pooley is moving up on the right side…the pace is picking up.
13:55 BST – Now in Dorking… very close to Box Hill- Sweden's Emma Johansson is up there and often a bridesmaid would love to change that.
13:57 BST – On the first climb up of the Box Hill circuit – now Britain's Cooke moves to the front.
13:59 BST – Clara Hughes is on the front on a narrow section of the climb… 66 riders from 34 nations are battling for Olympic glory – LOTS of fans are lining the course.
14:o1 BST – Hughes continues to lead as the USA comes to the front – looks like Neben – now Cooke is in the middle of the pack.
14:o3 BST – All together as Hughes holds court up front… the attacks are coming.
14:o4 BST – Now the Netherlands van Dijk is leading up a steep section…
14:o5 BST – Evelyn Stevens drives it hard thru the feed zone… Pooley is there.
14:o7 BST – Germany's Arndt is now leading… Vos joins her – this could be dangerous.
14:o8 BST – Back together – then Pooley attacks – but the peloton is not far behind her.
14:10 BST – Pooley is a strong time trialer and now has a gap…
14:11 BST – Loes Gunnewijk crashes on the slick pavement…
14:12 BST – Stevens joins Pooley and Vos catches on – but peloton is not having it – back together.
14:13 BST – But Pooley doesn't wait – she's off the front again.
14:14 BST – Pooley is reeled in but now Vos attacks on the climb… she's as big danger.
14:16 BST – Vos is not getting away as the group catches her – behind defending champ Cooke has had some problems and is trying to catch on with another rider.
14:17 BST – The sun is out… it's Tatiana Antoshina (Rus) with Cooke and they're racing hard to reach the back of the group – it's not clear what happened to Cooke – she's there now.
14:20 BST – Groupo compacto… as the pace let's up but for how long? Cooke is comfortable in the pack now getting a rest after her push to get back on – 55km to go.
14:21 BST – It's Hughes and Armstrong leading the pack as the riders are on their second time thru Box Hill… then it's 40km of flat roads to the finish.
14:23 BST – A Chinese rider goes down in a corner and Armstrong crashes as well with several other riders… she's back on the bike.
14:25 BST – Van Dijk attacks yet again up the climb… Pooley tries to reel her in with Stevens.
14:26 BST – A group of 30 or so riders with all of the big names are up front lead by Stevens… the rest are straggling behind.
14:28 BST – The pace has dropped as Hughes is up front with Pooley and Vos on the climb…
14:29 BST – Vos attacks on the steepest part of the climb…
14:30 BST – Elizabeth Armitstead is with her – so is Sweden's Johannson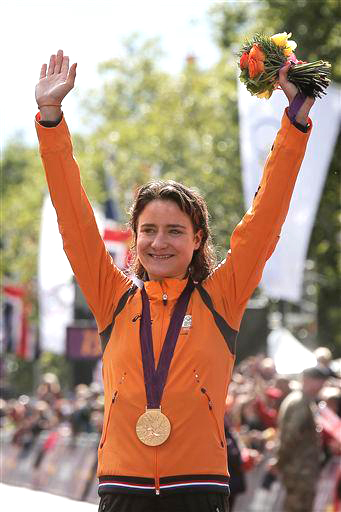 14:32 BST – They're caught and now France's Aude Biannic attacks and gaps the field
14:34 BST – Biannic is reeled in an now a Russian attacks – Hughes leads the pack behind – they're almost finished Box Hill.
14:36 BST – Russia's Olga Zabelinskaya has a serious gap – 20+ sec. – she's a national TT champ and this move could be dangerous.
14:38 BST – Armitstead and Stevens don't like the Russian's move and are off the front and start to reel her in.
14:39 BST – Vos moves up as well and now there's a very dangerous move by these riders out front led by Vos as they catch Zabelinskaya – Armitstead is there and Shelly Olds with Vos and Zabelinskaya.
14:41 BST – The pack needs to react soon – Sweden, Germany, Italy, Canada – are not in the break. The Netherlands will not be helping behind.
14:43 BST – Vos is leading… if she gets away on her own it could be a fait accomplis – 38km to go.
14:45 BST – The four are working well together and they know they have a chance – 18s behind the peloton has come alive.
14:47 BST – The rain is back… Italy is at the front pushing the pace – Arndt is there and so is Johansson – now 23s
14:50 BST – With 33km to go the gap has dropped to 19s so the pack is making some gains as Arndt is now at the front.
14:52 BST – Now Italy takes the brunt at the front… Germany and Sweden are there – they need to work together to catch this break or…
14:53 BST – The rain is POURING down… the peloton looks organized but can they reel the break in ?
14:57 BST – Olds can't keep up and has been dropped… she's off the back.
14:58 BST – Johansson flats – she's out now.
14:59 BST – Vos is driving the pace – she knows this break is good and she does not have Olympic gold on her resume. Armitstead and Zabelinskaya are struggling to keep up.
15:01 BST – With 25km to go the gap is 34-sec… the 3 leaders are on the outskirts of London – can they stay away ?
15:03 BST – Heading past Hampton Court Palace it's a wicked pace in the pouring rain – the peloton is NOT gaining on the break.
15:05 BST – Vos, the world's #1 rider, has Olympic track gold to her name but not a road medal…
15:07 BST – Still 30s back the peloton is not looking as well organized as before – now at the 20km – are we looking at the 2012 women's Olympic podium…?
15:10 BST – Now 38s at 18km to go in pouring rain – the USA is back at the front with Itlay and Germany pushing.
15:13 BST – The leaders continue to drive the pace and force the peloton's hand… the fans are out in droves and look like they'll finally get what they came for – an Olympic medal.
15:17 BST – Stevens is at the front pushing hard – Numainville goes down or has a mechanical – as the rain keeps coming down.
15:19 BST – At 12.6km the leaders are keeping pace and know they're holding their gap… Vos moves back to the front – now they're at 46s.
15:22 BST – No gains are being made by the peloton – under 10km to go.
15:27 BST – They're nearing the 5km mark – Vos has won the Road Worlds and the Cyclocross Worlds and the overall Road World Cup and would dearly love to add Olympic gold.
15:29 BST – The bets are on Vos and Armistead for gold – but Zabelinskaya can't be discounted. The TT champ's father won Olympic TT gold and she has aspirations as well.
15:32 BST – With 2.5km to go it's unlikely they'll be caught… almost a mishap on a corner. The cat and mouse game begins.
15:34 BST – Zabelinskaya tries to drop the others but they're there.
15:35 BST – 500m to go… Vos attacks near the finish – Armitstead goes with her.
15:36 BST – Vos wins GOLD.
Results
1. Marianne Vos (Netherlands) 3:35:29
2. Elizabeth Armitstead (Great Britain)
3. Olga Zabelinskaya (Russian Federation) 00:02
4. Ina Teutenberg (Germany) 00:27
5. Giorgia Bronzini (Italy)
6. Emma Johansson (Sweden)
7. Shelley Olds (United States of America)
8. Pauline Ferrand Prevot (France)
9. Liesbet De Vocht (Belgium)
10. Aude Biannic (France)
11. Katarzyna Pawlowska (Poland)
12. Joelle Numainville (Canada)
13. Ahreum Na (Republic of Korea)
14. Annemiek Van Vleuten (Netherlands)
15. Alena Amialiusik (Belarus)
16. Ashleigh Moolman (South Africa)
17. Grete Treier (Estonia)
18. Linda Melanie Villumsen (New Zealand)
19. Emilia Fahlin (Sweden)
20. Pia Sundstedt (Finland)
21. Christine Majerus (Luxembourg)
22. Polona Batagelj (Slovenia)
23. Clemilda Fernandes Silva (Brazil)
24. Evelyn Stevens (United States of America)
25. Tatiana Antoshina (Russian Federation)
26. Evelyn Yesenia Garcia Marroquin (El Salvador)
27. Denise Ramsden (Canada)
28. Joanna Van De Winkel (South Africa)
29. Maaike Polspoel (Belgium) 00:32
30. Tatiana Guderzo (Italy)
31. Nicole Cooke (Great Britain)
32. Clara Hughes (Canada)
33. Trixi Worrack (Germany) 00:35
34. Noemi Cantele (Italy)
35. Kristin Armstrong (United States of America) 00:47
36. Amber Neben (United States of America) 00:51
37. Judith Arndt (Germany) 00:59
38. Larisa Pankova (Russian Federation) 01:53
39. Shara Gillow (Australia)
40. Emma Pooley (Great Britain) 01:57
41. Ingrid Drexel (Mexico) HD
42. Loes Gunnewijk (Netherlands) HD
43. Charlotte Becker (Germany) HD
44. Xin Liu (People's Republic of China) HD
45. Monia Baccaille (Italy) HD
46. Fernanda Da Silva Souza (Brazil) HD
47. Ellen Van Dijk (Netherlands) HD
48. Lucy Martin (Great Britain) HD
49. Mei Yu Hsiao (Taipei (Chinese Taipei)) HD
50. Alona Andruk (Ukraine) HD
51. Audrey Cordon (France) HD
52. Ludivine Henrion (Belgium) HD
53. Robyn De Groot (South Africa) HD
54. Amanda Spratt (Australia) HD
55. Chloe Hosking (Australia) HD
56. Yumari Gonzalez Valdivieso (Cuba) HD
57. Emilie Moberg (Norway) HD
58. Isabelle Soderberg (Sweden) HD
59. Wan Yiu Jamie Wong (Hong Kong, China) HD
DNF Mayuko Hagiwara (Japan)
DNF Danielys Garcia (Venezuela)
DNF Paola Andrea Munoz Grandon (Chile)
DNF Aurelie Halbwachs (Mauritius)
DNF Elena Tchalykh (Azerbaijan)
DNF Juthatip Maneephan (Thailand)
DNF Janildes Fernandes Silva (Brazil)