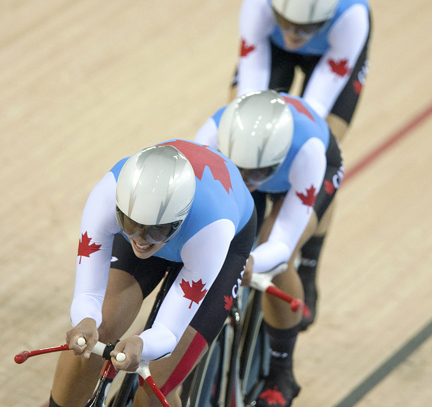 August 04, 2012 (London, UK) – The Canadian Women's Team Pursuit consisting of Tara Whitten, Jasmin Glaesser and Gillian Carleton has won Olympic BRONZE beating Australia to claim Canada's first cycling medal at the London 2012 Games. The race for gold is soon underway between the USA and Great Britain –
Day 3 full results HERE.
Canadian IOC member Dick Pound awarded the medals … and who needs the Royals when Paul McCartney is in the stands to cheer on these amazing women.
Results
Final
For Gold
1.     Great Britain     3:14.051
Dani King
Laura Trott
Joanna Rowsell
2.    United States     3:19.727
Sarah Hammer
Dotsie Bausch
Lauren Tamayo
For Bronze
3.     Canada     3:17.915
    Tara Whitten     
    Gillian Carleton     
    Jasmin Glaesser     
4.    Australia     3:18.096
Annette Edmondson
Melissa Hoskins
Josephine Tomic
Final 5th-6th
5.     New Zealand     33:19.351
Lauren Ellis
Jaime Nielsen
Alison Shanks
6.    Netherlands     3:23.256
Vera Koedooder
Amy Pieters
Ellen van Dijk
Final 7th-8th
7.     Belarus     3:20.245
Tatsiana Sharakova
Alena Dylko
Aksana Papko
8.    Germany    3:20.824
Judith Arndt
Charlotte Becker
Lisa Brennauer