August 12, 2012 (London, UK) – The final cycling event at the London 2012 Olympic Games in Hadleigh Country Park is the Men's MTB XC race soon underway under sunny, humid and breezy conditions, with Julien Absalon (France) the double defending champ looking for the hat trick and many rivals ready to unseat him lead by Nino Schurter (Switzerland), Jaroslav Kulhavy (Czech Republic) and Burry Stander (South Africa).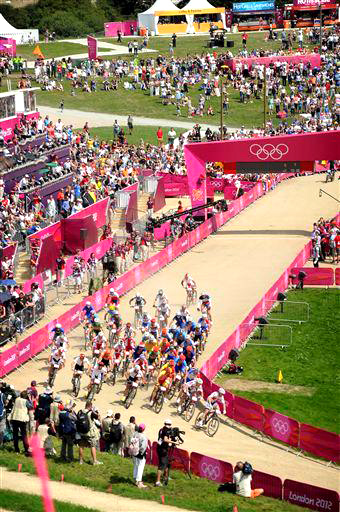 Start Loop
Schurter jumps and gets the hole shot.
Germany's Manuel Fumic is up there with Florian Vogel (Sui)… now Kulhavy is in 3rd.
Kabush is 13th… Plaxton crashed (?)
Lap 1
Schurter is leading followed by Fumic and Kulhavy…
Then it's Marco Aurelio Fontana (Italy) and Poland's Marek Konwa – Absalon is around 8th at about 5-6 sec behind – Plaxton is in the 30s. We forgot Vogel who is up there as well – the Swiss are always strong.
Kabush is around 15th…
Lap 2
It's Kulhavy leading Schurter with Fontana in 3rd… Kabush is  15th
José Hermida (Spain) is up there as well with Fumic behind…
Absalon has crashed… as Schurter and Kulhavy battle at the front with Fontana there and Hermida trying to bridge.
Kabush is now 13th…
Stander has joined Hermida as they try to reel in the three leaders…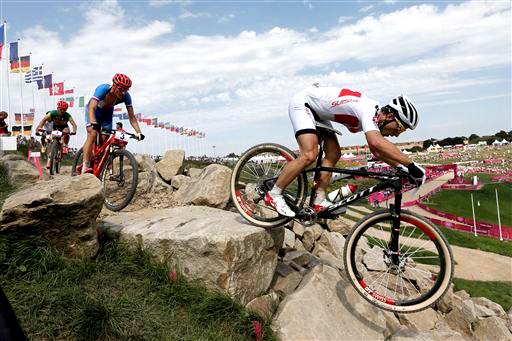 Lap 3
The three leaders come thru to start lap 3 of 7 – Kulhavy is in front with Schurter just behind and Fontana there at 1s.
Stander takes over 4th with Hermida 5th at 9s…
Kabush has moved up to 8th about 30s behind…
Absalon and Liam Killeen (Great Britain) are out.
Schurter takes over the lead from Kulhavy at 1 sec. as  Fontana holds on to 3rd then it's  Stander at 6 sec in 4th followed by , Hermida in 5th at at 7s.
The lap is about to to end… in Stephane Tempier of France is 6th, Alexander Gehbauer (Austria) is 7th then it's Kabush holding on to 8th at 40s.
The USA's Todd Wells is behind Kabush in the teens while teammate Schultz is further back – Canada's Plaxton is behind him around 30th.
Lap 4
It's Kulhavy leading with Schurter on his wheel…and Fontana just behind.
Stander and Hermida have closed the gap and we now have 5 leaders…
Kabush has dropped back into 12th position at 48 sec.
Stander is now at the front with Schurter on him – then it's Kulhavy, Fontana, and Hermida…
On the climb Schurter regains the lead as Stander struggles to keep pace…
Wells has moved up and passed Kabush… the lap will soon end.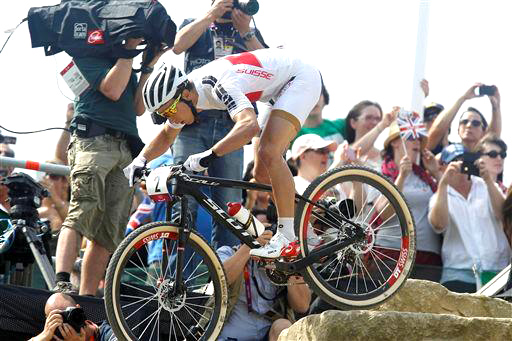 Lap 5
Schurter is at the front of the 5 leaders with three laps to go… Kulhavy, Hermida, Fontana and Stander are right behind him.
Gehbauer is 6th and Tempier is 7th at 37s – then it's Fumic in 8th Wells in 9th at 51s with Carlos Coloma in 10th and Canada's Kabush in 11th at 57s.
Fontana bumps Schurter's wheel and almost crashes…
Stander and Hermida are struggling to keep up on the climb….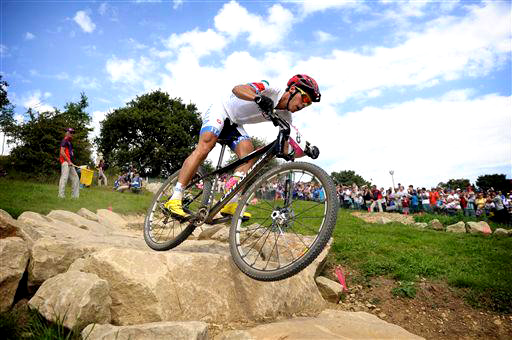 Lap 6
Kulhavy is leading with Schurter and Fontana keeping pace… but Stander and Hermida are not with them.
Plaxton has DNF'd
Stander and Hermida are together at 18s…
Fumic has taken over 6th at 51s as Gehbauer and Tempier are struggling… Kabush is now 10th.
Schurter and Kulhavy swap the lead thru the lap as Fontana holds on to third…
Kabush is moving up now 9th…
Lap 7 FINAL
Schurter leads as the bell lap begins at 1:16:47… Kulhavy is on his wheel with Fontana 3rd.
Kabush is now 8th…
Fontana attacks and is leading…Schurter responds but Kulhavy is wavering.
Schurter regains the lead and Kulhavy is not fading – he's there as Fontana is third again.
Schurter leads in the final climb…
Kulhavy passes him as they head to the finish…
Kulhavy wins GOLD
1. Jaroslav Kulhavy (Czech Republic) 1:29:07
2. Nino Schurter (Switzerland) 0:01
3. Marco Fontana (Italy) 0:25
4. Jose Antonio Ramos Hermida (Spain) 0:29
5. Burry Stander (South Africa) 0:30
6. Carlos Nicolas Coloma (Spain) 0:01:00
7. Manuel Fumic (Germany) 0:01:24
8. Geoff Kabush (Canada) 0:01:36
9. Alexander Gehbauer (Austria) 0:02:09
10. Todd Wells (USA) 0:02:21
11. Stephane Tempier (France) 0:02:23
12. Jan Skarnitzl (Czech Republic) 0:02:41
13. Gerhard Kerschbaumer (Italy) 0:02:55
14. Ondrej Cink (Czech Republic) 0:03:09
15. Samuel Schulz (USA) 0:03:22
16. Marek Konwa (Poland) 0:03:34
17. Rudi Van Houts (Netherlands) 0:03:46
18. Ralph Naef (Switzerland) 0:03:51
19. Kevin Van Hoovels (Belgium) 0:03:54
20. Karl Markt (Austria) 0:04:11
21. Daniel McConnell (Australia) 0:04:15
22. Sergio Mantecon (Spain) 0:04:39
23. David Rosa (Portugal) 0:04:43
24. Rubens Valeriano (Brazil) 0:05:16
25. Florian Vogel (Switzerland) 0:05:29
26. Andres Soto (Argentina) 0:06:06
27. Kohei Yamamoto (Japan) 0:06:19
28. Hector Paez Leon (Colombia) 0:06:55
29. Jean-Christophe Perraud (France) 0:08:00
30. Marc Bassingthwaighte (Namibia) 0:08:10
31. Sergiy Rysenko (Ukraine) 0:08:25
32. Piotr Brzozka (Poland) 0:09:30
33. Periklis Irias (Greece) 0:09:44
34. Moritz Milatz (Germany) 0:09:52
35. Philip Buys (South Africa) 0:11:04
36. Paolo Cesar Montoya (Costa Rica) 0:12:12
37. Evgeniy Pechenin (Russia) 0:12:33
38. Chun Hing Chan (Hong Kong) 0:12:52
39. Adrien Niyonshuti (Rwanda) 0:13:39
40. Marios Athanasiadis (Cyprus) 0:14:18
41. Weisong Tong (China) -1 lap
42. Derek Horton (Guam) -1 Llap
DNF Sven Nys (Belgium)
DNF Max Plaxton (Canada)
DNF Andras Parti (Hungary)
DNF Julien Absalon (France)
DNF Liam Killeen (Great Britain)
DNS Robert Forstermann (Germany)
DNS Michael Vingerling (Netherlands)
DNS Sam Bewley (New Zealand)