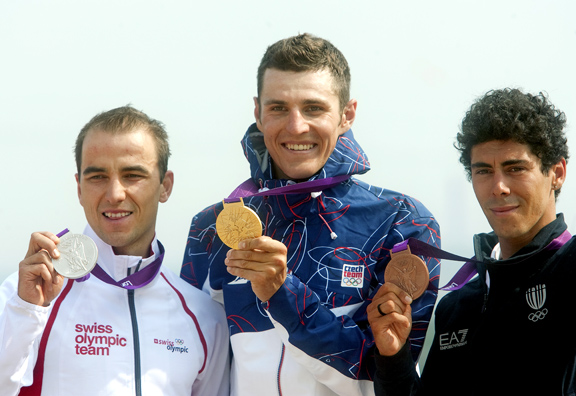 August 12, 2012 (London, UK) – In a thrilling finish to the cycling events at the London 2012 Olympic Games on the final day fans were treated to one of the closest and most exciting races as reigning MTB Worlds champ, Jaroslav Kulhavy (Czech Republic) surged past race favourite and overall MTB World Cup series winner, Nino Schurter (Switzerland), in the final metres following an epic on-course battle to win gold. Marco Fontana (Italy), who attacked on the final lap could not hold the pace but held on for the bronze despite a broken saddle that was almost his undoing.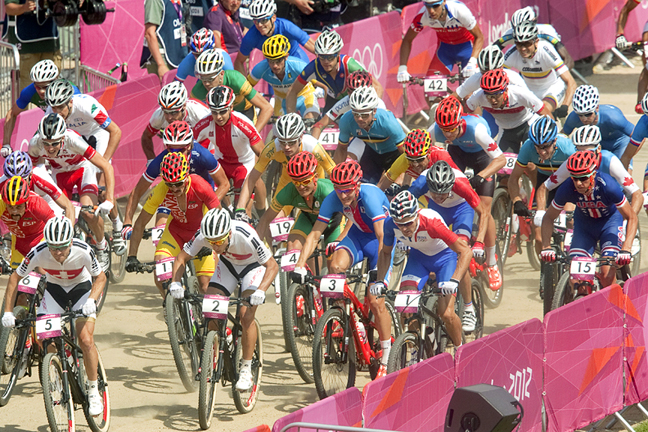 Canada's Geoff Kabush had the race of his life, riding strong and steady to finish a stellar eighth, the best-ever finish at the Olympics for a Canadian male rider. Teammate Max Plaxton, the reigning Canadian MTB Champ, started with Kabush in the third tier and seemed to start ok but drifted from the mid-teens to the mid 30s following an early crash and abandoned less than 20km into the race.
The race was full speed from the gun as riders knew whoever got down Triple Trouble and Deane's Drop first had a distinct advantage. Schurter grabbed the holeshot with Fontana on his wheel and Kulhavy not far behind along with Florian Vogel (Switzerland) and Manuel Fumic (Germany).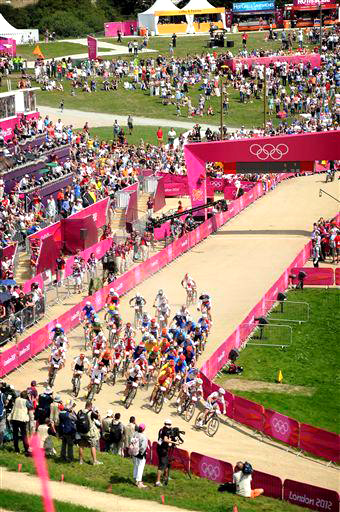 One of the favourites, Julien Absalon, the defending champ was in 6th but suffered a mechanical soon after and his day was over early as he never got back on and abandoned, "It's disappointing to end my Olympics this way but you never know what will happen on race day," said Absalon who signed a 2-yr deal with BMC announced the day before the men's race.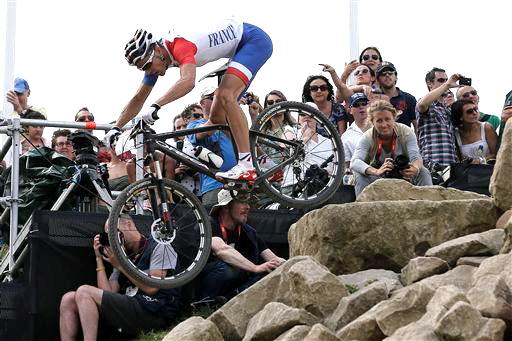 Kulhavy and Schurter exchanged the lead flying down every technical feature of the 4.72km course and then attacking on the straight-aways. Fontana, the Italian champ, was keeping pace while Vogel and Fumic could not and soon it was Burry Stander (South Africa) and Jose Hermida (Spain) who rose to the challenge.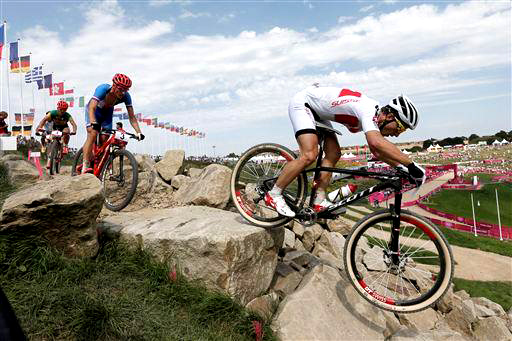 The were able to bridge to the three leaders on the third lap with Stander taking the lead for a short time but Schurter was not having it. Behind Canada's Kabush had moved up from 15th to 8th as fans across the country were ecstatic.
The five continued to battle with Schurter and Kulhavy making everyone suffer and by the fifth lap both Stander and Hermida were  fading but Fontana stayed with the two leaders who were controlling the race while having their own see-saw battle of domination. Along the way Liam Killeen, Great Britain's only competitor, suffered a broken ankle as he too fell victim to a crash.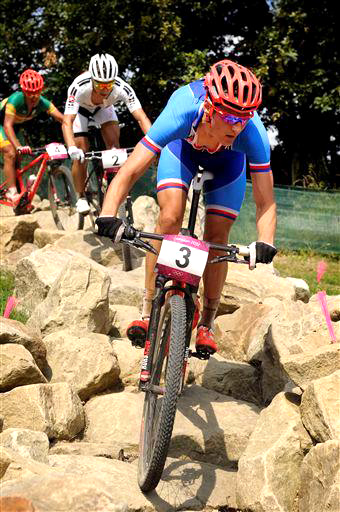 On the penultimate Lap 6 the three leaders continued their cat-and-mouse game with Schurter and Kulhavy the main players on the field as Stander and Hermida were now at 18s. Kabush, who crashed on the third lap and dropped to 12th, regained his composure was back to 10th and charging.
On the bell lap it was clear that barring some unexpected mishap that the Olympic men's podium was decided but how the medals would be awarded was the question on everyone's mind. Then Fontana attacked trying to break loose on Snake Hill but Schurter was ready again and countered.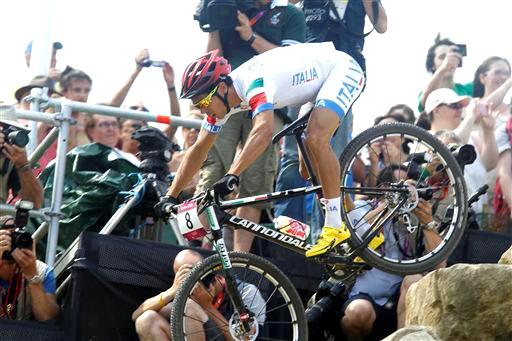 It was here that Kulhavy looked vulnerable but it was only a momentary loss of concentration as he and Schurter soon put Fontana back into third and now the two were locked in a battle royale that would play out in a dramatic finish.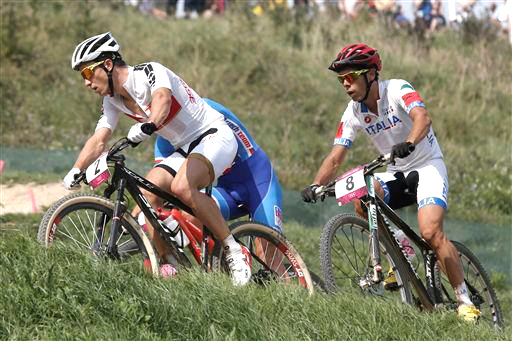 Schurter lead up the final climb and kept Kulhavy at bay as the Czech rider was looking for his opportunity. It came following the descent as he surged past Schurter in the final corner and with only 50m to the finish the current world and European champion out-lasted his Swiss rival taking the two-man sprint for the gold in 1:29:07.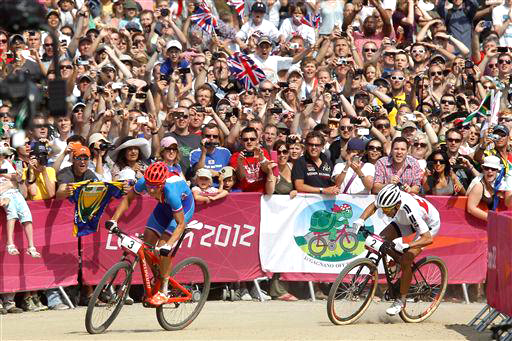 Schurter settled for the silver at one second back, while Fontana claimed the biggest win of his career winning the bronze as all three men collapsed at the finish.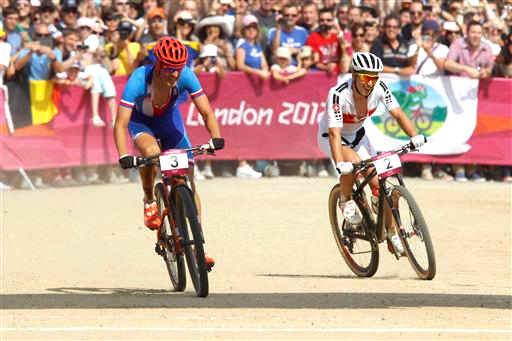 Spain's Hermida took fourth ahead of Stander while Carlos Nicolas Coloma (Spain) rode well for 6th with Germany's Manuel Fumic in 7th followed by Kabush in 8th. Alexander Gehbauer (Austria) was 9th and Todd Wells lead the American charge in 10th. Nine riders abandoned in total out of the 50 starters.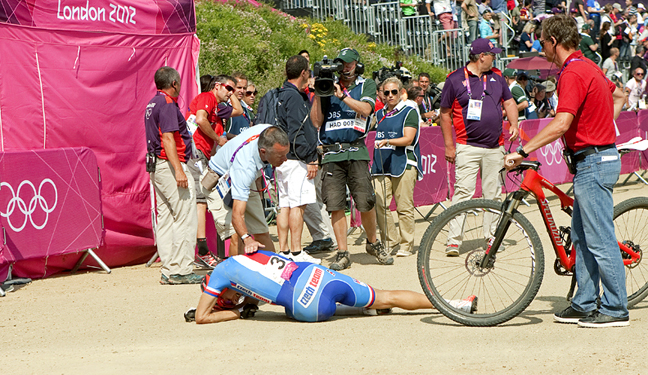 "It was really hard," said Kulhavy, "because we went full-gas the whole time. I was amazingly strong. I gave everything for this race. I put in all my energy and it's amazing. This race was most important this year – nothing else mattered. I've won everything – world championships, world cups. Now I am Olympic champion." His rise to the top over one Olympic quadrennial is remarkable – in Beijing he was 18th and in Athens he DNF'd.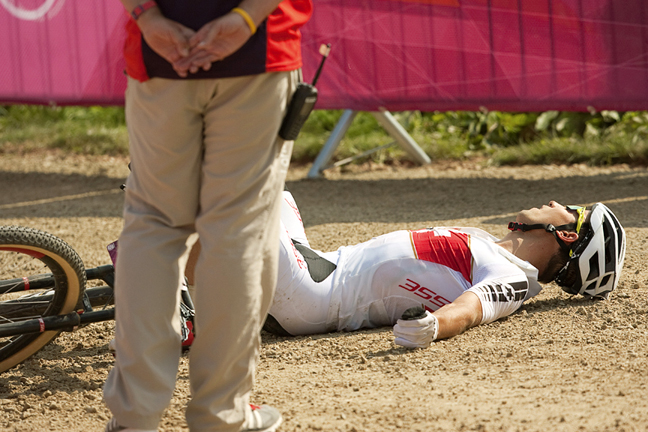 Schurter, who was ranked #1 going into the race, had the difficult task of understanding that the gold escaped him by one second. "Of course, I am disappointed, but I think tomorrow I will be able to appreciate the silver. Jaroslav, I really didn't count on him. He's not been so strong this whole season but today he was very strong and he deserved it.
"It was a great race. I performed to the maximum. Just at the end, Jarsolava was a bit stronger than me. It is hard to get second, but It was a great day. I have to be happy with silver. It was an awesome feeling to compete here."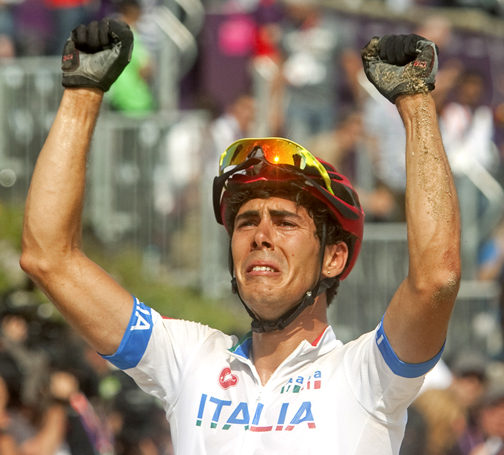 Bronze medalist Fontana was all smiles as he'd batted with mechanical problems as well – first with his wheel as he could feel his rim protruding through and thought he would puncture on the last lap and then with his saddle, which did end up breaking towards the end of the race. "I fought for third place and I am satisfied with the bronze medal," he commented. "The two guys ahead of me went really fast and for all season. They were better than me so credit to them."
Kabush was pleased with his finish too. "I know I'm finishing with a smile on my face," said Kabush, whose grin seemed to expand to his trademark sideburns. "It's the Olympics and you dream big. The last couple of years of preparation have been great. I love the sport – I love mountain bike racing. So a top-8 result – yeah, I take some satisfaction from that."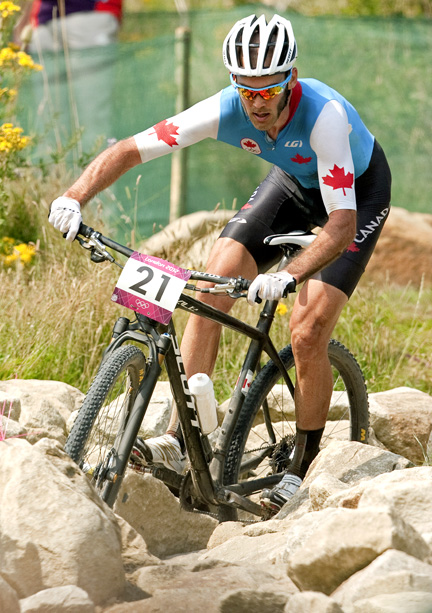 He had the fourth fastest lap time during Lap 6 when he made up two crucial places. A top-8 finish is something Kabush and Cycling Canada needed to move him into A-carding – the top funding position an athlete can have with Sport Canada. After the disappointing results the day before in the women's MTB race, Kabush's excellent performance is ample proof that Canada's mountain-bike program is not broken at the Olympic level.
Kabush tried to address the disappointing results for the women as well. "It's the challenge of mountain biking. There are so many variables and the Olympics only come around every four years. But I'm really pleased with Cycling Canada and our preparation coming in here. For sure it's a tight race out there – there are the changing complexities of the race. We were really well prepared."
In terms of his own race, Kabush was happy he was able to ride the course well. "Looking from the technical aspects – this isn't one of my strengths. But we were given water every 6 to 7 minutes. The staff were really well prepared. Maybe I was lacking a little bit of snap getting up there to the leaders, but mountain biking is not like racing on a track or in a pool. You can't take anything for granted."
The two incidents that perhaps cost him a place or two occurred first during the first lap when another cyclist got off his bike and walked down Waterfall – one of the technical descents – in front of him, and caused a gap between him and the lead riders, and on the third lap when he had "a little fall" but was able to get back up quickly.
Kabush is in his mid-30's but mountain bikers are ageless and he talked about his future. "I'm having fun racing my bike. In the last couple of years we've really worked on the sport science side. I am definitely not ruling out Rio (in 2016) as long as I'm having fun."
Kabush knows Canada's West Coast isn't the only place where track, road and mountain bike riders all come together to race and train but says West Coast cyclists have a great environment and a unique cycling culture.
"We're really lucky because our community has world class trails. I'm headed to the family cottage on Hornby Island and that's where I fell in love with the sport. I think on the national team there's great camaraderie. The thing is having successful riders. Riders coming up can see what it takes to be at a world class level.
"When I was coming up I could look to them and learn from them. I have a lot of experience now and I'm really hoping to mentor a lot of up and coming riders."
Full result HERE.