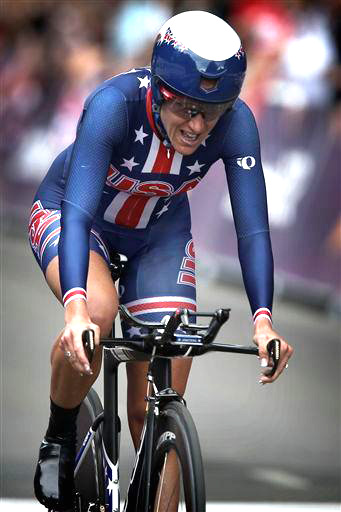 Women's ITT
She came out of retirement to defend the title she won in Beijing four years ago. American Kristin Armstrong put her bike on the backburner in 2009 to have a child and now the mother of a toddler, she's back, ten days shy of her 39th birthday as the oldest gold medalist in Olympic cycling history.
On a course that had climbs – but none that would significantly challenge the pure time trialists – Armstrong scored gold, facing head-crosswinds on the first half of the course and tail crosswinds on the return as wind was approximately 15-20 kph while parts of the course had light rain showers.
New Zealand's Linda Melanie was fourth, 24.36 seconds back while veteran of six Olympics, Clara Hughes, was fifth at 54.14 seconds back. Denise Ramsey, Canada's second rider, was 19th at 4:09.99 minutes back out of field of 24 cyclists.
"Coming into London it as different. It was a real rollercoaster 22 months – a lot of ups and downs. I wouldn't say things were easy and when I looked at the start lists morning I picked out eight or nine women that I knew could beat me."
After the race Hughes told a large Canadian scrum she was going to "…drink some beer with my husband." This after she described her race, "I was just giving everything I had – just racing my bike. Nothing was going on in my brain at that time." She races "…until my eyeballs feel like they're going to pop out of my head."
Now she can take some time to relax – not as she had hoped as an Olympic medalist again – but she is still quite happy as someone who gave all she could in a race and a career.
Men's Time Trial – Wiggins Puts the Great Back in Great Britain
Bradley Wiggins is not only going to be knighted; he is also Britain's first cycling saint as he came through golden after Team GB's disasterous men's road race. This after becoming the first English rider to win the Tour de France in July.
On the first day of August he saved Great Britain's men's team from international embarrassment by out-classing the time trial field and taking gold in 50:39.54 for an average speed of 52.113 kph.
Ryder Hesjedal, Canada's only entry, was a disappointing 28th out of 37 riders. With a back of the pack road race finish, it just wasn't the Olympics he hoped would follow his victory in the Giro d'Italia.
Froome, meanwhile, thanked the super-enthusiastic fans. "The crowds were phenomenal. Even after the experience of the Tour de France, I didn't expect anything like this today. Everyone out there knew our names and they were just telling us to go faster. You cannot slow down when you've got something like that behind you."