August 21, 2013 (Sherbrooke, QC) – The nationally-televised closing ceremonies at the Canada Summer Games recently held in Sherbrooke, Quebec, served as a spectacular end to a remarkable and memorable week for Team Ontario. There were fireworks, thousands of eager fans and even a visit from the Governor General to add to what already felt like an Olympic experience.
As it turns out the Canada Summer Games are a big deal. The Games provide an impressive national stage to promote and develop over 4,000 of Canada's best young athletes from 20 different Olympic sports. The week was a competition but also a celebration of athletic excellence and a small taste of what high performance, international events can be like.
From the beginning it felt a little like Disney World. There were crowds everywhere travelling between the expanse of the Athlete's Village, the many competitive venues and most crucially the dining hall. Adding to the surreal atmosphere, every single athlete was outfitted in provincial uniform and carried CSG issued identification.
There were limitless possibilities for entertainment and enjoyment. The buffet was open at all waking hours and stocked with endless quantities of pizza, fruit, salads, made-to-order meal stations and most importantly: thousands of gluten free muffins (I promise, other people ate some too).
It took some getting used to and at times was a bit overwhelming but overall it was an amazing production. We were given first class hospitality and the unique opportunity to watch top athletes compete all week (women's basketball was an outstanding favourite). What could be better? It will be hard to go back to racing out of the back of my Mazda and refueling at McDonalds… that's for sure.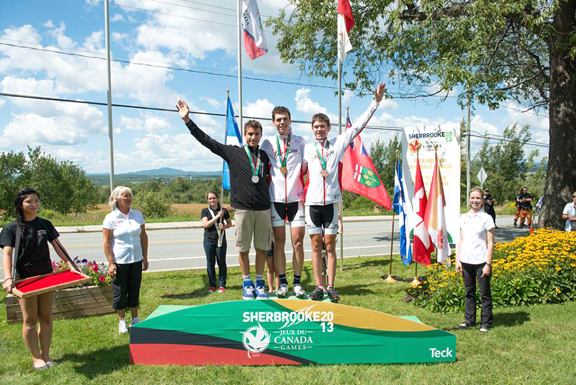 The Racing


Of course, beneath all of the pomp and circumstance, there was still some bike racing to take care of. The team began with an exceptional gold and bronze in the women's time trial from Annie Foreman Mackey and Saskia Kowalchuk respectively. I set an early best time in the men's race and cursed only a few times when teammate Matteo Dal-Cin bested my time by seven seconds while setting up another 1-3 finish for Team Ontario.
At first the day felt a bit bitter personally, but as I considered the fantastic team result and the victory of a close friend it became more and more sweet. The four medals were accompanied by three more top-ten finishes by Emily Flynn, Steph Bester and Kevin Massicotte. It was an exceedingly good start and proved the strength and depth of our squad.
Wednesday's road race featured an 11km-loop consisting of four steep power climbs and a long, gusty finishing straight. The course was inherently hard and both races quickly pared down into a select group of 10-15 riders. In the women's race the Quebec team launched a series of powerful moves to sweep the podium. The Ontario women did not go down without a fight as Annie Foreman Mackey sprinted to fourth place on the back of a remarkable teammate performance from tireless Emily Flynn.
In the men's race Matteo Dal-Cin made the decisive two-man break and finished a close second in a drag race with Quebec's Pierrick Naud. Ryan Aitcheson raced well to fourth while I struggled on a bad day and rolled in 8th. With our relatively modest success it was a fairly disappointing day for Team Ontario that saw our plans dashed by a few excellent Quebec riders.
Our final event was a fast 1.8km "points race" criterium that drew an enthusiastic crowd of hundreds. I arrived at the race just in time to see Annie put the finishing touches on a commanding gold medal performance by winning multiple points sprints from a 3-rider breakaway. Emily Flynn wound up several impressive turns of speed to finish 5th, only 2 points off the podium.
In the men's race, a large disparity in ability levels and the dicey points format contributed to what can only be called a "complete yard sale". There were numerous crashes and close calls and despite our best efforts, we could only propel Matteo to fourth place amid the chaos. Etienne Moreau sprinted very well throughout the race to finish 7th despite suffering a harrowing crash in the final sprint.
In a word, our men's race was "anticlimactic". We knew our strength and expected more in our final race together; so another "wooden medal" wasn't very satisfying. It took a few hours for us to step back, find a broader perspective and celebrate the success of six team medals. Eventually we came around and started smiling and laughing just as we had all week. To further lift our spirits Matteo was selected to be one of Ontario's flag bearers for the Closing Ceremonies. This placed him among the top few performers of the entire games and for me, it validated an enormous team effort that was years in the making.
The End and the Beginning
The cyclists at the Canada Summer Games are among the oldest athletes in attendance with a maximum age of 22. For most of us, this is a critical transitional age. We are now leaving the Espoir category and are ineligible for the many National and Provincial projects that we have utilized throughout our development. This is a process we have enjoyed together. I have raced and trained with most of my CSG teammates since I started cycling and have bonded with newer recruits over a yearlong CSG building process. The Games marked the end of our time together on Team Ontario and of our athletic progression together. This was also the last project for head coach Mike Garrigan who has facilitated a substantial positive change in Team Ontario's high performance program over the last three years.
So in many ways, the Canada Summer Games represents an end for our Team Ontario…however it also signals a new beginning. Team Ontario 2013 represents a group of massively dedicated and objectively talented cyclists and coaches. We are all fortunate to be part of a massive upswing in Canada's cycling talent and it is now up to each of us to leave our own mark on the sport. Hopefully, in 10 years we can look back at our success at the Sherbrooke Canada Summer Games as the start of something special for Ontario cycling.