August 10, 2016 – Monique Sullivan started bike racing at the age of 12, and chased her Olympic dream for the next 11 years. It wasn't easy. At the age of 23 the hard work paid off and Monique proudly joined Team Canada at the 2012 Summer Olympics in London, England. Against the best track cyclists in the world, she finished 6th in the Keirin (a track cycling event where cyclists follow a motorized pacer before sprinting to the finish). It was the culmination of years of hard work, dedication, and the roller coaster ride that is high performance sport.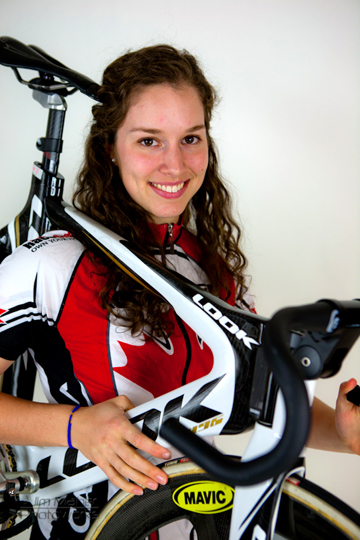 Following the Olympics, Monique took two-years off the bike to work on her mechanical engineering degree. She recently returned to racing, and in her words, she's "having more fun than ever on the bike." In this 5-part series, Monique describes what it takes to make to become an Olympian and shares some advice about the journey. In Part IV, Monique discusses some of the mental aspects of elite level cycling. If you missed Part III, check it out here.

Sullivan is a multi-time national champ and took home three golds from the PanAm 2015 Games; placed 4th in Women's Keirin on the final day of 2015 UCI Track Worlds in France; won bronze in the Keirin at the World Cup in New Zealand in Dec. 2015; placed fourth in the Team Sprint with Kate O'Brien at the World Cup in Hong Kong in 2015; set a national Team Sprint record on the Mattamy Homes track in Milton, ON in July 2016 before heading to the Games; she'll race the Keirin, the Sprint and the Team Sprint in Rio. – ed.
Part IV: Mental preparation
Put yourself in a race situation as often as possible
You may not get to race as often as you'd like, but there are many effective ways to visualize racing during training. Whenever I am training, I try to put the training session into a racing context. For example, when I am doing flying 500s, I pretend I'm in a keirin. I imagine there are people coming behind me, or that I'm chasing people in front of me. If I am getting to the last couple efforts of the day and I'm really struggling, I pretend that I raced all day and that now I made it to the sprint final, and these are the two most important efforts of the day. These mental exercises are very valuable and can make a big difference in the quality of training.
Before the London Olympics, I didn't have a lot of opportunities to practice keirins. In order to help develop race strategies, we took a jar and put all the names of the girls who had qualified for the race. Each day I would select six names randomly from the jar and go through different race scenarios with those riders. When we got the start list for the Olympics I knew exactly what my tactical options were no matter who was in my heat.
Think outside the box
This is probably the hardest rule to follow, because it's very difficult to think outside the box. In fact, it's probably the most valuable skill to develop. I grew up in Calgary and so we had long and cold winters, and I spent most of the year riding stationary rollers inside. My coach at the time would have us come in very early in the morning and we would do standing starts on the running track. Was it as pretty as doing standing starts in the Manchester velodrome? No. But it was great fun to be off the trainer, and the quality of those training sessions was second-to-none. Sometimes creative training exercises are more effective than the traditional approaches. Don't be afraid to experiment!
Develop strong routines
Your body thrives off routine. Repetitive behaviours allow you to think less and increases the likelihood that positive, learned behaviours stick. Have you ever pictured the perfect race day where you eat a great breakfast, you feel good, your warm-up feels great, you didn't forget anything and you go to the line feeling like you're ready to rock? Have you ever pictured all of these things only to get to race day feeling so nervous you can't eat, get to the track and realize you forgot your music, and then midway through your warm-up realize you're hungry because you didn't eat enough at breakfast?
Being nervous on race day should be expected, and I know that when I'm nervous I'm not hungry, I don't think straight, and I tend to forget things. The more of your behaviour that is routine, the easier it will be to follow through even when you're nervous. This means packing your race bag and pinning your numbers the night before. Eating a good breakfast everyday so that your body is comfortable with the foods. Practicing your race warm-up many times in training so that once you start it feels familiar to your body and you don't have to think about it too much. When I was at the Olympics, even though it was the biggest race of my life, I followed the exact same routine that I did at a small local race. This routine brought comfort and familiarity and helped me to perform at my best.
Don't always follow the pack
It's almost always a good idea to look around and see what other people are doing and learn from them. But if you're always changing your routine because others are doing this or that, you will never develop strong routines. When I returned to cycling after taking a break from racing, I noticed that everyone around me was pushing really big gears. Since I hadn't been training, I didn't have the strength to push really big gears yet. But what I did have, thanks to years and years of training on rollers in my early years, was smooth technique and good leg speed. So I went into races in gears that were 6 to 8 inches smaller than the other girls. I was nervous about this because I didn't know if I would be able to hold my speed, but my small gears ended up being a big advantage in the racing. If I had followed the pack I may have taken away my greatest advantage.
Develop strong sleeping habits
Sleep is extremely important for recovery and it can be hard to get enough of it, especially if you're balancing work or school with training. There are things you can do (e.g. no electronics an hour before bed, stay out of your bed when you're not sleeping) that can help to enhance the quality of your sleep, and I have always made it a priority to follow this advice.