November 12, 2015 (Montreal, QC) – This Sunday, Nov. 15 will see a rematch of the friendly Lex Albrecht (Optum-KBS) vs. Georges Laraque (formerly les Canadiens NHL team) bike race. The inaugural 2014 #LEXvsLARAQUE race was held on Mount Royal but this year will be held at Parc Jean Drapeau's Gilles Villeneuve Circuit. The 1.6km race will begin at 10am and the general public is invited to watch.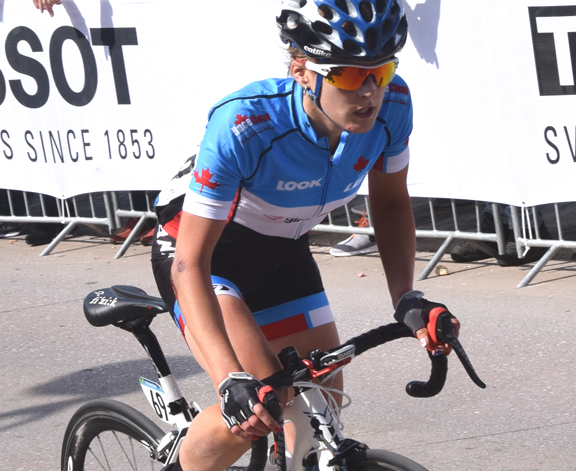 Albrecht handily won the 2014 hill climb as Laraque, who started off too fast, ended up being briefly hospitalized. That race was a study in contrasts, pitting the 5'4", 51kg (115lb) Albrecht against the 6'4", 110kg (242lb) Laraque. Albrecht was not even out of breath when she arrived at the finish line near the 233m (764 ft) summit only five minutes after the start… she then went back down the hill again to ride up with Laraque –
see our coverage last year here.
Albrecht, 28, is originally from Barrie, ON, but has been living in Quebec for several years. In 2015, she won stage 2 of the in San Dimas Stage Race on March 28, also won the GP Ste Agathe, and finished second at the GP Classique des Appalaches. In 2014, Albrecht finished second at the Philadelphia Cycling Classic and competed at the UCI Road Worlds in Ponferrada, Spain. Specializing as a climber, she rode for Cascades-ABC Cycles in 2010, for Juvéderm Specialized Mazda in 2011, Optum in 2012, NOW and Novartis for MS in 2013, TWENTY16 in 2014, and returned to Optum Pro Cycling p/b Kelly Benefit Strategies for 2015-2016.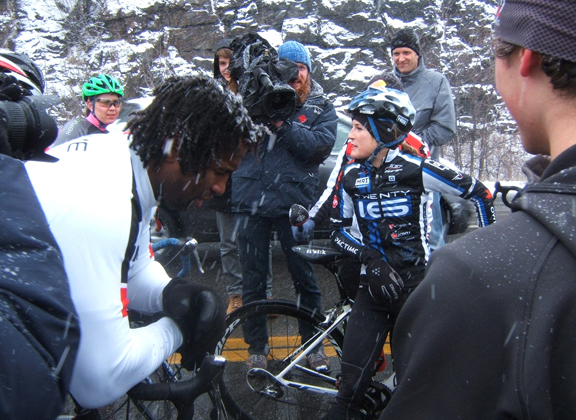 Laraque, 38, played 14 seasons with the National Hockey League (NHL), including two as an enforcer with the Montreal Canadiens (2008-2010). The former hockey player often finishes races badly because he has a habit of pushing himself too hard according to his friends. Laraque runs marathons and half-marathons, but spends little time on a bike. The soft-spoken Laraque is also known for his defence of animal rights and work with the Green Party of Canada.
One of the tweets for the 2015 contest reads: "This is going to be like Groundhog Day. Only question remaining is, how much does Lex win by?"