January 15, 2013 – We previously reported that Lex Albrecht would ride for a mystery team in 2013 and now she has revealed the identity of her new road team… California-based NOW and Novartis for MS – see official team release below.
The 2012 Quebec road champ and Cascade Classic QOM rode for Optum p/b KBS in 2012, but her name was not on that team's 2013 announcement.  Fellow Canadian, Anne Samplonius, who just announced her retirement, was the lone Canuck on the team in 2012. Essentially, Albrecht takes her place becoming the squad's lone Canuck for 2013. Pedal caught up with Lex Albecht today: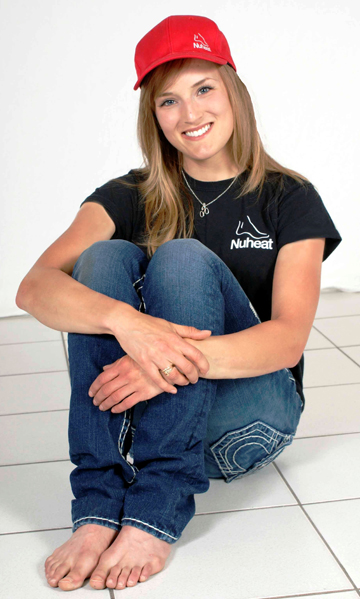 Congratulations on your one-year contract with the new team. What's on the agenda for 2013?
LA: Full NRC calendar with my team, and I'll be aiming to do some projects with the National Team as well. The majority of the races on the NRC calendar, especially those where my team director expects that I'll be able to excel in the hills, races on the provincial circuit when I'm at home in Québec, and ideally a few UCI events as well.
Where will you be based this season?
LA: Like last year, I will be based in Québec City. In 2012 I estimate that I was away from home 2/3 of the time. I expect that this year will be about the same, but my time "at home" will probably be split between Montréal and Québec City.
And where is home?
LA: I grew up in and around Barrie, Ontario, then moved to Trois-Rivières, Québec. They're both my hometowns in my heart. I moved to Québec City last year because it is such an AWESOME place to ride.
What about your team's tandem rides with patients suffering from multiple sclerosis (MS)?
LA: Throughout 2013, NOW Novartis racers will be paired up with riders affected by MS during special cycling events. We will ride tandem bicycles together. These are not races though, and are outside of our race calendar. The actual event schedule has not yet been determined. I assume that I'll be doing 2 or 3 of these rides throughout the season, and I'm pretty stoked!
What's this we hear about nail polish?
LA: My favorite nail polish colour depends on the day! I have all of the colours of the rainbow in my collection, and a few wild top coats. I have some cool designs in mind for the upcoming season. Nail polish is a fun way to keep in touch with my more feminine side, especially when I'm getting all slimy, snotty, sweaty and gross on the bike. I like that part too though…it's just that one wouldn't be the same without the other. The no-fail all-time favorite colour is definitely pink though. 😉
Good luck for the 2013 season!
LA: Thanks

———–
NOW Cycling Announces 2013 Pro Women's Team Roster
release by NOW and Novartis for MS
In 2011 Phil Keoghan, (Host and a Producer) of "The Amazing Race" on CBS, and co-founder with partner Louise Keoghan of No Opportunity Wasted (NOW), teamed up with Novartis Pharmaceuticals Corporation to create the first-of-its-kind pro cycling team, NOW and Novartis for MS. "Our world class riders are not only out there winning the countries' top cycling events but they are using that energy to help create awareness for those living with MS" said Keoghan.
The NOW and Novartis for MS Women's team has announced its 2013 roster, led by 2013 standout Alison Powers (Pinecliffe, CO) and 2011 National Champion Robin Farina (Charlotte, NC). The team, which had 28 victories and more than 70 podium finishes in 2012, has added a mix of talent for a 10-rider roster.
The team will continue under the direction of Kurt Stockton, 1990 US Professional Road Champion. "Our 2012 team results and performance exceeded my expectations," said Stockton. "One of my main goals for the team was to build a program where motivated athletes can flourish and reach new levels of performance. This was integral to our success in 2012 and will continue to be a main focus of our 2013 program."
Joining Powers, who had 13 victories in 2012, and Team Captain Farina are three returning riders. Olivia Dillon (Fairfax, CA), the 2012 Irish National Time Trail Champion; original team member Devon Gorry (Logan, UT), winner of the 2012 Lake Bluff Criterium; and triple Pan Am Championships medalist Beth Newell (Oakland, CA).
New for 2013 are climbing talents Katie Donovan (Oxnard, CA), a former Tour of the Gila 'Gila Monster' stage winner, and Lex Albrecht (Québec, Canada), 2012 Cascade Classic QOM and Young Rider winner. Also joining the team are multi-time Junior National Road and Criterium Champion Alexis Ryan (Ventura, CA), who will ride her first season as a U23, and Maura Kinsella (Santa Clara, CA), a multi-time, top-three finisher in the U23 National Time Trial, Road Race and Criterium. Rounding out the roster is Lauren Rauck Komanski (Winston-Salem, NC), a former D1 runner at Columbia who took several regional wins in 2012 and is coached by Farina.
What makes the NOW and Novartis for MS team unique is that the riders not only race their bikes at the highest level but also are paired on tandem bikes with people living with Multiple Sclerosis at select high-profile charitable Bike MS events around the country. The goal is to show the world that MS does not define those living with the disease.
"Novartis Pharmaceuticals Corporation shares our passion in the battle against this disease and we are lucky to have them as our title sponsor again in 2013," said Keoghan.
For more information on NOW and Novartis for MS, visit HERE.
NOW-Novartis 2013 Women's Road Team:
– Lex Albrecht
– Olivia Dillon
– Katie Donovan
– Robin Farina
– Devon Gorry
– Maura Kinsella
– Lauren Rauck Komanski
– Beth Newell
– Alison Powers (Captain)
– Alexis Ryan
– Director: Kurt Stockton