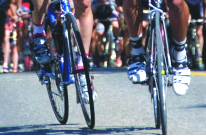 July 28, 2011 (Terra Cotta, Ontario) – The 7th Annual Le Tour de Terra Cotta takes place on Monday, August 1st. This grass roots community event has earned its reputation as one of Ontario's premiere cycle races! Largest Non O-Cup Cycle Race in Ontario & Largest Guaranteed Cash Purse in Ontario with Male/Female Equivalents by Age Category. On-Line Registration Closes at 10am on Friday, July 29.
All info is at the Le Tour de Terra Cotta website HERE.
Map and schedule HERE.
Register HERE.