May 29, 2015 – (Montreal, QC) – Le Monde à Bicyclette (MaB), arguably the best-known bike-advocacy group in Canada, celebrated its 40th birthday Tuesday at the Centre d'histoire de Montréal. The event was entitled "Cycle Chic," featuring speakers, photos, beer (thanks to Dieu du Ciel brewers), and many memories. Among those speaking were Gabrielle Anctil, Suzanne Lareau of Vélo Québec, Jacques Desjardins, and Robert "Bicycle Bob" Silverman, who co-founded the MaB 40 years ago along with the late Claire Morrissette (1950—2007).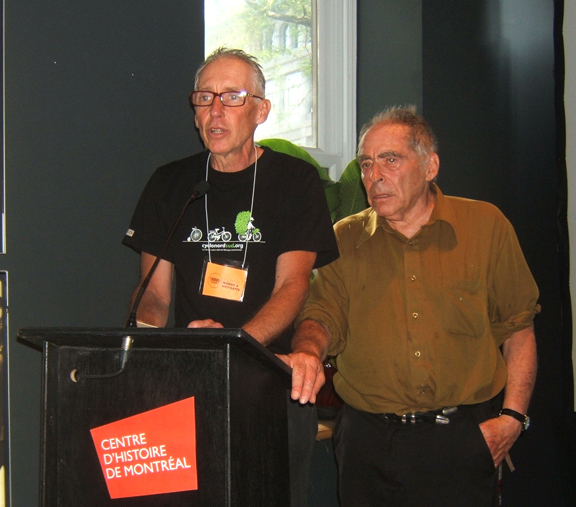 Slide shows of gritty photos of cyclo demonstrations from the 1970s & 80s played in the background as various speakers took the podium. The images were of simulated mass "die-ins" with dozens of cyclists lying down in major street intersections, of volunteers illegally painting Montreal's first bike paths, of hilariously-costumed activists in acts of civil disobedience. One famous photo shows Silverman dressed as Moses, asking God to part the waters of the St. Lawrence River. This was in response to the obstinate refusal of authorities governing Montreal's bridges to let cyclists across the St. Lawrence.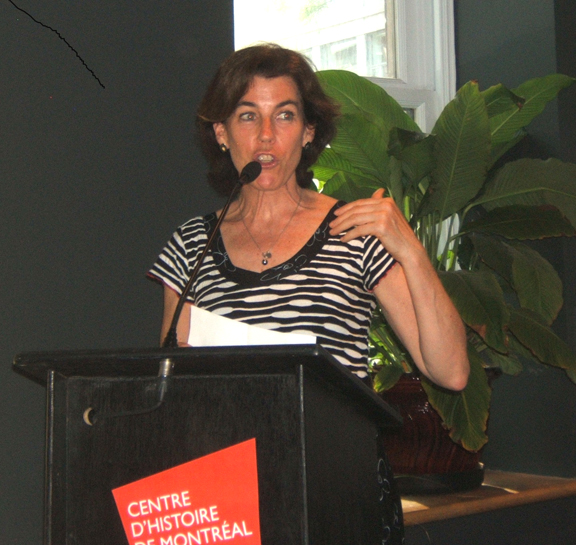 Speakers recalled how MaB was very successful and how it brought together francophone nationalists and anglophone anarchists, meeting first at Silverman's apartment to take issue with the inordinate amount of space that automobiles then occupied in Montreal. Decades ahead of their time, activists with MaB also called for bicycle access to the metro (subway), for a decent system of bike paths, for dedicated bus lanes, for increased public transit, and for more green spaces. Those involved with MaB were instrumental in founding such groups as Cyclo Nord Sud, Communauto, and Montreal's Urban Ecology Centre.
The speakers were all making the point that we need to keep alive the memories of the early bicycle advocacy movement in Montreal, but it was clearly a case of preaching to the converted. Some 200 people stood either inside or outside tie the Montreal history Centre at Place d' Youville and almost all of them seemed to arrive by bike. Among these were: Luc Ferrandez (leader of the opposition in Montreal City Hall), Jean-François Pronovost (Velo Quebec), Glenn Rubenstein (Cyclo Nord Sud), Lucie Poulin (Cyclo Nord Sud), Zvi Leve (Montreal Bike Coaltion), Josh Freed (Montreal Gazette columnist), Peter McQueen (city councillor and former member of MaB), Marc-André Gadoury (city councillor), and Alex Norris (city councillor).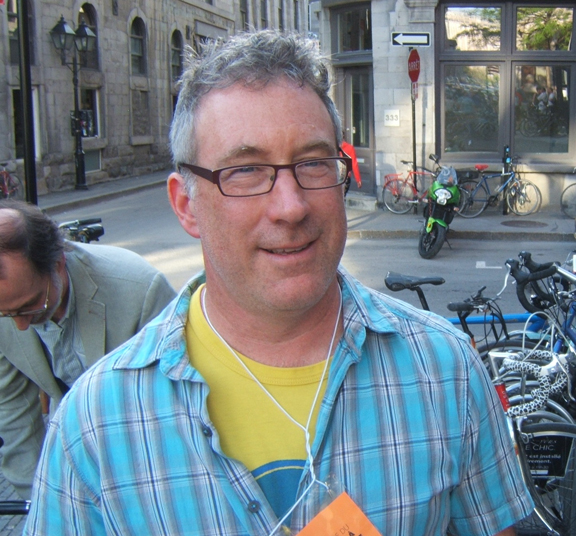 The event was hosted by Encore du Monde à bicyclette (EMaB), a group of volunteers working to preserve the historic memory of the MaB. Vélo Québec was also among the organizers of Tuesday's event as part of the Go Vélo Montréal week. Other events taking place this week include:
– a talk Thursday evening (May 28) by internationally acclaimed lecturer Gil Penalosa 5 p.m. at the Moyse Hall Theater in McGill's Arts Building, 853 Sherbrooke St. W. Tickets are free, but reserve at velo.qc.ca.
– the May 29 Tour de Nuit nighttime mass 21km ride
– A benediction of bicycles at 2PM on May 30 at Eglise Saint-Jean-Baptiste (309 rue Rachel E)
– the Tour de l'Île mass ride on May 31 where up to 30,000 cyclists are expected to ride distances from 28—100km. Many Montreal streets will be closed to automobile traffic for the event