September 04, 2017 (App Gap, Vermont) – Kirsti Lay (Team Canada) grabbed her second victory claiming the Stage 3 Champion System Mad River RR, 104.12km, for another Canadian women's podium sweep as Luce Bourbeau (Can) Desjardins Ford was second and Simone Boilard (Can) Canadian National Team was third. Emma Lujan (Can) Glotman Simpson Cycling was 4th and Olivia Baril (Can) Desjardins Ford for 5 Canucks leading the stage.
Graydon Staples (Can) Toronto Hustle was the top Canuck in the men's 166.57km stage won by Timothy Ahearn (USA) Team ERRACE p/b DSO Manufacturing. Staples is now 5th overall at 2:05 behind Ahearn who took the GC lead as well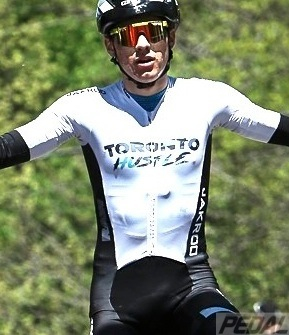 Canadian Noah Simms (Toronto Hustle) took the Junior Men's 104.12 km race over Isaac Bryant (USA) LUX Development p/b Specialized in second and Gabriel Rojas (USA) Lift Center Racing in third. Charles-Etien Chretien (Can) Canadian National Team is the top Canuck overall in 6th with Simms in 7th.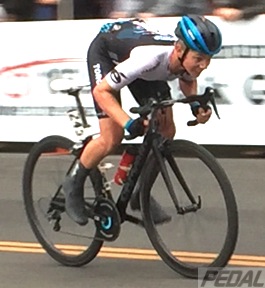 Results (brief)
Women Pro 1/2/3
1. Kirsti Lay (Can) Canadian National Team 3:20:05
2. Luce Bourbeau (Can) Desjardins Ford 3:55
3. Simone Boilard (Can) Canadian National Team 4:29
4. Emma Lujan (Can) Glotman Simpson Cycling 5:16
5. Olivia Baril (Can) Desjardins Ford 5:20
Men Pro 1
1. Timothy Ahearn (USA) Team ERRACE p/b DSO Manufacturing 4:33:34
2. Austin Stephens (USA) 303 Project 0:50
3. Matt McLoone (USA) BATTLEY HARLEY-DAVIDSON/SPOKES/CUTAWAY 1:22
4. Graydon Staples (Can) Toronto Hustle 1:37
5. Sean Gardner (USA) Gateway Harley-Davidson Trek U25 Develop 1:42
Junior Men
1. Noah Simms (Can) Toronto Hustle 2:55:14
2. Isaac Bryant (USA) LUX Development p/b Specialized 0:03
3. Gabriel Rojas (USA) Lift Center Racing 0:09
4. Charles Page (USA) AJ Junior development/Corner Cycle 0:13
5. Gaelen Kilburn (USA) Hot Tubes Development Cycling Team 0:47
GC after Stage 3
Women Pro 1/2/3
1. Kirsti Lay (Can) Canadian National Team 5:55:30
2. Luce Bourbeau (Can) Desjardins Ford 6:03
3. Simone Boilard (Can) Canadian National Team 6:37
4. Emma Lujan (Can) Glotman Simpson Cycling 8:05
5. Olivia Baril (Can) Desjardins Ford 9:45
Men Pro 1
1. Timothy Ahearn (USA) Team ERRACE p/b DSO Manufacturing 8:51:23
2. Austin Stephens (USA) 303 Project 0:32
3. Matt McLoone (USA) BATTLEY HARLEY-DAVIDSON/SPOKES/CUTAWAY 1:18
4. Sean Gardner (USA) Gateway Harley-Davidson Trek U25 Develop 1:59
5. Graydon Staples (Can) Toronto Hustle 2:05
Junior Men
1. Isaac Bryant (USA) LUX Development p/b Specialized 5:18:21
2. Gaelen Kilburn (USA) Hot Tubes Development Cycling Team 0:20
3. Charles Page (USA) AJ Junior development/Corner Cycle 0:25
4. Gabriel Rojas (USA) Lift Center Racing 0:32
5. Matthew Oliveira (Ber) Hot Tubes Development Cycling Team 0:34
6. Charles-Etien Chretien (Can) Canadian National Team 0:46
7. Noah Simms (Can) Toronto Hustle 0:59