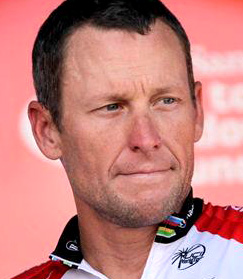 November 21, 2013 (Austin, TX) – Lance Armstrong, the man stripped last year of his seven Tour de France victories because of doping, has reached an out-of-court settlement regarding a lawsuit worth more than $3 million with Nebraska-based Acceptance Insurance, report AP and Reuters. The insurer sought repayment of bonuses paid to the former pro cyclist for winning the Tour de France from 1999-2001, citing his televised confessions of doping.
Details of the settlement were not made public but attorneys on both sides say the case has been "resolved to the mutual satisfaction of the parties." Because of the settlement, Armstrong does not have to give sworn testimony that was scheduled for today (Thursday).
Armstrong is still facing a $12-million lawsuit from Dallas-based SCA Promotions that is in arbitration. There is also a federal whistle-blower lawsuit over his team's previous sponsorship with the U.S. Postal Service that could lead to fines in excess of $100-million. In 2012, Celebrity Net Worth estimated Armstrong's personal fortune at $125 million, but suggested that doping scandals will cost him at least $75 million.
Read the AP article here.
Read the Reuters article here.
Read the Celebrity Net Worth article here.