August 30, 2012 (Montreal, QC) – Seven-time Tour de France winner Lance Armstrong, currently embroiled in a controversial battle with the U.S. Anti-Doping Agency (USADA), led a public run up Montreal's Mount Royal on Wednesday, August 29. Before leading the 6 p.m. run, the Texan spoke to the estimated crowd of 1,500 about "the legendary Eddy Merckx" who in 1974 dominated the Road Cycling World Championships held in Montreal.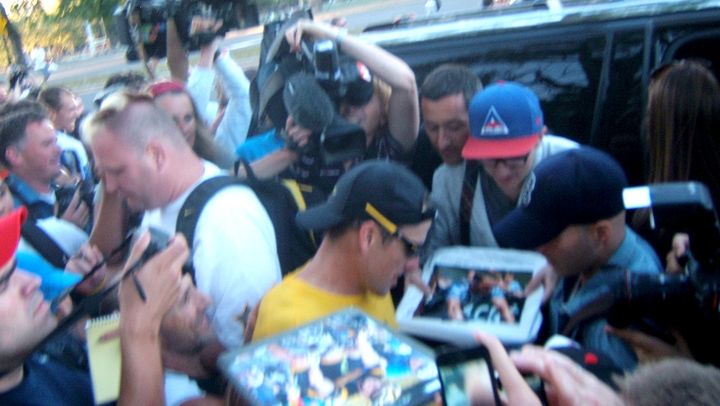 The principal difficulty of that 1974 course was riding up and over the 233m (764 ft) Mount Royal. Armstrong's words were difficult to hear as he spoke without a microphone. Merckx, a Belgian cyclist dominant in the 1960s and 70s, who won the Tour de France five times, is considered to be Armstrong's biggest rival for the title of "greatest cyclist of all time".
About one-third of the crowd joined him for the 7.5km run up Mount Royal, once around the top, and back down again on the wide gravel road named after Frederick Olmsted who designed Mount Royal Park. Armstrong, 40, wearing a characteristic yellow jersey and black baseball cap, ran near the front of the pack but seemed surrounded by other runners during the entire run. Many spectators trying to take photos remarked that it was difficult to get a clear shot of him.
After a little less than an hour, Armstrong returned to the George Etienne Cartier Statue at the base of Olmsted Rd to great applause from those waiting for him there. He briefly posed for photos before calling out "Thank you / Merci" and jumping into a waiting Escalade van. If the high profile doping allegations are weighing on Armstrong's mind, he didn't show it. The crowd was so enthusiastic that one spectator remarked it felt like Armstrong had just won another Tour de France, rather than just finishing an hour-long recreational run.
Armstrong spoke that evening at a Cedars Cancer Institute fundraiser where he described himself as "the seven-time winner of the Tour de France." Armstrong's recent decision to no longer fight doping allegations leveled against him by USADA mean that he will likely be stripped of his medals. But there was no hint of that in Armstrong's posture or words.