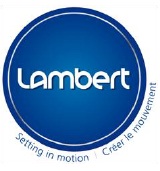 November 20, 2012 (Lévis, QC) – Lambert, the leading pan-Canadian distributor of products for the bicycle and running industries, announced its new sales management today. As part of its ongoing commitment to serving its dealers across Canada, Lambert announced the appointment of Edward P. Wright as National Sales Director. Edouard Lauzier has also been appointed Sales Manager for Quebec and Atlantic markets.
An avid cyclist, Edward has been with Lambert for five years managing sales in western Canada and Ontario. After working in bicycle retail throughout high school and university, Edward has spent the last thirteen years on the supplier side of the bicycle industry.
"In the past five years I've seen Lambert's willingness to invest in brands and dealer services to support our IBD partners. I'm excited to play a role in directing this dealer support in the future. I love the industry and I'm proud to represent such an innovative and creative company," says Edward Wright.
Sylvain Caya, General Manager, adds, "With his experience on the road and in retail stores, Edward brings a strong retail perspective to the management team. His background will be key in continuing to improve our offering to dealers, making their lives easier and supporting their growth."
Lambert welcomes Edouard Lauzier as its new Sales Manager for Quebec and the Atlantic provinces. Edouard has spent the last two years managing Lambert's Customer Service department. Under his leadership, Lambert has transitioned the Customer Service team into a more dealer focused Inside Sales team.
"Edouard is a passionate cyclist. His extensive sales and customer service background, more than 15 years in the making, will go a long way to support our dealers in Quebec and the eastern provinces. His dealer focus is also sure to help us continue to grow in our home market," says Caya.
"I truly believe that my passion for the industry and for cycling will have a positive ripple effect for our dealers," adds Edouard Lauzier.