February 26, 2015 (Quebec City, QC) – The Salon Info Vélo consumer bike show in Quebec City has been sold by its founder, Jean-Yves Labonté for an undisclosed amount. The bike show, which celebrates its 30th annual edition this year (March 6-8), has been bought by businessman, Christian Rodrigue. Labonté will stay in charge for "his last show" to be held at the Terminal de croisières du Port de Québec.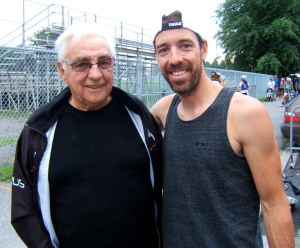 Labonté called
Pedal
to announce the news of the sale, indicating that he had five potential buyers "…and think I chose the right one with Christian Rodrigue."
We called Rodrigue who confirms that he also intends to open a ski and winter sports show on November 13-15, 2015. Rodrigue already runs a marketing agency and intends to do his two trade shows as a part-time venture. Whereas Labonté was famously resistant to new technology, Rodrigue has already created websites for the two shows.
Quebec City has been the scene of a battle between two rival bike shows since 2013. Despite the competition, Labonté claims his show is still doing very well with over 130 kiosks booked for the 2015 edition.
The sale also signals the end of a 62-year career in cycling for Labonté, now 76 years old. Since 1953, Labonté has worked as a bike mechanic, raced, coached, and organized some 30 races a year for a total of perhaps 1,500 events,
"Labonté has organized more races than anyone over the years. Cycling and cyclists have been his family all his life," FQSC director Louis Barbeau previously told Pedal about Labonté.
The list of riders that Labonté has coached, and often discovered, over the years includes many of the best road cyclists that Quebec has produced since 1970. Some of these cyclists (in no particular order) include Marc Blouin, David Veilleux, Jean-Simon D'Anjou, Félix Lapointe, Elisabeth Albert, Joannie Caron, Johann Cyr, Marianne Gaudreault, Veronique Fortin, Magella Tremblay and Gaétan Boucher. Boucher is better known as an Olympic gold winning speed skater, but he also won bike races in his day. Another well-known cyclist that Labonté once coached is Louis Garneau but the two men had an unfortunate falling-out back in 2007.
Labonté recently confided to Pedal that he suffers from serious kidney problems and then serenely told us that he is refusing treatment. Pedal joins the cycling community in saluting Labonté's many cycling achievements over the years.
Info on the 2016 edition of the Salon Info Vélo (French) here.
Info on the 2015 ski and winter sports show (French) here.