April 11, 2016 (Quebec) – The Victoriaville region will once again play host to one of the most spectacular cycling events of the calendar year as pro racers and amateurs head for the continent's northeast to once again compete for top prizes, including perhaps the most unique in cycling: the rider's weight in maple syrup. More than 1,100 pounds of maple syrup was awarded to winners. The organization also announced that professional cyclist Hugo Houle, a native of the Centre-du- Québec region, will act as an ambassador and spokesman for the event again this year.
"The off-season has been rather long," said Alexis Pinard, co-founder and president of La Classique. "We've faced several obstacles that were beyond our control and that delayed our announcement for 2016, and we'd like to thank the cycling community, our volunteers, and our partners for their patience and support. On the bright side, these delays provided us with some extra time to work on several key improvements to the event, and I'm happy to say we've managed to raise the bar for our riders and spectators this year".
Changes include moving the starting site to the Complexe Sacré-Cœur, bringing it very close to the finish site, facilitating travel and logistics considerably. Additionally, all Gran Fondo routes (Découverte, Panoramique, and Classique) will now end atop Mont Arthabaska, in order to unite all participants and spectators in the same location, which will make for an incredible atmosphere at the post ride festivities and awards ceremonies.
"Last year, people praised the route selections, our volunteers, and the organization in general, but all agreed on this one improvement; to end a memorable day of riding on the right note, we need to have everyone finishing together at the same site atop Mont Arthabaska," explained Mr. Pinard. "We've listened to the feedback and we'll be making several exciting announcements in the coming weeks to ensure that people enjoy the moment at a whole new level while discovering some of the many replenishing culinary gems the region has to offer, along with the view of course!"
Proclaimed "Race of the Year in Quebec" at the Gala du mérite cycliste québécois organized by the Fédération québécois des sports cyclistes, La Classique has already left its mark on the spirit and legs of many riders from here and elsewhere. The FQSC Executive Director, Louis Barbeau, applauded the return of the event, saying: "The first edition of La Classique was a great success, and it has quickly earned its rightful place on the calendar in several respects. Given its many attractions and features, it's not surprising that athletes like Michael Woods, Antoine Duchesne, and others used the race as part of their final preparation for the UCI Road World Championships in 2015. I'm convinced that the 2016 edition will offer an even better experience".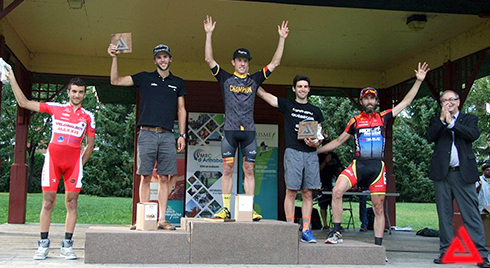 For his part, ambassador and spokesperson for La Classique Hugo Houle – who will be starting the Giro (Tour of Italy) for the second year in a row shortly under the colours of Ag2r-La Mondiale – wants to be at the starting line this year: "Sadly, I was unable to be present for the 1st edition due to my participation in the World Championship's Team Time Trial (TTT) in Richmond, but I hope to be able to take part in the show this year and win at home. I also invite all cyclists, competitive or recreational, to come and finish the season with us by pushing their limits on whichever route they choose, some of which are 99% paved. Breathtaking landscapes and great memories are guaranteed!"
Leading partners of La Classique, the RCM of Arthabaska and Victoriaville, also welcome the return of the event. Lionel Fréchette, prefect of the RCM of Arthabaska, proclaimed enthusiastically: "It's not only an important sporting event that puts the region right up front for cycling, but it allows several organizations and municipalities to work together on a large-scale project, allowing for the discovery of so many of the area's most enchanting sites. Coordination and commitment of the various partners are necessary to ensure the success of the event, and I am pleased to say that once again, everyone will be on board."
The Mayor of Victoriaville, André Bellavance, extended an invitation of his own to the cycling community: "With its capacity to highlight our region's breathtaking beauty and promote our rich cycling potential, La Classique des Appalaches falls directly in-line with our city's position towards urban health and development. The invitation has now been officially extended to all Gran Fondo riders and avid racers alike to help us write the 2nd chapter of this prestigious event".
Lex Albrecht, Montreal, BePink – Women Pro/Elite 108 km
"I am really pleased to know that there is a second edition of The Appalachian Classic this year. The first impressed me, not only for the exceptional course that compares to no other route I've run anywhere in Canada, but also for its outstanding organization. Beyond that, it was so nice to have another excuse to visit the Victoriaville region. I was often riding there when I was studying at UQTR, and the beautiful roads and scenery are something I really miss."
Marc-Antoine Brassard, Gatineau, Team Stingray/Trek/Lacasse – Pro/Elite 135 km
"In addition to pitting you against other riders, you must also defeat gravel sections, a hellish course and possibly incessant winds. So before you say that you're ready for La Classique, wait until you've crossed the finish line… perhaps your opinion will have changed!"
Dany Leclair, La Prairie – Gran Fondo – Panoramic 107 km
"When I registered for The Appalachian Classic, I did it on a whim. I was looking for new challenges, new corners of the province to discover. I had already run a few 100 kms, but it was my first Gran Fondo, my first timed course, and I'll remember it all my life. I'm used to rolling on the flat roads of the Eastern Townships, and I was really looking forward to tackling the famous Appalachians. I wasn't disappointed! I still remember the ascent at St-Fortunat, and the 5 km stretch on Leclerc rural route… I didn't put one foot on the ground, but I wondered sometimes if I was going to fall off, or worse, start rolling back down!"
"What's funny, is that despite all the suffering my legs endured, despite all the efforts of that day, I treasure a lasting memory of my first Appalachian Classic. And it'll give me great pleasure to return this year. For the landscape, friendly volunteers, solid organization, Victoriaville… and this time, I'll be faster!"
Anna Valdés, Montreal – Gran Fondo – Panoramic 107 km
"2015 was my first year as a road cyclist, so I was really nervous about riding in such a challenging event and my boyfriend had talked me into doing the Panoramic (107 km and almost 2,000 m of climbing!). My concerns were well founded! I was really impressed by how hard it was, and after about 75km I started to struggle, but one of the race's many "Encadreurs" (guides) helped me get back on the pace – I'm not sure I would have made it without his help, he was awesome (Merci Charles!). When I crossed the finish line, I was overwhelmed by the sense of accomplishment; I don't think a beer ever tasted as good as it did that afternoon! The organization was excellent from A to Z, I highly recommend The Classic to anyone who wants to enjoy a challenging ride in fantastic company and beautiful surroundings – see you in 2016!"
2015 Winners
Men (Pro/Elite)
1. Mike Woods (World Tour, Cannondale-Garmin in 2016)
2. Antoine Duchesne (World Tour, Direct Énergie in 2016)
3. Rémi Pelletier-Roy (Domestic, Garneau-Québécor in 2016)
Women (Pro/Elite)
1. Véronique Fortin (Domestic, Opus in 2015)
2. Lex Albrecht (World Tour, BePink in 2016)
3. Elisabeth Albert (Domestic, La Vie Sportive Apogée Opus in 2015)
Note that registration is now open via the events website here. In order to encourage early bookings, rates will increase progressively as the event approaches, so the sooner you register, the more you save! Additionally, all participants from the 2015 edition who register before May 15th, 2016 will receive a 15% discount; more details to follow over the coming days!