February 21, 2017 (Haliburton, ON) – We are excited to once again invite you to our all-inclusive, cycling weekend in Haliburton Ontario, with accommodation at the beautiful Camp White Pine.
Last year we hosted our first cycling weekend in Haliburton. Despite unseasonable cold weather, the weekend was a huge success. We rode in all kinds of weather. We feasted. We drank. In the evenings we laughed as we warmed ourselves by the fire, while watching vintage cycling movies. And so a very cold weekend was one of the warmest ever!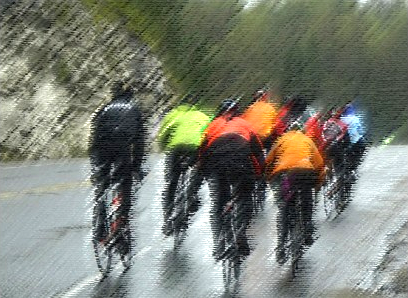 Once again, the backdrop this year will be the rugged countryside of Haliburton, where the roads wind around lakes and are flanked by the Canadian Shield. Our home base will be the pristine Camp White Pine. This season we are planning an even richer experience and while we are hoping for perfect weather, we know we will have a great time no matter the weather!
In order to ensure the weekend remains an intimate experience for all, we are once again limiting our numbers.
What to Expect:
• Upon registration, each rider will receive a welcoming kit.
• No matter your skill level, expect to be challenged on beautiful routes, lead by experienced cyclists.
• Feel confident that we are there to support you on the rides and throughout the weekend.
• All accommodations, meals, beverages and activities will be included.
• Wine and beer will be served with dinners.
• All meals will be prepared by our talented chef and his crew, in a nut free facility. Dietary needs can be accommodated.
• After rides we can clean your bike if needed and of course there will be mechanics on hand.
What's New:
• This year we are extremely fortunate to be joined by Paige Royal of Pura Vida Performance and Connie White of The Rad Room in Barrie.
• Paige will be offering coaching and nutritional tips and perhaps even some sampling of her delicious recovery smoothies. She will be there to coach those who are fairly new to the sport.
• Connie will be offering Yoga classes.  She can also offer coaching tips for cyclists of any skill level.  She will be cycling with us as support.
• We will be offering mountain biking Saturday afternoon, if there is interest.
• We will be offering a Conconi test to gauge your fitness. The test will be conducted by former pro cyclist Davide Frattini
The Cycling:
Routes:  Our goal is to offer all riders challenging opportunities, no matter your skill level. We have pro-cyclists, leading the rides and professional coaches available to work with cyclists of any skill level. Based on our knowledge of the area, aided by Strava, we will chart out several options for routes. We will fine-tune these once we see how the roads have faired over the winter and once we ascertain the skill level of participants. We will make adjustments as needed.
* All our rides will be lead by accomplished riders and will be followed by support vehicles.
* Once finalized, we will provide cyclists with the downloadable routes for their computers.
Accommodations:
Staff Cabins: There will be limited space in staff cabins. These cabins have full washroom facilities.  Some have simple kitchen facilities.  If you register for a staff cabin, you will be sharing the cabin with others. If you organize a group, we will try to accommodate you and put you together in one cabin. There are also several staff cabins with double, or queen beds for couples. Some staff cabins have limited heating.
Camper Cabins: The cabins we have chosen have washroom facilities on site, with the shower facility nearby. They are nestled on the lake and are in the main area of the camp, close to the dining hall.  The beds are all single. There will be cabins designated for female riders and male riders. We can also allocate cabins for couples if the need arises. We will supply heaters if needed.
Fees will be refundable in full until April 10th. After that you can give your spot to someone else and notify us so that we can make the appropriate adjustments.
Fees and registration:
Camper Cabins: $390.00 plus tax
Staff Cabins: $440.00 plus tax
Registration for this event is now open!
To go to the on-line registration page please follow this link here.
This price includes all accommodations, meals and snacks, beverages, wine and beer with dinner, camp fee as well as use of many of the facilities, insurance, entertainment and more!  A portion of each cyclist's fee will be donated to Camp Oochigeas for Children with Cancer.
For information please follow this link for full details click here.
To have a look at more of the facilities go to www.campwhitepine.com
Other links of interest: www.cyclehaliburton.ca
If you need to correspond with us regarding this event (i.e. questions etc..) to please send an e-mail to: events@labicicletta.com
In order to ensure an intimate experience for all, we are limiting our numbers.
Hope to see you there!
La Bicicletta
1180 Castlefield Avenue, Toronto, ON M6B 1G1
phone: 416-762-2679
toll free: 1-800-489-8430
e-mail: info@labicicletta.com
website: www.labicicletta.com