February 10, 2015 (Toronto,ON)- When it comes to cycling trivia, everyone thinks they are a 'know-it-all'. La Bicicletta is excited to host a fun night of Jeopardy!, when you can come test your knowledge, drink beer, and win some awesome prizes. Bring your A-game!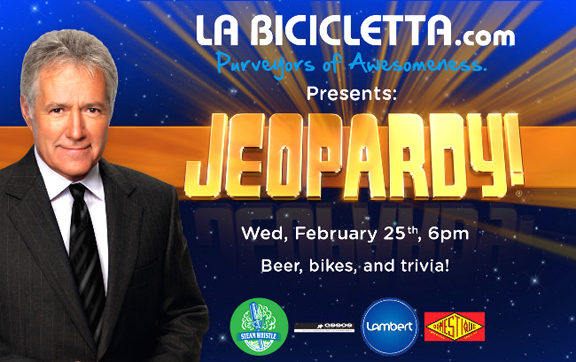 Event Format
All participants will play in a big elimination round to find our top three contestants. The top three will then face-off in a true game of Jeopardy! – with a first round, followed by Double Jeopardy – and then Final Jeopardy. Questions will include bike tech, culture, and general history. Local cycling celebrities may even appear for special Double Jeopardy questions.
This is a ticketed event is limited to 30 participants, so purchase your tickets to avoid missing the fun!
Prizes:
• 1st place: Garmin Edge 810 Bundle computer ($779 value)
• 2nd place: Steam Whistle VIP Brewery Tour Package ($250 value)
• 3rd place: ASSOS – La Bicicletta jersey ($220 value)
Event details:
Date: Wednesday, February 25, 2015, from 6-9pm
Tickets: $10. Click here to purchase.
Location: La Bicicletta, 1180 Castlefield Avenue, Toronto, M6B1G1
Sponsored by Steam Whistle Brewing, ASSOS, Cycles Lambert, and Cafe Domestique.
Read more here.