July 17, 2011 (Whistler, BC) – Kokanee Crankworx opened the action for their eighth annual freeride mountain bike festival with the comeback of the Fat Tire Crit in Whistler Village. Last held in 2003 during the Whistler Summer Gravity Festival, this inaugural event for Kokanee Crankworx looped around the new Whistler Olympic Plaza and drew an enthusiastic crowd despite cool, cloudy weather.
Brian Lopes of Laguna Beach, CA, who is the "winningest" athlete in the history of Kokanee Crankworx, sustained his legacy with another first place finish.  Kevin Calhoun of North Vancouver, BC came in second, with local Whistlerite Matt Ryan coming in third.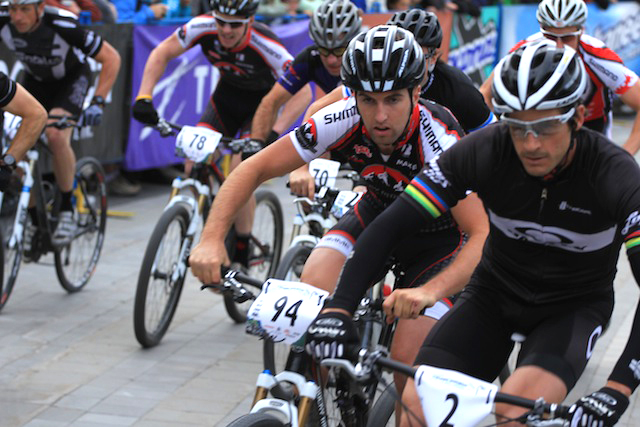 On the ladies side it was all about the British Columbians with Katherine Short of Halfmoon Bay coming in first, Ann Yew of North Vancouver, BC in second and Megan Rose of Squamish, BC finishing third.
"Seeing Whistler Olympic Plaza come alive with crowds of people cheering on the Fat Tire Crit athletes, the bustling Kokanee Zone and this new green space for concerts is awesome," says Darren Kinnaird General Manager of Kokanee Crankworx.
While Criteriums are generally raced on road bikes and held on closed-off city centre streets, Kokanee Crankworx's event featured mountain bikes only. The 800m loop around Whistler Olympic Plaza had multiple corners, a chicane and a straightaway for sprinting on each lap and the action got really intense when the prime laps where called.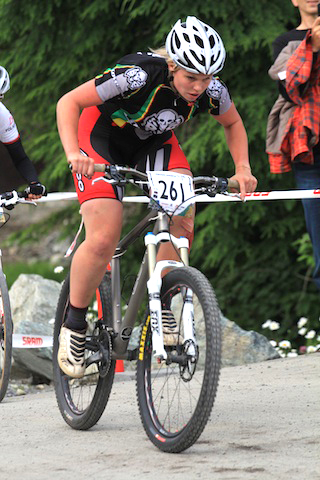 When the Crit ended, the party rolled on with the Kokanee Crankworx Kick Off Concerts presented in partnership with the Resort Municipality of Whistler Festivals, Events & Animation Program. Whistler's own Kostaman opened for reggae, funk, pop, soul and hip-hop musician/emcee K'NAAN.
Full results HERE.
Kokanee Crankworx Dual Slalom
A crash in last year's Dual Slalom Pro Men's Final kept Mitch Ropelato (USA) from earning gold but he redeemed himself by coming out on top in today's race. With hardly an error in any run, Ropelato has able to blaze through each ladder, consistently pinning it and pedaling over the moguls to take gold over Mick Hannah (AUS) in the finals.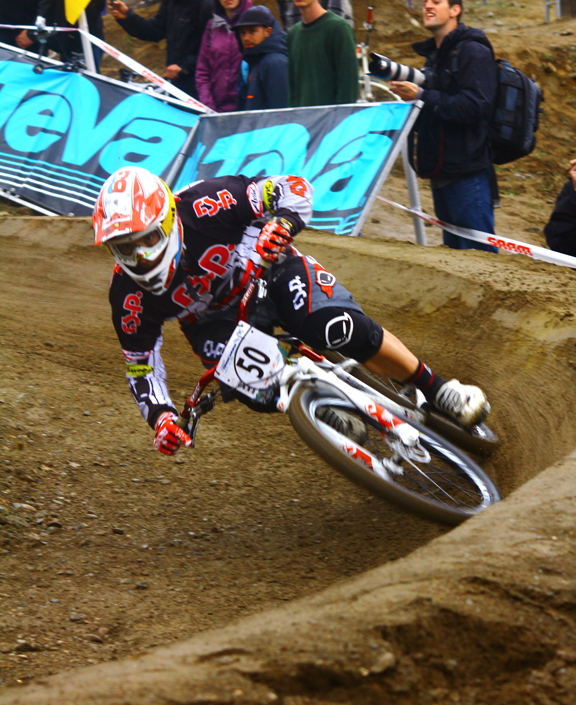 On the ladies side Jill Kintner (USA) took gold from defending champion North Vancouver's Micayla Gatto (CAD) with clean runs through each ladder.  Kintner went in with an advantage of 0.49 and a serious bobble on the moguls at the top end of the course took Gatto out of the running.