July 17, 2011 (Whistler, BC) – Today Vancouver Island's Steve Smith kept the Canadian Open Downhill title on home soil by dominating the notoriously technical course to take first place with a time of 3:00.01. Rachel Atherton (GBR) had the fastest time for the women with a time of 3:34.45.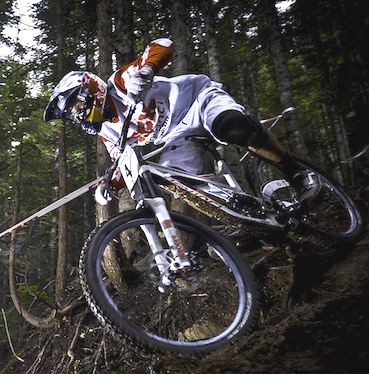 "The Canadian Open DH is my favourite event at Kokanee Crankworx. After getting a flat on the course last year I was ready to go hard this year," says Smith. "This track suits my style; it is rough and technical, and one of my favourite trails to ride in the Whistler Mountain Bike Park."
Many thought defending champion Gee Atherton (GBR) would hold onto the title and he felt good in practice but a spill near Heckler's Rock kept him off the podium. The Canadian Open track was described by many racers as greasy due to rain at the top end of the race, and everyone had something to say about the sea of flesh at Heckler's Rock where no shirts are the rule and the crowd gets loud and rowdy.
"I went over the bars and I knew it was game over. In a course like this, as soon as you make a mistake, the race is over," says Gee Atherton.
His sibling Rachel Atherton had better luck and took first. "I am happy to get the race over with," she said. "It is a gnarly track."
In the Pro Men category Steve Smith (CAD) took first place with 3:00.01, Andrew Neethling (RSA) with a time of 3:01.52 came in second and Troy Brosnan (AUS) took third with 3:02.68.
In the Pro Women category Rachel Atherton (GBR) took first with 3:34.45; Whistler local Claire Buchar (CAD) came in second with 3:38.75; and Squamish resident Miranda Miller (CAD) got third with 3:38.75.
Full event results HERE.