June 11, 2015 – After her 7th place finish at the Philadelphia International Classic on Sunday, Leah Kirchmann officially clinched her first National Racing Calendar (NRC) championship title. Kirchmann vaulted up the overall standings in May in large part to her double stage victory and 2nd place overall in the inaugural women's Amgen Tour of California.
Other critical results included a stage win and 3rd place finish at Joe Martin Stage Race, where she finished 4th overall, and podiums at the Redlands Bicycle Classic and the Tour of the Gila. Despite a shortened '15 NRC calendar, the women's season is far from over – they depart soon for the 2nd edition of the women's Tour of Britain, June 17-21, followed up with a return to La Course by Le Tour de France on July 26.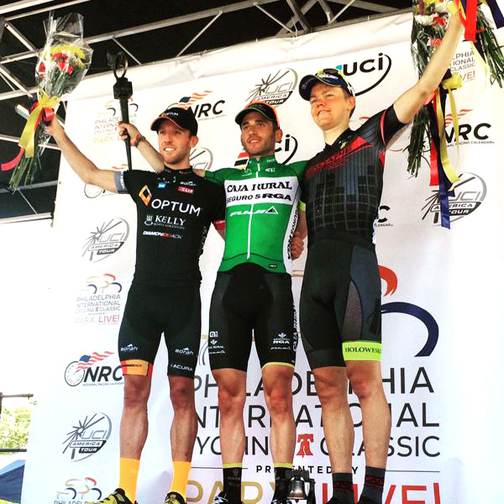 Mike Woods' nail biting second place in Philadelphia brought home enough points for the Orange & Black rider to move into the lead on the NRC individual standings, with only two races remaining – next week's North Star Grand Prix and the Pennsylvania's Reading 120 on September 12. The men's team sits in second place in the team standings.
Once again, the men and women are neck and neck in wins, podiums, and top tens, making for some friendly competition as the teams rolls into the second half of the '15 season.
2015 Result Tally
Women
– 22 Wins
– 45 Podiums
– 88 Top Tens
Men
– 21 Wins
– 44 Podiums
– 82 Top Tens
Current NRC Standings
Women's Final Individual Standings
1. Leah Kirchmann (CAN/Optum Pro Cycling presented by Kelly Benefit Strategies) – 664
2. Lauren Stephens (Dallas, Texas/Team TIBCO-SVB) – 642
3. Mara Abbott (Boulder, Colo./Wiggle-Honda) – 570
4. Katie Hall (Oakland, Calif./UnitedHealthcare) – 486
5. Amber Neben (Lake Forest, Calif./FCS Cycling-Visit Dallas Cycling p/b Noise4Good) – 484
Women's Final Team Standings
1. UnitedHealthcare – 1694
2. Optum Pro Cycling presented by Kelly Benefit Strategies – 1574
3. TWENTY16 p/b SHO-AIR – 1056
4. Visit Dallas Cycling p/b Noise4Good – 826
5. Team TIBCO-SVB – 810
Men's Individual Standings
1. Mike Woods (CAN/Optum Pro Cycling presented by Kelly Benefit Strategies) – 424
2. Gregory Brenes (Northvale, N.J./Jamis Hagens Berman p/b Sutter) – 404
3. John Murphy (Horse Shoe, N.C./UnitedHealthcare) – 356
4. Toms Skujins (Greenville, S.C./Hincapie Racing Team) – 352
5. Daniel Jaramillo Diez (Albuquerque, N.M./Jamis Hagens Berman) – 314
Men's Team Standings
1. Hincapie Racing Team – 1,056
2. Optum Pro Cycling presented by Kelly Benefit Strategies – 1,024
3. Jamis Hagens Berman p/b Sutter – 982
4. Team Smartstop Pro Cycling – 690
5. UnitedHealthcare – 658