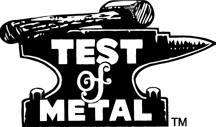 May 28, 2013 (Squamish, B.C.) – Neal Kindree is returning to defend his Test of Metal title after a strong season-opening win at the Ore Crusher.
The Nesters Market Squamish Test of Metal cross-country mountain bike race takes place June 15 and the hometown Kindree will be looking to take top honors again this year.
Final preparations for the race are well under way, and a call for volunteers has gone out. Positions include course marshalls, water and feed stations, first aid, Class 4 drivers and start/finish line setup and teardown. Volunteers must be at least 19 years of age.
Cliff Miller, Test of Metal race director, said that the volunteers are the key to the Test of Metal's success.
More than 300 volunteers help out on race weekend, and small group of volunteer organizers, the Test Pilots, coordinate all aspects of the race.
"This is a volunteer run race," Miller, himself a volunteer, said. "All I have to do is show up at the meetings." While many volunteers return year after year, Miller said there is always room for more volunteers and he encouraged anyone who wishes to help out to register online at testofmetal.com.
Miller also assures vollies that while on the course they won't miss any of the action from the finish line as the Test of Metal series of races uses the WebScorer timing system to time the race and manage the results.
"You can follow the race live using an internet enabled iPhone/iPad/iPod Touch device using the WebScorer FAN app from the iTunes App store. You can also periodically check the results during the race on the WebScorer website using any internet connected device with a browser," Miller said. For more details visit the Test of Metal website at testofmetal.com.
The Test of Metal is a gruelling 67 kilometre point-to-point mountain bike race through Squamish's world-renowned trails.
The Test of Metal, Inc. is a not-for-profit corporation run by volunteers, and any proceeds from the race are returned to the community through charitable donations. Since its inception, the Test of Metal has donated more than $150,000 to community organizations and events.