October 02, 2011 – If it's possible to put a positive spin on a broken jaw and shattered teeth, Keven Lacombe can do it. The soon-to-be 26-year-old from Amos, Que., slipped on a corner and crashed heavily in the Canadian criterium championships on June 26, suffering a triple fracture to his jaw and losing several teeth in the process.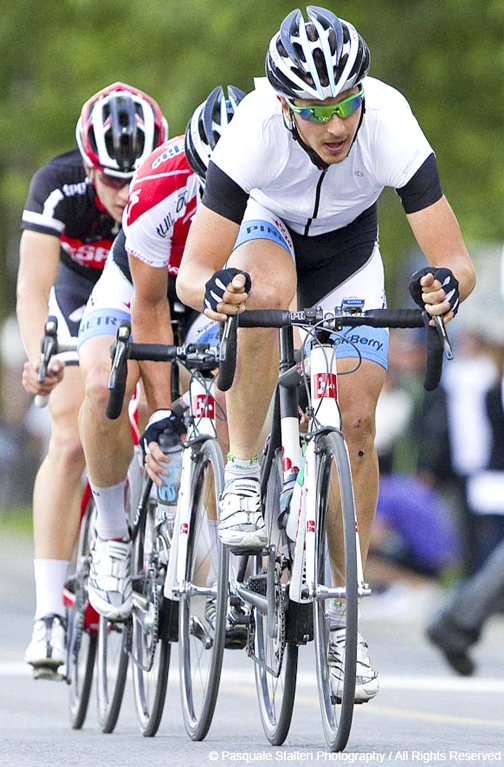 The injuries put an end to Lacombe's season and left him questioning his future in the sport. "In cycling, unless you're 100% committed, you can't race at the elite level," he says. "I wanted to make sure that I was continuing for the right reasons."
But by August, once he had recovered enough to start doing some gentle rides, Lacombe knew he wasn't done with racing. Being away from competition made him realize how much it meant to him, so he was ready to jump back in with both feet. In fact, he's more committed than ever and, being Keven Lacombe, he's going to do it his own way.
"Starting in January, Martin (Gilbert) and I will be in Europe," he says. "Just before the World Tour races in Quebec I bought myself a motorhome. I'm going to send it over to Europe on a boat."
The plan is to take the 24-foot Winnebago to where there's warm weather and good roads and do the final preparation they need in order to be ready to start racing when the Team SpiderTech p/b C10 program starts in February.
With his girlfriend in medical school and Lacombe finishing up his accounting degree in December, the timing is good to spend some time apart since they weren't going to see much of each other anyway.
"The goal is to be autonomous and find the best-possible training conditions," he says. "We're going to start racing in mid-February with so-called 'training races' and focus on the bigger races in late March and early April."
Lacombe refuses to identify any specific personal targets. "I just want for us to win races – real races where cycling is important. Winning races in North America is good, but it's not the same thing as in Europe."
Lacombe came close in 2011 despite his abbreviated season, with a half dozen top 10 finishes in Europe and another half dozen in North America. Many of those came in bunch sprints, but Lacombe refuses to be typecast as a sprinter.
"I don't really know what I am," he says. "It doesn't really matter if I'm a sprinter or a 'rouleur' (all-rounder) – I guess I'm more of a rouleur who can sprint. But I'll leave that up to those who commentate on the races."
For the time being, Lacombe is concentrating on the 2012 season, putting in some base miles until mid-October, when he'll start doing intervals to bring his form back to the level it was before the crash.
As for racing beyond 2012, Lacombe isn't worrying about it for now. "I'm going to do another year, but that doesn't mean I won't do more," he says.
One thing that is for sure is even though he'll always bear the scars from the crash, he won't let it affect his racing. "I'm not nervous. It's just a shame because a crash like that has long-term consequences."