January 12, 2018 (London, ON) – Kallisto-FCV is a youth development cycling program based at London's Forest City Velodrome and offering programming in Kitchener-Waterloo and the Greater Toronto Area. After strong road and track seasons in 2017, we are incredibly proud that four of our riders have graduated to Cycling Canada's national NextGen track programs. Lucas Taylor (London, ON) and Chris Ernst (Kitchener, ON) will ride with the NextGen Men's Track Endurance program, and Nick Wammes (Bothwell, ON) and Je'Land Sydney (Georgetown, ON) will ride with the NextGen Track Sprint program.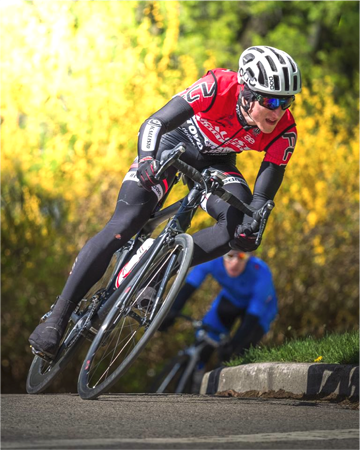 Season highlights for the Kallisto-FCV Cycling Team include
20 medals
at Track Nationals, including gold in junior men's sprint (Je'Land Sydney), gold in junior men's Kerin (Nick Wammes), gold in junior men's team sprint (Je'Land Sydney, Lucas Taylor, Nick Wammes), gold in junior women's team sprint (Charlotte Creswicke), gold in junior men's Madison (Chris Ernst, Lucas Taylor).
Based on strong performances at Track Nationals, 5 Kallisto-FCV riders were selected to the 13 rider National Team competing at Junior Worlds in Italy (Charlotte Creswicke, Je'Land Sydney, Nick Wammes, Chris Ernst, Ali van Yzendoorn).
In Road and MTB, highlights include winning the Ontario Cup Road Series (Chris Ernst), a silver at the Ontario MTB Provincial Championships (Amanda Kleinikkink), an overall win at Chicago's Intelligentsia Cup Series in Cat 3 (Daniel Nordemann-Da Silva) and 3 podiums at the Ontario Youth Cup Finale (1
st
– Lucas Taylor, A Grade; 1
st
Finlay MacEwen, B Grade; 3
rd
– Christopher Oudshoorn, E Grade).
"This past 2017 season was a breakthrough year for our program. Early in the year we placed 5 Kallisto-FCV riders on the National Team for the Track Junior World Championships, won the O-cup on the road and now have 4 talented riders in Chris, Lucas, Nick, and Je'Land joining Cycling Canada's NextGen program," said Art Adams, Kallisto-FCV head coach.
The Kallisto-FCV Cycling Team offers year-round coaching and development support in track, road and mountain bike racing. With locations across southern Ontario, it serves as a platform to support youth who want to compete at the highest level. Kallisto-FCV alumni have competed around the world, and with four more young talents moving to the national ranks, Kallisto-FCV is currently accepting new athletes.
For more about Kallisto-FCV Cycling Team visit our website here or on Facebook/Twitter/Instagram – @teamkallistofcv