August 20, 2011 (Moscow, Russia) – The day started off with Audrey Labrie racing in the Keirin. She rode an aggressive race but was forced into the Repechage where she finished third and did not move to the next round. The race was eventually won by the same Russian rider who won the match sprints with an impressive move over the top in the final lap.
Next up was Allison Beveridge in the Omnium pursuit. She was forced to play catch-up after a tough first half of the Omnium the previous day due to the same stomach bug that has hit many of the riders here.  She finished fifth which moved her up a spot into 7th overall. She would finish sixth in the Scratch race and 3rd in the 500m TT moving her up to 5th overall in the final.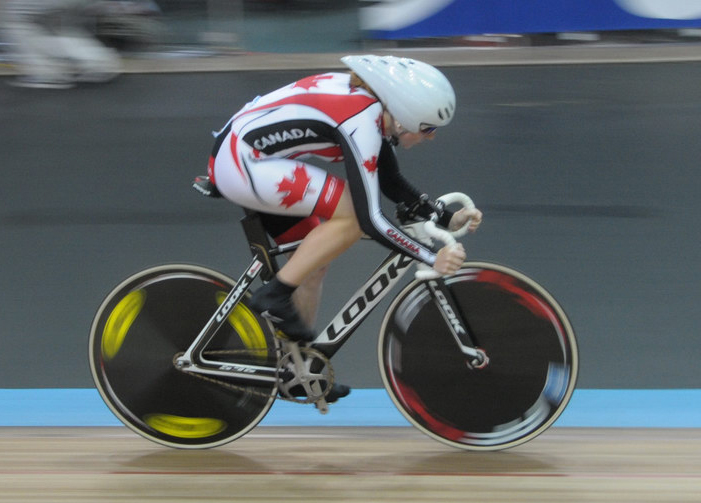 Alex Cataford and Kyle Buckosky both competed in the individual pursuit, with Kyle posting a personal best by seven seconds (3:37). Alex finished with a 3:29, still feeling the effects of the hard crash in the Omnium Points race.
The final event for Team Canada this evening was the Points race for Kyle. The pace was furious from the gun with several riders lapping the field in the first half of the race. Kyle was attentive, active, and always at the front of the group but wasn't able to get in the move that took the lap. He is looking forward now to riding the Madison on Sunday with Jesse Marans.
The week has been a tough one for our riders with the stomach bug hitting many of the riders taking part in the championships, and they have shown an immense amount of determination and resolve to give everything they have for each event even if they weren't able to perform at their best.
More photos HERE.
Results
Women's Keirin
Round 1
Heat 1
1. Gabriele Jankute (Lithuania)
2. Adele Sylvester (Australia)
3. Sunyoung Cho (Korea)
4. Maryia Haletskaya (Belarus)
DNS Maria Paz Vicencio Bravo (Chile)
Heat 2
1. Anastasiya Voynova (Russian Federation)
2. Victoria Williamson (Great Britain)
3. Paige Paterson (New Zealand)
4. Chloe Chepigin (United States Of America)
5. Ilonka Jara Cortes (Chile)
Heat 3
1. Lisa Gamba (Italy)
2. Jennifer Valente (United States Of America)
3. Monika Kendziora (Germany)
4. Urszula Los (Poland)
5. Audrey Labrie (Canada)
DNF Stephenie Mckenzie (New Zealand)
Heat 4
1. Stella Tomassini (Italy)
2. Tamara Balabolina (Russian Federation)
3. Mar Manrique Villena (Spain)
4. Allee Proud (Australia)
5. Deborah Coronel (Argentina)
6. Dominika Borkowska (Poland)
Round 2
Heat 1
1. Sunyoung Cho (Korea)
2. Allee Proud (Australia)
3. Audrey Labrie (Canada)
Heat 2
1. Paige Paterson (New Zealand)
2. Urszula Los (Poland)
3. Ilonka Jara Cortes (Chile)
Heat 3
1. Dominika Borkowska (Poland)
2. Monika Kendziora (Germany)
3. Chloe Chepigin (United States Of America)
Heat 4
1. Stephenie Mckenzie (New Zealand)
2. Mar Manrique Villena (Spain)
3. Deborah Coronel (Argentina)
4. Maryia Haletskaya (Belarus)
Women's Omnium
Individual Pursuit
1. Taylah Jennings (Australia) 2:43.023
2. Steffi Lodewyks (Belgium) 2:43.492
3. Alina Bondarenko (Russian Federation) 2:35.838
4. Ingrid Drexel (Mexico) 2:41.283
5. Allison Beveridge (Canada) 2:37.915
6. Chiara Vannucci (Italy) 2:33.844
7. Katarzyna Kirschenstein (Poland) 2:34.793
8. Lisa Küllmer (Germany) 2:33.433
9. Sujeong Jeong (Korea) 2:33.666
10. Sophie Williamson (New Zealand) 2:33.134
11. Tannah Gracie Robinson (South Africa) 2:36.838
12. Kate Wilson (United States Of America) 2:27.803
13. Veranika Shukayeva (Belarus) 2:32.659
Men's Individual Pursuit
Qualifications
1. Sanghoon Park (Korea) 3:19.112
2. Moritz Schaffner (Germany) 3:20.489
3. Jackson Law (Australia) 3:21.541
4. Alexander Morgan (Australia) 3:21.783
5. Stefan Kueng (Switzerland) 3:22.413
6. Nils Schomber (Germany) 3:22.419
7. Scott Creighton (New Zealand) 3:22.847
8. Casper Von Folsach (Denmark) 3:23.015
9. Fraser Gough (New Zealand) 3:23.305
10. Marc Fournier (France) 3:23.913
11. Kévin Lesellier (France) 3:24.985
12. Ahmet Orken (Turkey) 3:25.651
13. Saimen De Laeter (Belgium) 3:26.592
14. Aydar Zakarin (Russian Federation) 3:27.487
15. Panagiotis Sifakis (Greece) 3:27.605
16. Vladimir Dubrovskiy (Kazakhstan) 3:28.039
17. Mathew Lipscomb (United States Of America) 3:28.531
18. Stanislav Zavgorodniy (Russian Federation) 3:28.819
19. Rafal Jeziorski (Poland) 3:28.905
20. Frantisek Sisr (Czech Republic) 3:28.920
21. Riccardo Donato (Italy) 3:29.065
22. Alexander Cataford (Canada) 3:29.336
23. Przemyslaw Kasperkiewicz (Poland) 3:29.381
24. Gregory Daniel (United States Of America) 3:29.450
25. Giovanni Longo (Italy) 3:29.459
26. Edibaldo Maldonado Rayas (Mexico) 3:30.395
27. Volodymyr Dzhus (Ukraine) 3:31.320
28. Ioannis Spanopoulos (Greece) 3:31.956
29. Illya Klepikov (Ukraine) 3:32.614
30. Mariano Norberto Rodriguez (Argentina) 3:32.944
31. Julio Alberto Amores Palacios (Spain) 3:33.078
32. Alexander Hjortnaes (Denmark) 3:33.301
33. Daniel Badilla (Mexico) 3:33.957
34. Arend Keller (Switzerland) 3:34.285
35. Niels Vanderaerden (Belgium) 3:34.392
36. Kohei Kurose (Japan) 3:35.542
37. Aliaksandr Maskaliuk (Belarus) 3:37.092
38. Kyle Buckosky (Canada) 3:37.696
39. Aliaksandr Piasetski (Belarus) 3:44.833
40. Granja Manuel Diaz (Argentina) 3:45.376
41. Marthinus Johannes Prinsloo (South Africa) 3:48.407