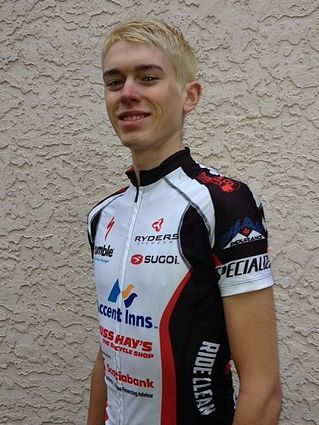 January 26, 2016 (Victoria, BC) – Accent Inn/Russ Hays Cycling Team alumni racer, Jordan Cheyne, has recently signed a professional contract with the US Continental Team, Jelly Belly for the 2016 Cycling Season.
Jordan was part of the 2014 AI/RH Team roster where he placed 6th at the Canadian National Time Trial Championships and was selected to the Team Canada Tour of Alberta Team. In 2015, Jordan joined the Ride with Rendall/BiemmeCycling Team and had a breakthrough year with the help of cycling coach, Chris Baldwin.
At the GP Saguenay, he finished 9th in Stage 1, and took 3rd overall in the Mountains Classification. His result at the Tour de Beauce was equally impressive: 3rd in Stage 3 TT amd 12th overall in GC. He also placed 4th in the Canadian National Time Trial Championships in St. Georges, Quebec.
Later in July 2015, Jordan rejoined the Accent Inns/Russ Hays Cycling Team as a guest racer for the Cascade Cycling Classic. It was here that Jordan produced one of his proudest achievements with a 6th place in the overall classification against some of the top Continental professionals in North America.
See the release from Jelly Belly Cycling here.