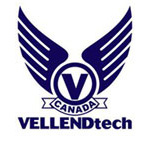 April 08, 2014 (Toronto, ON) – Vellend Tech based in Toronto is seeking an Ontario Parts & Accessories sales rep for the upcoming cycling season. If you know of a few folks who might have interest and/or you could spread the word amongst your network – here are some details about the role:
– candidates must have their own vehicle and be willing to travel
– territory is ONTARIO (except Ottawa)
– the successful candidate will be responsible for the Vellend Tech portfolio of all cycling P&A. Bikes are NOT part of the portfolio
– compensation will be commission-based
– proven sales experience a must, with preference given to those with proven cycling and sales portfolio
Interested candidates can email their resumes directly to Rob Vellend at rob@vellendtech.com.