June 06, 2013 – May was another exciting month for the team, racking up another win and racing well as a team. It was also a month where the weather caught the riders by surprise. Having returned from Joe Martin everyone was keen to put their new found fitness to good use. The Lake of Bays event in Huntsville was the first opportunity to do so.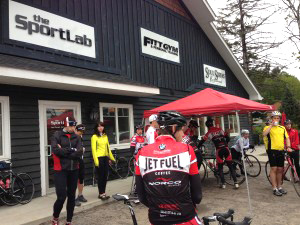 Huntsville is the hometown of the SportLab, who are involved in the launching of the new Muskoka Lakes Cycling Club. The day before the race the club held their first team ride, to which the SportLab invited the Jet Fuel Coffee/Norco Bicycles team. Following the ride there was a lunch and some testing of the guy's hydration levels. The SportLab's involvement with the team has been in helping to perfect each rider's fuelling and recovery strategies. Here was a chance to make sure they have been following them. And it turns out they had been following the strategies!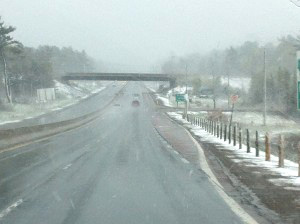 The next day was the Lake of Bays race. This is where everyone in Ontario was caught by surprise. May 12th, springtime and the weather was absolutely atrocious.
Rain, snow and everything in between pounded the race. In the end it was only a few hardy stragglers that finished, with the majority of the field falling by the wayside one by one. A rough day to be out on the bike.
The team followed up that rough ride with a solid performance at the Niagara Classic, one of the staples of the Ontario circuit. Breakaways were covered, counter attacks followed, and the team tactics unfolded to a T. The result was two Jet Fuel Coffee/Norco Bicycles riders on the podium with Anton in first and Yuri in third. Yuri's ride was particularly impressive as he had spend the majority of the race up the road and yet still had the legs for a good finish.
Finally, the EQGP in Kemptville rounded out the racing for the month. Here we had Travis, one of our two youngest riders showing his stuff and riding in the break of the race with some talented competition. The team had been hoping to lead out Jeff Schiller for the win, but the break stuck.
Jeff won the field sprint and Travis did his best to hold things together up the road. Unfortunately he was in the unenviable position of being the loan Jet Fuel Coffee/Norco Bicycles riders in a break that had great representation from the other teams. For sure it was a new experience, getting attacked left right and centre towards the finish, but a good lesson to learn how to cope in a crazy situation. June is already off to a great start, but that can wait until next month's update.
Read more about Jet Fuel Coffee/Norco Bicycles HERE.