May 01, 2013 – In April the team undertook one of the first major projects of the season: the Joe Martin Stage Race in Fayetteville, AR. But before getting there they guys did a bunch of racing and training in Ontario.
At the beginning of the month, the Spring Classics time of the season, the guys raced the Tour of Bronte. Bronte is held on a circuit that takes in mainly gravel roads, and some pavement – the Paris-Roubaix of our spring season. Before the race started Yuri was talking about his back luck at the event, flat tires always having ended his day early. Well this year was no different, and in fact bad luck slowly whittled down the team's numbers in the race. Still, we were well represented in the breakaway and when that was caught Anton handily won the sprint finish.
Looking at the power files from the first couple of spring races in Ontario I was surprised at the numbers, as these races had not been easy. Then the guys went south to Joe Martin and things went up another level. Toughest of all down in Arkansas was probably the unexpectedly cold weather, with temperatures almost breaking record lows and constant rain making things uncomfortable.
Despite the conditions it was a great experience for the team. Travis, who held his own, was the youngest rider in the race. Yuri told me how it was a real eye-opener seeing the level of performance that he was looking to step-up to. A high level NRC event like Joe Martin is good for the guys to get under their belts. It will raise their level for the rest of the season, and at the next big races they will be that much better.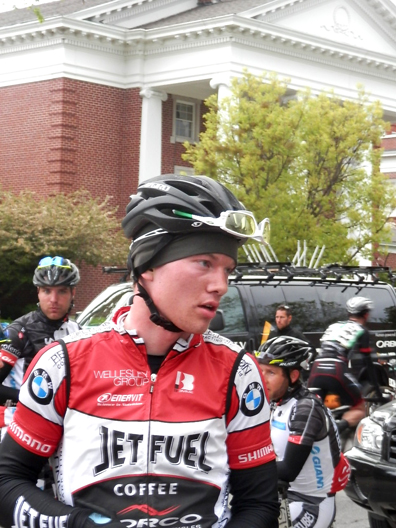 For May the team will hit up the O-cup races, Lake of Bays which should be a good prep for Nationals and the Niagara Classic. Then next up is the Philly Cycling Classic, a new old race. This is the revamped US Pro Championship race. What is exciting about this one is that it will now be finishing on top of the Manayunk Wall. Ouch!
I would like to thank the Donna-Marie and Bryan Bowers for supporting the team down in Joe Martin. They drove down the van and provided race support without which projects like this simply would not be feasible.
All the best,
Andrew Randell
Team Manager