June 06, 2015 – Quebec road racer Jean-Simon d'Anjou (Team U Anjou) suffered an unfortunate crash, smashing into a stopped vehicle and sustained multiple facial and head injuries. "Thanks everybody," he wrote to his many well-wishers on Facebook.
"I made a big mistake in keeping my eyes on my Garmin. I therefore hit the rear bumper of a stopped car and passed through the (rear) windshield. My chin was opened to the bone, my cheek was sliced, and I have a broken tooth. I am waiting for my x-ray results on my jaw which I think is broken. Thanks everyone for your words of support."
D'Anjou, 19, began racing in 2013 under coach Jean-Yves Labonté. He competed in some Belgian races in September, 2014, finishing 26th at the Steragaz Vlaams Brabant Classic. He also finished 82nd at the 2014 UCI U19 Worlds in Ponferrada, Spain.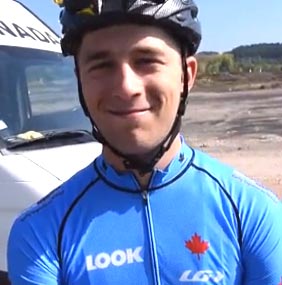 When we last spoke with d'Anjou in February he was planning to do a four-month stint riding for the French-based Team U Anjou before returning to Canada to complete his season riding for Garneau Quebecor. We understand that this accident happened shortly after his return to Canada – read our February report
here
.
Pedal wishes d'Anjou a speedy recovery!