August 22, 2011 (Toronto, ON) – It's hard to remember when I first met Jack because he was always there for everyone, especially when he rode his bicycle. He chaired the City Cycling Committee when he was on the Toronto City Council, as did Olivia [Chow his wife]. There they were – cycling in their fashionable threads and everlasting smiles – showing us all that the bicycle belongs everywhere.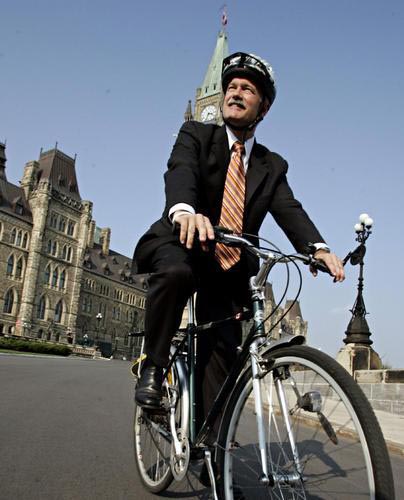 He could be at more events than any other city politician because he knew the fastest way around Toronto was by bike. Jack also loved to be with the human race. He took part in the human race as if he knew he had a limited time here. He generated so much energy because he cared deeply about the energy of others.
When women cyclists fought for equal prize money at bike races in Toronto from 1988-90, first Jack and then Olivia met and strategized with us. We won that fight, and how could we not? We were fighting for the rights of women, something Jack was completely committed to.
I last saw Jack when I bumped into him on the campus of UBC a few years ago. He had just finished a workout as he was training for a triathlon. We shared a cab together and he told me that my sister Leslie, with whom he had worked for many years on tenants' rights, was the best organizer he had ever known. His compliment made my sister's day when I passed it on.
Dear Olivia, Sarah and Mike – let us remember Jack each time we ride a bike on designated bicycle lanes and breathe fresh air; each time we see a family get a new start in a home geared to income; each time people tell us something is impossible when we know it is not.