August 09, 2012 (Victoria, BC) – The community is invited to join Ryders Cycling Society of Canada and the City of Victoria in welcoming home Giro d'Italia champion Ryder Hesjedal to Victoria with a parade and celebrations in Centennial Square on Friday, August 10, 2012. The event is Ryder's first public appearance on Canadian soil since winning the Giro d'Italia cycling road race in May.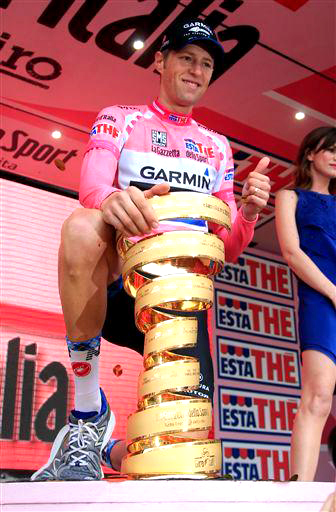 "Ryder is a tremendous role model for British Columbians – his performance at the Giro d'Italia was an inspirational example of what a dedicated athlete can achieve," said Minister of Community, Sport and Cultural Development Ida Chong.  "We honour his excellence in the cycling world and the contribution he has made to sport in British Columbia."
"Ryder's achievement in the Giro d'Italia was historic and we want to celebrate with him and honour his achievement," said Mayor Dean Fortin. "It is important that Ryder's hometown be part of celebrating his remarkable win."
On Friday, Victoria residents and cycling enthusiasts will have a chance to congratulate their hometown champion on his Giro d'Italia win and hear about his experiences at the Giro d'Italia, Tour de France and representing Canada in the London Olympics. The homecoming event will see Ryder walk the red carpet and be recognized by the Province and the City of Victoria for his outstanding accomplishment.
"Representing Canada, cycling in Italy for the Giro, the Tour de France and London for the Olympics this summer has been an amazing experience—full of highs and lows," said Giro d'Italia Champion Ryder Hesjedal. "It's great to be home to celebrate the Giro with my friends, family and to get ready for my upcoming pro-tour races in Quebec."
Ryder will be racing in the pro-series races in Quebec City on September 7th and Montreal on September 9th.
The cycling celebration will benefit Ryders Cycling Society of Canada, who will have commemorative shirts and memorabilia for sale which can be autographed by Ryder.  Event festivities will feature on stage conversations with Ryder, his family and special guests, cycling info booths and bike demos, autograph table, kid's activities, food vendors, DJs and a refreshment area.
What: Ryder Hesjedal Homecoming Celebration
Where: Centennial Square, Victoria, B.C.
When: Friday, August 10, 2012, 3:30 p.m. – 7p.m.
Schedule of Events
Friday, August 10, 2012
Homecoming Parade
3:30 p.m. – 3:50 p.m. Parade from Marriott Victoria Inner Harbour along Government Street to Centennial Square
– Special commemorative flags and cowbells will be passed out along the route just ahead of the parade.
Centennial Square Celebrations – 3:30 p.m. – 7:00 p.m.
3:50 – 4:00 p.m. Red carpet arrival at Centennial Square
4:00 – 4:15 p.m. Introduction of dignitaries and a special announcement
4:15 – 4:45 p.m. On stage conversation with Ryder, his family and special guests
4:45 – 5:00 p.m. Questions and Answer from audience
5:00 – 6:30 p.m. Ryder available for autographs and photos