November 13, 2013 (Aigle, Switzerland) – Australian Tracey Gaudry was recently named first female VP of the UCI after the election of new President Brian Cookson. "We want to put women's cycling in the position it deserves," she said. Check out a recent interview with this passionate advocate for women's cycling.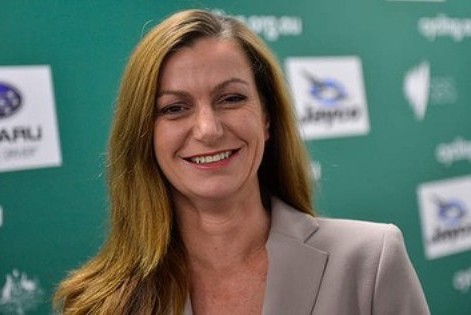 Tracey Gaudry, has your life changed in the last weeks?
Tracey Gaudry: My life already became a bit crazy a year ago when I joined the Management Committee. It has been even more so in the last six weeks since I became Vice-president. I feel I have important responsibilities because there are very high and reasonable expectations to improve cycling, and women's cycling in particular. There is also the fact that I live in Australia, which means I often have to work at night to be in sync with my colleagues or the people I am dealing with in Europe and other continents.
What does this nomination as Vice-president of the UCI mean to you?
TG: I have always believed that people should occupy positions of responsibility according to their abilities even though it is clear that I have also pushed for more diversity, be it geographical or gender-based. The Management Committee has demonstrated maturity in electing a woman in the Vice-presidency for the first time in the history of the UCI. We have a new generation which has sent out a very clear message.
How will the Women's Commission be made up?
TG: It will reflect our desire to diversify. We will have 6 or 7 members of both genders, Europeans and non-Europeans, from all disciplines, former and current athletes, National Federations, women coaches, organisers, teams and broadcasters. The Commission will be set up by the end of the year and we will present our strategy for the coming 12 months and beyond at the next Management Committee meeting in late January (before the UCI Cyclo-cross World Championships in Hoogerheide, the Netherlands, February 1 and 2, 2014 – ed)
Can you tell us what the priority will be?
TG: In order to develop women's cycling it needs, among other things, better visibility. But I want to specify that we will have a transversal approach: we will work with all the commissions because the rise of women's cycling must involve everybody. It is not something that concerns just one department. For the first time, there will be a woman in each commission, which is another clear sign from the UCI. We will take on board the proposals that the other commissions make to us and we will make propositions.
One of the first measures taken by Brian Cookson as the new President was to abolish the age limit (28) for women athletes in the teams. What will be the consequences of that decision?
TG: I was a cyclist and know from experience that you can still achieve great things over a wide age range (in 1999 at the age of 30 she was ranked 3rd in the UCI World Road rankings, finished 3rd overall in the World Cup and participated in her second Olympic Games a year later in Sydney – ed.) Marianne Vos, who is a member of the Athletes' Commission, proposed that this regulation made no sense. It is a simple proposal that received unanimous support.
What benefits do you hope to see from the new classifications (sprinter, young athlete and climber) which will be added to that of the overall classification in the UCI Women Road World Cup from 2014 onwards?
TG: It is a decision that will motivate the riders as well as the organisers, sponsors, broadcasters and public. It will provide multiple competitions within a competition like in a stage race. The calendar will be more exciting for everyone.
We will have 8 World Cup rounds that will provide opportunities throughout the season for many styles of rider. I'm only sorry that I don't race anymore! We have other projects we are already developing for 2014, which we hope to announce by the end of the year.
For 2014 the World Cycling Centre in Aigle is planning a training programme 100% devoted to women coaches after a first successful edition this summer. Does women's cycling need special tailor-made treatment?
TG: For a young woman wanting to get into a cycling career, a male dominated environment can appear for some, let's say, 'dissuasive'. There is a chance she will be overwhelmed and that she finally decides not to chase her dream. This stumbling block can be overcome if women are part of the entourage: coaches, doctors, mechanics etc. In Australia we have a lot of programmes that encourage women to take up these positions at an amateur or semi-professional level. Other countries have similar initiatives in place (watch the video here: Swedish National Federation success).
One of the UCI's roles is to draw on all this experience and create a common resource. The WCC programme for women coaches encourages this sharing of knowledge. It also helps to provide women cyclists with career pathways beyond their career as an athlete. This type of initiative, which helps structure the environment of women's cycling, will help us establish the vision that our sport needs in order to look to the future with confidence.