November 25, 2014 – Garrett McLeod hails from Wolfville Nova Scotia and races for Team H&R Block. His palmares include multiple National Championship podiums in addition to representing Canada on several National Team projects, including World Tour events in both 2013 and 2014. Garrett graduated with an Environmental Engineering degree from Dalhousie University in 2013 and currently resides in Vancouver, BC.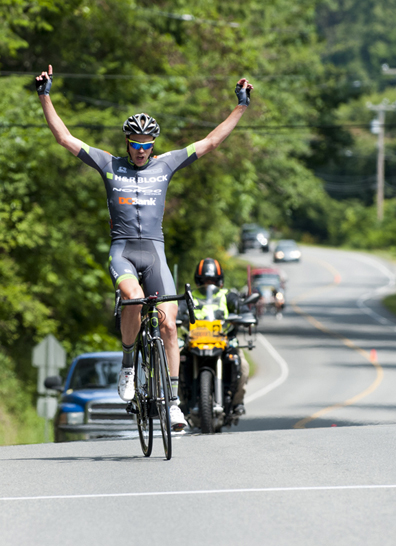 You've had a solid season G-Money! Give us a brief rundown of the highlights both from a development point of view and a results POV.
Garrett McLeod: Thanks, I was pretty happy with how the season went. Development wise I think the biggest thing was getting better at knowing when the decisive point in a race would be and getting more comfortable relying on my stronger teammates to help me. It's tough to step up and ask people to sacrifice themselves for you when you're on an amateur team but after years of often being in the support role and seeing how rewarding it is for everyone when that pays off I realized that they were all really happy to play that role as well.
For results, I won some solid races this year starting with my season opener in California (Daulton RR) . Then the crit, road race and overall at Enumclaw Stage race in Washington as well as the BC Road Championships. The biggest results, however, weren't wins. I was 5th on the tough final stage of Redlands, 2nd at the SeaOtter Classic, I podiumed at BC Superweek and was 10th on GC at the Tour de Beauce.
It seems that development is often more like a stairset than a linear line. Do you feel like you progressed a stair or two this season and if so what do you account for the progression?
GM: All riders develop at different rates and it's always hard to pinpoint what particular changes really make things happen. I think I'm a bit of a late bloomer. For a number of years it seemed to be two steps forward, one step back until this past season. Another year of experience, knowing the races better and being able to fully focus on racing without being in school definitely helped.
Perhaps the biggest thing was getting some success early in the season and turning that into confidence in myself. You have to think you belong at the front of a race before you're going to finish there.
Your World Tour participation with the National Team at the Tour of Alberta and the two Quebec GPs had to have been a highlight. Give us some insight into racing at that level. Did you notice a difference between 2013 and 2014 in your ability to ride in the Pro Tour events?
GM: There was a difference between 2013 and 2014 for sure. In 2013 during the first stage of the Tour of Alberta I was supposed to be following moves trying to get in a breakaway but just getting to the front was a challenge. I followed an attack, got in a move and as soon as we got caught, bam, I was immediately at the back again. This year I felt like I belonged there. In just over 2 weeks of World Tour racing things that were a shock the first day become normal and you know what to expect.
Any Pro rider interactions that made you laugh or surprised you?
GM: I rolled around the last lap of Montreal pretty slowly in a small group with Danny Pate and Ted King. Those two are pretty funny but I was too smashed to remember anything they said!
You've been with H+R Block for a few seasons. Can you divulge what their plans are for 2015? Are you a part of these plans?
GM: Mark Ernsting, the manager of Team H&R BLOCK has made some announcements through his M1 Pro Cycling program. H&R BLOCK will be sponsoring a continental team, its an exciting new program with a lot of the same great people and marketing partners involved. There will be a exciting team announcement coming in the next few weeks- stay tuned!
What North American team has improved the most in the last two seasons?
GM: Smartstop without question. They went from basically an amateur crit team to the most successful domestic team in two years.
Name three Canadian U23's that really impress you?
GM: For guys that will be U23 in 2015 I would say Adam DeVos, Peter Disera, and Ed Walsh. Adam has a huge engine and still has a year left in U23. Look for him on the podium at Nats. Disera is just so impressive because it seems he can do it all, sprint, TT, and MTB. All of us east coasters know how good Ed is. The transition to U23 can be tough but I think he has the mental fortitude to handle it well and continue from his junior success.
I couldn't help but notice that you didn't do any Cross this season, something that you've had solid success with in the past, why was this?
GM: I was so focused on finishing the road season well and getting a pro contract for next year that by the time I started thinking about CX the season was well underway. Norco has given me some support in a sweet Threshold to ride and I still plan on doing a couple more races in the Vancouver area in addition to the ones I've already done.
You won the Elgin 120 mtb marathon in 2013 so you've obviously got a solid dirt skillset. Any plans to do some mtb marathon or mtb stage races in the future?
GM: I would love to get into some marathon mtb racing! MTB marathon and cyclocross are things I'd like to focus on at some point in the future. This coming year my racing will still be primarily on the road but I would like to get a couple of mtb events in. Riding the North Shore out here has been an eye opener into how much I really need to work on my skills to be successful at it though.
What does the off-season look like? Any plans to go down South? Will we be seeing you on any WBLs (Editor's Note: The Halifax Winter Bike League is a long-standing weekly 90-150k training ride) this winter?
GM: I hope to be home over the holidays and get in on a few WBL's for sure! As far as the off season goes I won't be going south this year. I'll be starting my engineering career in 2015 so racing will no longer be my main focus. I'll still be racing a fair bit and involved with a team but the full time commitment is not feasible anymore. I told myself that if I didn't get a pro contract with a US team at the end of 2014 I would have to step back and just race for fun. That's something I have been saying for a couple seasons now and eventually I had to hold myself to it. It's been tough to think about stepping back from being a full time athlete but the fact that I am still going to be continuing to race and that cycling is a sport you can enjoy at any age and fitness level is something I try and keep in mind.
Nova Scotia and Atlantic Canada has young riders that would love to follow in your footsteps. If I'm a 17 y/o rider looking to move from haphazard training and occasional racing to the next level or two what are a couple of suggestions to improving?
GM: Cycling is hard and the quickest way to improve is by riding with people who can push you, plus its always fun to ride with friends. I think the benefits of group riding and hitting the WBL's in the winter are immense. The cycling community we have in NS is rare, I have yet to see something like it anywhere else in Canada so take advantage of that!
Secondly, If you want to be successful at higher levels I suggest a powermeter and a coach you truly believe in. You don't need to turn into a riding robot but using a powermeter can really help you maximize your training time.
Most importantly, you have to have fun and love it. You need that mindset to be able to go out and hammer long solo rides in the middle of winter.
Rapidfire 10:
Cold cereal or hot oatmeal? Oats
Road: discs or caliper brakes? Calipers
Leg warmers or tights? Leg warmers
Hot/humid racing or cold/wet racing? Cold/wet
Sub 40mm rims or 40+mm rims? Sub 40mm
23's or 25's? 23's
27.5 or 29'er? 29
Propeller or Granville Island? Propeller
Documentary or Comedy? Comedy
Civil or Mechanical? Environmental