September 24, 2015 (Winnipeg, MB) – Building off of last year's success the Shimano Canadian Cyclocross Championships presented by Volvo is set to return this year to Winnipeg on October 24, with Volvo recently announced as the new presenting sponsor. The high quality event drew rave reviews from competitors and cyclocross fans alike and the 2015 edition promises to deliver an even better experience. We caught up with race director, Chris Huebner, to find out what's in store for the three-day cyclocross festival that includes the Manitoba Grand Prix the following day, Oct. 25, which we hear will be even more  international with the likes of Argentina on board.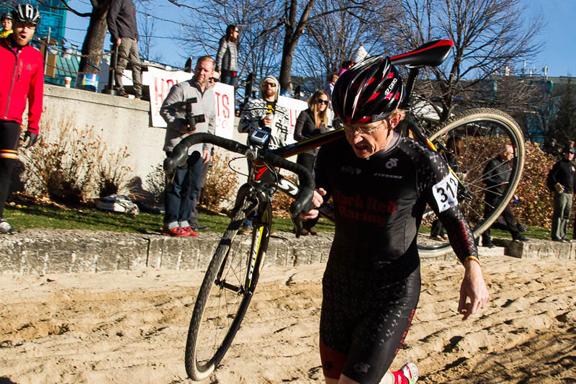 Everyone raved about the inaugural CX Nationals in 2014 – as organizer what are you most proud of?
Chis Huebner: It was great to see such a huge turnout of racers and spectators from right across the country and into the US. We wanted to put on a high quality race and draw a big crowd with lots of good energy. To be told that there were over 35,000 people on site at the Forks throughout the weekend at last year's event is extremely gratifying! We were also happy to make the elite races available via livestream. I believe that was a first for the Canadian Cyclocross Championships.
Volvo is the new presenting sponsor this year – tell us how that came about and what this means for the 2015 edition?
CH: The Volvo sponsorship came about through the local Winnipeg Volvo dealership. The Birchwood Automotive Group was involved as a sponsor in the 2014 event. Volvo Winnipeg, which is part of the Birchwood Automotive Group, saw this as a great opportunity to connect with the wider cycling community and wanted to increase their involvement with the event. Not only do they see Volvo's the perfect vehicle for the kind of lifestyle many cyclists lead, Volvo has also pioneered a cyclist detection system to help protect cyclists on the road. A number of cars will be out on course and throughout the venue so that customers can check out these features. There might even be some Volvo Life Paint that riders can try out during the Friday Night Race!
Talk about the downtown venue – The Forks. How well did it work last year and what are your plans for this year?
CH: The Forks is a perfect venue for cyclocross. It has all the features you want in a course – flowy grass, punch hills, a forested river bank, sand, cobbles, etc. To race in and around the buildings is a refreshing change from the usual North American courses that often take place in parks. It also has amenities like restaurants, bars, shops, and lots of free parking to keep . And finally, it is located in the heart of downtown Winnipeg and is a very popular destination. So it is much more convenient for everyone than common experience of racing in the middle of nowhere and wishing there were more people around.
We hear that the 2015 course will be new and improved – can you give us a taste of what racers  can expect?
CH: The 2015 course keeps all the key features of the 2014 course. But it makes better use of the venue and does a much better job of allowing people to move around the course. There will be far fewer course crossings and pinch points. To help people move around, there will also be a couple of flyovers that racers get to navigate: a European style scaffold with ramps in both directions that will cover two lanes of the course (like the one from Worlds in Hoogerheide). And a wooden North American style flyover with steps up and a ramp down that will be placed just after the steep run-up coming up the river bank. Racers can also look forward to a third sandpit in the harbour. The course will bit a bit harder than it was last year. And a whole lot more interesting for spectators to watch. We've also relocated the team tent area to a more central location that will help contribute some additional good energy by the start/finish area. And we are working on adding a second beer garden and video screen to that area as well.
How many riders are expected for the Championships and the UCI Grand Prix race the next day – will we see more athletes from the USA?
CH: The Manitoba Grand Prix will be a more truly international race than it was last year. Confirmed USA-based riders so far include: Jonathan Page, Meredith Miller and Allen Krughoff (Noosa); Jeremy and Gabby Durrin (Neon Velo); Jake Wells and Ally Stacher (NoTubes); Emily Kachorek and Anthony Clark (Squid Bikes). We expect a number of others as well. It should be an exciting race.
Tell us about the volunteers behind the scenes that help to make the event a success.
CH: Needless to say, it takes a small army of volunteers to pull of an event like this. And there are numerous people behind the scenes who unfortunately don't get the recognition they deserve. But our cyclocross community is a close-knit group of passionate people who are willing to work together to make something big happen. At the organizational level, we are extremely fortunate to have all the right people in all the right places: a killer design and marketing team, folks with good connections to the city, a good network of sponsorship contacts, video and sound production as well as IT professionals, carpenters to do the heavy lifting, and people with human resources experience to manage the volunteers, etc. I'm sure it's the same elsewhere. But we feel like we are extremely fortunate to have the talented group of people we have. And it helps that we all enjoy working together.
What's the key to your success and and to making 2015 CX Nationals even better than last year?
CH: A good imagination, a willingness to dream big and take some risks, and the stubborn commitment to back it up with hard work. Of course, there's also a healthy does of good fortune and the good luck of being in the right place at the right time.
For more information click here.