April 03, 2012 – We've all seen a unicycle being ridden at some point or another.  However, rarely do we imagine what a single wheel could provide for adventure and what terrain could possibly be covered. Canada's Kris Holm was only a child when he first rode a unicycle, and from that point he has covered more ground (or air) than most of us ever will. He is now one of the world leaders in the sport and not only one of the fastest and best technical riders known, but he is also the author of the new book The Essential Guide to Mountain and Trials Unicycling, founder of the KHU (Kris Holm Unicycles) company, and has helped grow the sport around the globe. You can find the info about his new book HERE and KHU at www.krisholm.com.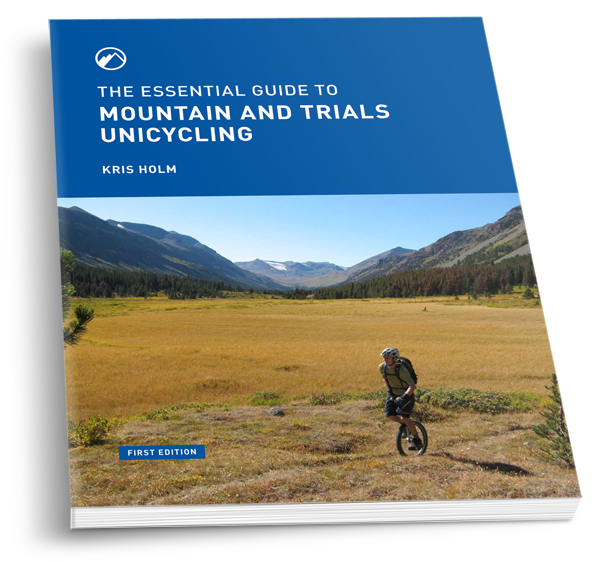 I will admit that prior to a couple days ago, I didn't know much about this sport either, and possibly didn't realize it went further than a being a demonstration show. However, Kris has blown me away with what can be accomplished on a unicycle. I would encourage you to Google his name and check out some of his videos online.
Pedal
was fortunate to track down this busy man – and new father – to answer a few questions for us.
Congratulations on your new book – can you give a us brief history about yourself including where you grew up and when you started unicycling?
Kris Holm: I've ridden a unicycle since 1986, semi-professionally since 1998.  I rode for Norco from 1998-2006, and since then for my own brand, Kris Holm Unicycles, Five Ten, and Horny Toad Activewear.  I got into unicycling in Victoria after seeing a street performer, but growing up in an outdoorsy family, it seemed natural to take my unicycle off-road.  I didn't know it at the time, but I was one of a handful of riders discovering mountain unicycling during a period that has become known as the origins of the sport.  I rode for 12 years before discovering anyone else to ride with, but now I have riding friends from all over the world.
Tell us about the sport of unicycling – are there sponsors, competitions, international riders… ?
KH: Unicycling is an old sport, dating back to the 19th Century, and although most riders don't compete, there are events at a national and world level.  There has been a bi-annual world championship since 1984, and the 2012 event in Italy is expected to be the largest in history with over 2,000 riders.  The first mountain unicycling competitions happened in the late 90's and I organized the first trials competition in 1999, and the first world championship in 2002.  My brand sponsors a Factory Team and offers an adventure grant, and the sport parallels many biking styles, including trials, flatland, street riding, XC and DH.  You'll still rarely see mountain unicyclists on the trails, but collectively there's perhaps a few 10's of thousands of riders worldwide.
What's a typical ride like – do you go with other unicycle friends or are you able to keep up with normal mountain bikes?
KH: I have a handful of friends to unicycle with, but just as often go riding with bikers.  As long as the trails are technical it's surprisingly easy to keep up with bikes, particularly on the climbs.  A typical ride could be anything from riding ladder bridges on the North Shore to 30km of single track in Squamish. My 26″ XC setup has a disk brake and two speeds that let me ride at over 20km/hr on easy trails.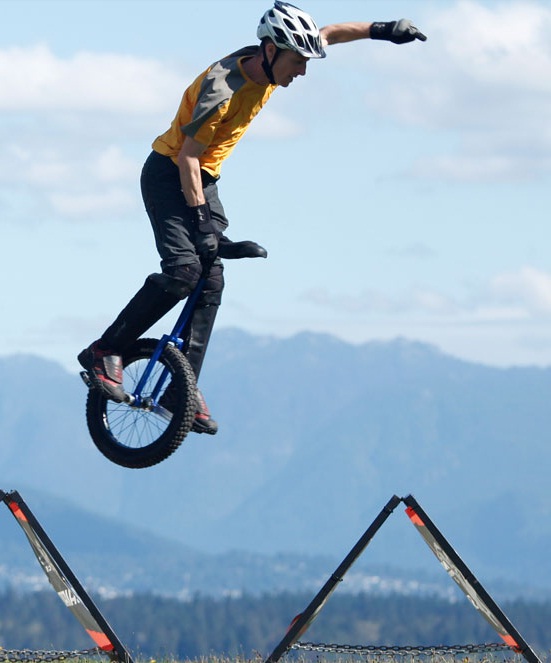 What's your favorite place to ride?
KH: Locally, my favourite riding is on the Vancouver North Shore and in the Sea to Sky Corridor from Squamish to Pemberton.  I also ride trials on the beaches around Vancouver.  I like technical DH too, but if I had to pick a favourite style, it would be non-competitive all-mountain riding, both the climbs and descents.
When did you start your unicycle company called KHU (Kris Holm Unicycles) and what's its history?
KH: KHU started as a custom unicycle for myself back in 1999, when it was still impossible to buy a good commercially made setup. With the burgeoning internet economy, it became possible in a few years to move production to Taiwan and expand to a full range of unicycles and components.  Today, KH unicycles are sold in over 15 countries around the world, with distribution in Canada through Unicycle.com.  KHU was also the first Canadian corporation to join 1% For The Planet, a business alliance donating 1% of gross sales to environmental conservation, and as a rider I'm also a ambassador for this alliance.
What inspired you to write your new book, The Essential Guide to Mountain and Trials Unicycling?
KH: Mountain and Trials unicycling have grown into international sports while remaining nearly off the radar in cycling. In the past dozen years, I've appeared in 13 film festival shorts and around 200 magazine and TV features internationally, which has helped improve the sport's profile, but it's a narrow window into the sport. Imagine if your concept of mountain biking came solely from action videos!  The Essential Guide To Mountain Unicycling offers a complete picture of what the sport is really like, for all ages and abilities, describing a level of diversity that, in fact, rivals mountain biking.
How would you describe the book and who is your target audience?
KH: The book is an instructional guide and a photographic showcase of the sport, targeted at anyone who wants to try it out.  As a pro rider, it's hard for me to argue that anyone can ride off-road on one wheel, but I can show it with photos of beginner through expert riders everywhere from North America and Europe to more exotic places like Bhutan and Mongolia. If you can ride down the street on a unicycle, this book will help you gain the skills to ride off-road, and if you can't ride even a few metres, I include some resources to get you started.  The book is also targeted at multi-sport athletes who want to cross-train for balance and core strength.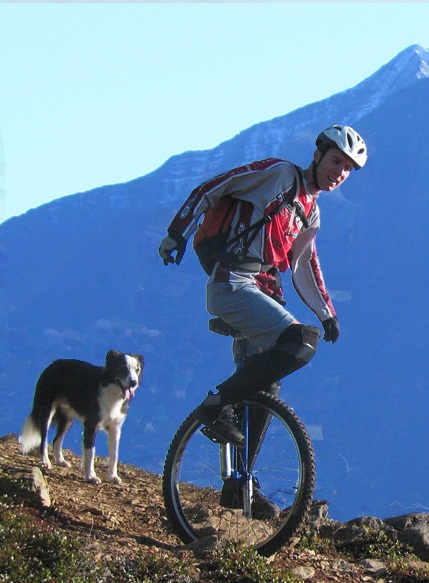 Did you give away all your secrets or is there enough for a second book one day?
KH: There will always be enough for a new edition! I'm still learning myself, and the next generation of riders is also discovering new ways to ride that I never personally imagined.
What's the best way for someone to start unicycling – are there local rides in certain areas?
KH: Anyone can ride, but you need patience. Remember how long it took you as a kid to learn to ride a bike? Mountain unicycling is hard to learn, but like biking, it's easier once you know how. Most riders learn by riding back and forth along some kind of support, like a fence, and the hardest part is riding the first few dozen metres. Ironically, many mountain bikers are put off by the initial difficulty, but I've yet to find a biker who rides singletrack because it's easy.  It's the challenge that's compelling, and that you ride so much on something that's so simple and inexpensive – a top of the line muni can cost less than $700.
We hear you're a new Dad, congratulations! How will this affect things for you – will you mellow out a bit or will we continue to see you add more tricks and cycling adventures to your repertoire?
KH: Thanks! Our daughter is #1 in my life for sure, but mountain unicycling is easier than biking for pushing yourself technically without accepting major risk, because wipeouts, while frequent, are less serious – they usually involve jumping off feet-first.  So I'll never stop riding off-road for as many years as I can keep it up.
Have you tried riding your unicycle with a baby carriage behind you yet?  Or is that even possible?
KH: I haven't tried with the baby carriage – good idea!  I'll have to try it out and let you know.
What can we expect from you in the near future?
KH: My most recent film was for MercedesBenz.tv, and this year I have a segment for ESPN's E:60 TV show, Discovery Channel's How Things Work, and an action short for film festivals in late 2012-2013. But mostly I'm stoked to focus on personal, independent riding this year and helping sponsor the next generation of riders pushing standards in the sport.
Watch Holm's film on MercedezBenz.tv
http://youtu.be/aJdHiUacYZY