June 07, 2017 (Barrie, ON) – Noah Simms may still be a Junior, but that hasn't stopped the 17-year-old from mixing it up with some of the top racers in North America. Simms has made the transition from the mountain bike to road cycling, having raced with the Scott-3Rox Maverix development squad in 2016. He found success on the road last season, with the Centurion Next Wave program out of Horseshoe Valley Ontario. Noah's father, former Ontario provincial coach, Kevin Simms, now heads up the Centurion development team.
Needless to say, cycling is strong in the Simms family – Wendy Simms of CX fame is his aunt – and Noah is keen to keep the legacy going. He demonstrated this with strong rides at the 2016 Canadian Road Championships placing 4th in the road race and 7th in the Criterium. At the Tour de l'Abitbi he notched a top-10 finish on Stage 5.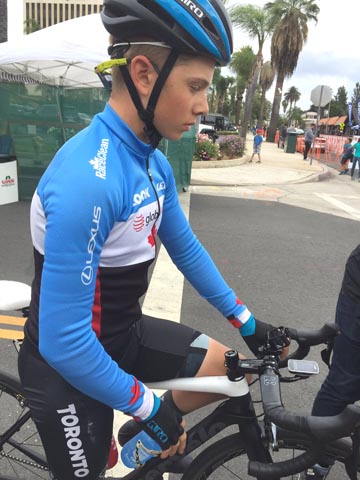 For 2017, Simms has joined the ranks of the newly minted Toronto Hustle squad, with whom he recently took part in the Redlands Bicycle Classic and the Killington Stage Race. Prior to those events he was on the start line at Ontario's Hell of the North where he turned heads with an 8th-place finish. At Redlands Simms was the youngest ride in the field 183 starters. Pedalmag caught up with Simms during Redlands, and then after Killington and the Ontario provincial road championships, for his take on his season so far.
How are you feeling at your Redlands Bicycle Classic debut?
Noah Simms: To be completely honest, I'm feeling extremely proud to have made it this far! I was nervous coming into Redlands and every stage I continue to push myself further than any other race before. The legs and body are still holding strong, and I hope to finish off Stage 5 (Sunset Circuit) on a positive note. (he did ending up 92nd overall)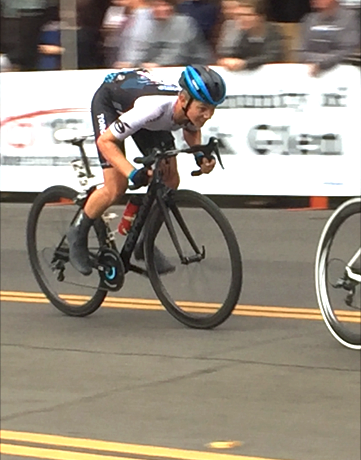 How does it feel being the only Junior rider in this stacked field at such a prestigious race?
NS: Racing against some of the top professionals in North America at the Redlands Bicycle Classic has felt pretty intimidating at some points throughout the week. Although, every race I get myself into the mindset that I deserve to be racing just as much as the guy beside me. You can't think of yourself as 'just a junior' and expect to have the confidence it takes to bump bars with guys twice your size.
Is this the biggest stage race you've ever competed in?
NS: From a prestige stand point, yes Redlands is definitely the biggest race I've competed in. I've done some international Junior Stage Races, like Tour de l'Abitbi, Aubel-Thimister-La Gleize (Belgium) and Rondes des Valles (France) but nothing at this professional level. It's such an amazing experience being able to race at Redlands and I am so thankful to my team, Toronto Hustle, for selecting me for the roster.
Do you feel a bit more at home with so many Canadians racing at Redlands and doing well?
NS: The biggest thing for me is travelling with my new team, Toronto Hustle. The environment is always positive and our group has become great friends. It's really impressive to see so many Canadians racing and doing well here at Redlands. Although Canada is a big country, and I don't necessarily know everyone, it does make it feel a little less daunting having so many friendly Canadians around. Ironically, on stage three Stage 3 I finished the stage riding with my neighbor, Peter Disera – yet we're 3,500km from Horseshoe Valley.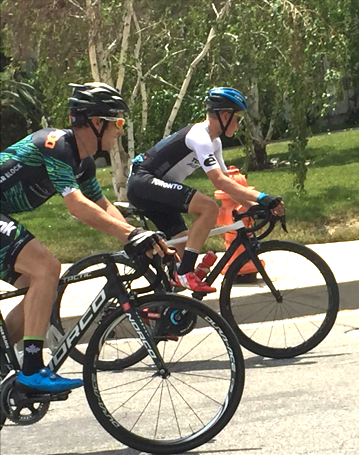 You mixed it up recently with the big boys at Ontario's Hell of the North finishing 8th – nice.
NS: Ontario's spring classics always have great competition and Hell of the North is no different. It was a fun ride, and I really tried to test myself, attacking and rolling in the break for most of the day. When it came down to the final sectors, I couldn't hang on in the technical stuff and lost the front group. Although I got dropped, I was still pretty happy with the result as I had crashed a few days earlier at the Good Friday Road Race and was pleased that I hadn't done any serious damage.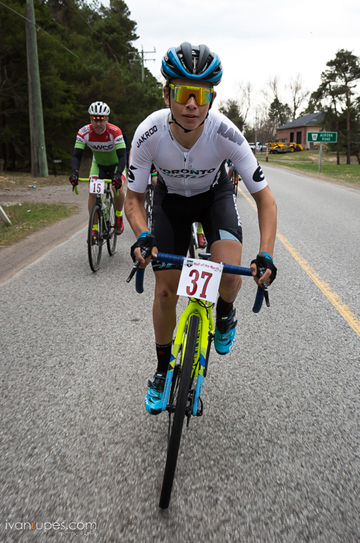 Tell us about the Killington Stage Race where your teammate Kyle Boorsma won the overall – that had to feel good?
NS: The Killington Stage Race was an extremely positive experience for the entire squad. This is only our first year racing together, but the maturity displayed that weekend was exceptional. Trusting Kyle's ability to perform on the climbs, allowed us to secure the overall General Classification, as well as the Green Jersey and two stage wins. Everyone was genuinely stoked with the success, which made me realize how lucky I am to be part of a team with such an amazing dynamic group.
Toronto Hustle was also on the podium at the Ontario Provincials this past weekend – tell us more.
NS: Provincials was a tough race tactically. Both Graydon (Toronto Hustle teammate) and I were heavily marked making it difficult to get away. Since we had only two riders in the junior field, we knew we'd have to race aggressively to get a breakaway started. After 80km of attacks between the two of us, Graydon eventually powered away in a cross-wind section bringing with him a group of five riders, where he'd finish second overall in the sprint. I was happy to play a part in his podium, as longtime friends and neighbors, the team's success was shared mutually.
You're with a new team this year – Toronto Hustle – how did that come about?
NS: Yes, so this year I am with the Elite men's team Toronto Hustle. In January, I got a call from Brad Bradford (team manager and rider) asking if I would like to be part of this new project in partnership with Cervelo. We are trying to promote cycling's amazing presence in Toronto with a video series called Hold Fast produced by Lossless Creative; a media company out of Toronto. The series will have several episodes featuring Toronto's beautiful landscape and the team racing all around North America. I am really excited to be part of this team for 2017 because I am also able to promote Toronto as a cycling city throughout my travels.
What are your goals for this season?
NS: Once again, my biggest goal for the season is Road nationals, and hopefully getting selected again for the Junior Road National team and travel to Europe for races. If this all goes to plan, I would like to be at top form this September for the Junior Road Worlds in Bergen, Norway. For my "pathway goals", I am working towards improving my time trialing ability and my tactical skillset.
Any shout outs for fans/supporters?
NS: Huge thanks goes out to my team Toronto Hustle. Brad Bradford and the staff who work tirelessly to make sure every logistic runs smoothly. As well as all the sponsors who support the team; Cervelo, Giro, Endurance Tap, Biosteel, Lossless Creative, K-Edge, RAW Designs, Pit Viper, Jakroo and SeaSucker. I am so excited to be part of a team with such a positive, fun environment.
And also to my parents, family and friends, for supporting my endeavors as a full-time student athlete. Thank you so much! All this would not be possible without you're support.