February 28, 2017 – Sydney Flageole-Bray is quickly becoming a top competitor within the Under-17/Cadet ranks of Ontario cycling. Flageole-Bray has found success on the boards of the velodrome, notching wins on the track since 2015. Most recently, he set a new Canadian record Under-17 men's record in the Individual Pursuit at the Eastern Track Challenge, held on February 11th and 12th at the Mattamy National Cycling Centre in Milton, Ontario. Flageole-Bray also won the Scratch Race and Elimination race during the event as well.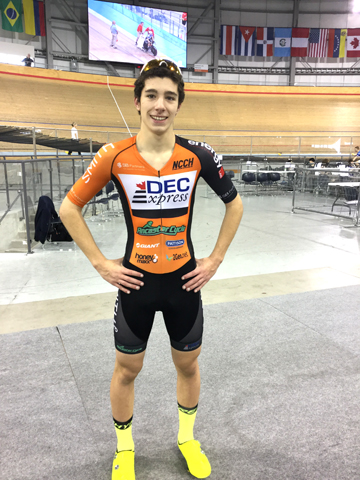 With goals set for both the track and on the road in 2017, Flageole-Bray is one to watch. Pedal Magazine spoke with him following the Eastern Track Challenge, and this is what he had to say:
Tell us a little about yourself…?
Sydney Flageole-Bray: I started cycling when NCCH came to my school and did some talent testing, and I joined the team on March 5th, 2014. I really started to enjoy cycling when I was allowed to ride on the road. My first race was the 2014 Youth Cup championships held in Ancaster. I started riding the track late into 2014. My first win was the second race of the 2015 season and it was at a Youth Cup on the track. I really started having success when the road season came along. And ever since my first couple wins I have just wanted to get better and better.
How long have you been riding?
SFB: I have been riding for about 3 years now.
Are you focused on the track or also on road racing?
SFB: No, I also race on the road.
Were you surprised to learn that you broke a national record?
SFB: I was somewhat surprised to beat the record, I knew I was going very well leading up to the Eastern Track Challenge but I injured my back recently and I have just started to train again. My time was a 2:20.732.
Do you have ambitions to continue racing track?
SFB: I would like to continue racing track and improving.
What are your goals for the 2017 season?
SFB: My goals for 2017 on the rack are to win the national IP [individual pursuit] title as well as defending my previous titles from 2016. On the road, I want to finish in the top 10 in the Junior National Time Trial and top three in the Tour de Rimouski GC [general classification], along with winning the TT stage.
Sounds great…all the best in 2017
SFB: Thanks