May 08, 2012 (Verona, Italy) – Ryder Hesjedal is Garmin-Barracuda's designated leader for the Giro d'Italia. Coming off a solid week at the Classics and helping teammate Andrew Talansky to 2nd overall at the Tour of Romandie, the Victoria, B.C.-native was on excellent form heading into the season's first Grand Tour,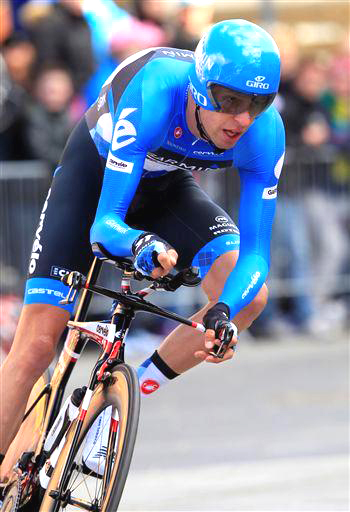 The 2012 Giro began with a time trial in Herning, Denmark, the northernmost point any Grand Tour has ever reached. Garmin-Barracuda was stellar against the clock, winning the Team Classification. In addition to Hesjedal being the top GC hopeful in 17th, Alex Rasmussen placed third, Ramunas Navardauskas was sixth, Robbie Hunter 13th, Jack Bauer 14th and Tyler Farrar 29th.
After three stages in Denmark, the Giro d'Italia finally moved to its true home, Italy. Pedal spoke to Ryder on the race's first Rest Day from the home of Romeo and Juliet, Verona.
Hi, Ryder, how are you doing?
Ryder Hesjedal: Good, thanks!
Happy to be in Italy, since this is the Giro d'Italia?
RH: Yeah, it's good, it makes more sense in some ways! (laughs)
What was the atmosphere like in Denmark?
RH: Oh, it was great. The people really embraced the race and showed they're very enthusiastic about cycling. It was fun to be up there – I'd never been in Denmark so that was new for me. To start an event like the Giro abroad is always good for the event. All Grand Tours like to expand a little bit.
You must have been very happy with your performance in the TT on Stage 1, 17th at 29 seconds behind Taylor Phinney, the best among the GC contenders.
RH: Yeah, I mean I've been focusing on this race and doing a lot of work and getting great support from the team. Our aerodynamicist, Robby Ketchell, that's all he works on and we really focus on the details. I was able to ride a great new bike, a Cervélo P5, and it all came together so it was nice to get the race started on the right foot and be there. It was only 8.7km but you can take a lot from it and I kept that momentum through the next couple days and now I'll look to have a good showing tomorrow as well.
Alex Rasmussen looked strong and wound up on the podium in his home country and Garmin-Barracuda won the Team Classification. That really bodes well for you, knowing the form he and the rest of the team have.
RH: Oh certainly. Seeing the horsepower we have here on the squad, that along with our approach and our record in Team Time Trials, we're clearly set on our goals to win and that's going to help me get time on other GC riders and we'll just keep moving forward. It's a day by day process but we always do a lot of work for the Time Trials and especially the Team Time Trial (Stage 4 on Wed. in Verona.)
You mentioned the team's record in TTTs – your team has a great history having won the TTT at last year's Tour with some of the same guys you have here, and at the 2008 Giro to give Christian Vande Velde the Maglia Rosa. Do you have high hopes for doing something similar tomorrow and putting Alex in pink?
RH: Oh, definitely. That's why we're here, that's why we're racing. We have to take four seconds over Sky and 13 over BMC so that's what we have to do and Alex will be in the pink jersey. It's clearly on our minds but first and foremost we'll try and win the stage and see how it shakes out.
Have you ridden tomorrow's Team Time Trial course and what do you think of it?
RH: Yeah, we did, actually – we had a look at it, which is always good. We'll have another chance tomorrow. It's a good course – it's got a nice mix of fast, flat straight-aways and also some technical, kind of hilly, rolling parts in the middle. It's a well-rounded course. I definitely think it'll show the strongest teams, that's for sure, and that's good for us.
Alex, you, Ramunas (Navardauskas,) Robbie (Hunter) and Jack (Bauer) were super strong in the TT on Stage 1, but Christian didn't have a great ride – so top to bottom the team is looking really strong.
RH: Yeah, I mean Team Time Trials are definitely different but we showed the depth and horsepower in the first TT. You put it together differently in the Team Time Trial and I think we'll show how strong we are even more so collectively.
Other than in the Time Trials, when do you think the GC contenders will start showing themselves?
RH: Honestly I haven't been looking ahead too much. I've been focused on the day that's right in front of us. There are going to be hard days all along and at the end of the day you see if it's selective or not. That's what I'm focused on, just on keeping myself in the right place and chipping away at it. I think already in Stage 6 (207km to Porto Sant'Elpidio) there are some lumpy climbs in there and you can see maybe some selection coming. But we won't know how big the differences will be over the next 10 days or so of the race, until we hit the first big mountains.
I'm sure you're looking forward to that.
RH: Yeah, I look forward to every day and we'll see how it shakes out. But we definitely have to be focused and know what's coming up. The third week is where you need to be ready, that's for sure, but every day is important. You can lose everything on any day, that's just the way it is, so every day's important and you just keep moving like that.
I actually spent a few days in Verona last summer on holiday. It's an amazing city. Did you get a chance to see anything, Juliet's house or anything like that?
RH: Ha! No, you see the walls in your hotel room and the wheel in front of you on the bike, that's about it!
Well, try to bring Ashley [Ryder's new wife] back some time.
RH: Yeah, a holiday and sightseeing definitely need to happen sometime after the race!
Good luck and have a good week!
RH: Sounds good, cheers and thanks!